City awards GN Road repair bid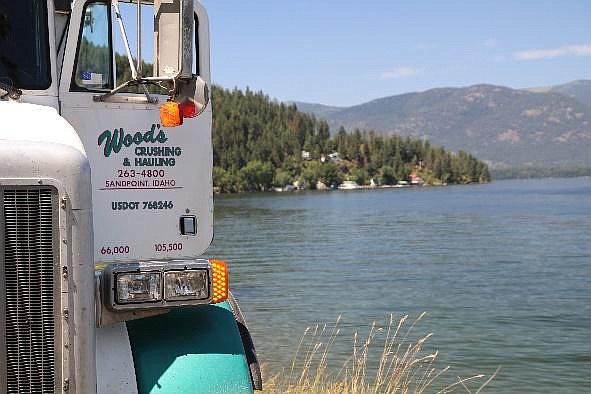 A photo of one the trucks owned by Wood's Crushing and Hauling Inc.
(Photo courtesy WOOD'S CRUSHING AND HAULING INC.)
by
BEAUX WHITE EAGLE
Staff Writer
|
June 5, 2022 1:00 AM
SANDPOINT – The city has awarded a $141,335 bid to Wood's Crushing and Hauling Inc. to repair Great Northern Road.
The project will replace 1,300 feet and the full width of the road starting north of Gooby Road. Infrastructure and Development Service Director Amanda Wilson told the council the project was necessary due to the poor condition of that stretch of road.
"I can certainly speak for our entire street crew, as well as many other city staff, that its the current conditions are embarrassing," Wilson said,
A high traffic area for industrial businesses and residents, Wilson said that the road has taken such significant damage due to the excessive amount of groundwater which caused the substandard roadway to fail.
"They are simply beyond repair without a more significant effort," Wilson said, "We can't simply just go and patch them"
Details for the plans of repair, outlined in the bid from Wood's Hauling and Crushing Inc, include destroying the existing asphalt and replacing it with a new aggregate base and new asphalt top. The work will have roadway closures, with detours due to the high traffic, for a projected five days and is expected to be completed by July 15.
The bid proposed by Woods Crushing and Hauling Inc. was one of three proposed, one of which was denied, and one of two considered. When evaluated, Wood's had the lowest bid, coming in at $141,335, which includes a $5,000 incentive to complete the project by July 17.
Although a necessity, Wilson said these repairs are temporary as they are the result of a drainage issue. An issue that will be tackled in the larger major corridor improvement project will be a projected $18 million project. That project will see not only the repair and reshaping of Great Northern Road but a much larger stretch of road starting from Baldy Mountain Road to Woodland Drive.
Resolving the drainage and utility issues along a 1.3-mile stretch will be the purpose of the project, which was identified as a need in 2010. The plan for the project includes wider lanes, foot, and bike lanes, and addressing the drainage issue.
"I can't emphasize drainage enough. We see on the surface the pavement issue but what's behind the scenes, what's behind the curtain, is the drainage issue," Wilson said.
Recent Headlines
---