Gas prices expected to top five dollars a gallon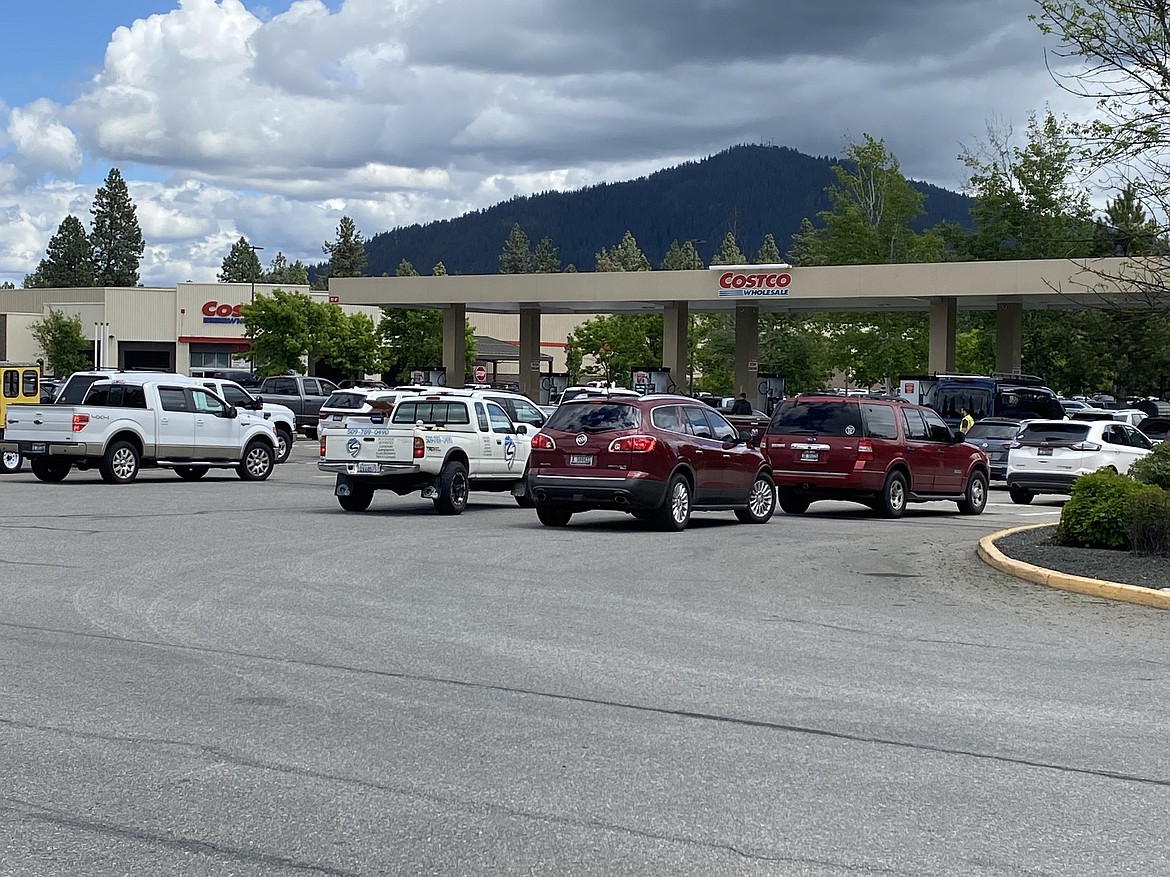 Cars line up for gas outside of Costco in Coeur d'Alene. The national average for gas prices was $4.90, while Costco's gas was $4.71 as of Monday afternoon.
ELLI GOLDMAN HILBERT/Press
by
ELLI GOLDMAN HILBERT
Hagadone News Network
|
June 7, 2022 1:00 AM
Gas prices are expected to hit $5 per gallon for regular gas this week.
The gas lines at the Coeur d'Alene Costco were filled Monday morning with customers eager to fill up for $4.71 per gallon. The average gas price nationwide was $4.90 per gallon and climbing, according to AAA.
Bob Sisson, owner of Scotty's Taxi service in Coeur d'Alene, has had to raise his ride rates recently due to the hikes in gas costs.
"I tried to hold off as long as I could," Sisson said. "If they keep going up, we'll have to raise our rates again."
Sisson, who has owned Scotty's since 2020, said that about 65-75% of his clientele are people who live and work in the area and can't afford to absorb increased fare rates. In an effort to compete, Sisson does regular research to make sure his rates come in below what Uber and Lyft are charging. Taxi drivers rent their vehicles and charge set rates for travel fare, and Sisson had little choice but to increase rates to try to make up for the increase in gas costs for his drivers.
Drivers are spending between $70 and $100 per day on fuel, Sisson said. Meaning that the profit margin of take-home pay is getting smaller and smaller. A year ago, gas was running about $2.80 a gallon, he said.
"It gets very expensive when you're hauling four or five customers in a mini-van," Sisson said.
Crude oil market volatility, tight fuel supplies and growing demand for gasoline continue to push pump prices higher. The Gem State currently ranks 19th in the country for the most expensive gas.
"For 10 states and the District of Columbia, the $5 mark is already in the rearview mirror. Idaho could easily get there by the end of the week," said AAA Idaho public affairs director Matthew Conde. "It's strange that the phrase 'record-high' has become so monotonous, but prices are being topped just about every day, and that means that we could be in for a very challenging summer."
Monday's average gas cost of $4.90 is 18 cents higher than a week ago, 43 cents higher than a month ago and $1.62 more than one year ago. The West Texas Intermediate benchmark for crude oil is trading near $118 per barrel, which is $8 more than a month ago and $48 more than a year ago. While the Organization of Petroleum Exporting Countries recently agreed to increase monthly production by 648,000 barrels per day in July and August, the European Union's efforts to implement a 90 percent ban on Russian crude imports is putting upward pressure on prices.
"If these prices were hitting in the middle or end of summer, most drivers would probably be getting ready to call it quits," Conde said. "But with so many travel plans yet to be completed, some families are going to have a stubborn streak and move forward for the time being, regardless of what gas prices are doing."
AAA said demand for gas recently hit 9 million barrels per day as drivers geared up for Memorial Day. At the same time, gasoline stocks fell by 700,000 barrels and domestic crude supplies are also nearly 14% lower than a year ago. If demand continues to rise and tight supply continues, prices will likely continue to soar as Independence Day approaches.
Recent Headlines
---