Auld, Duke earn valedictorian, salutatorian honors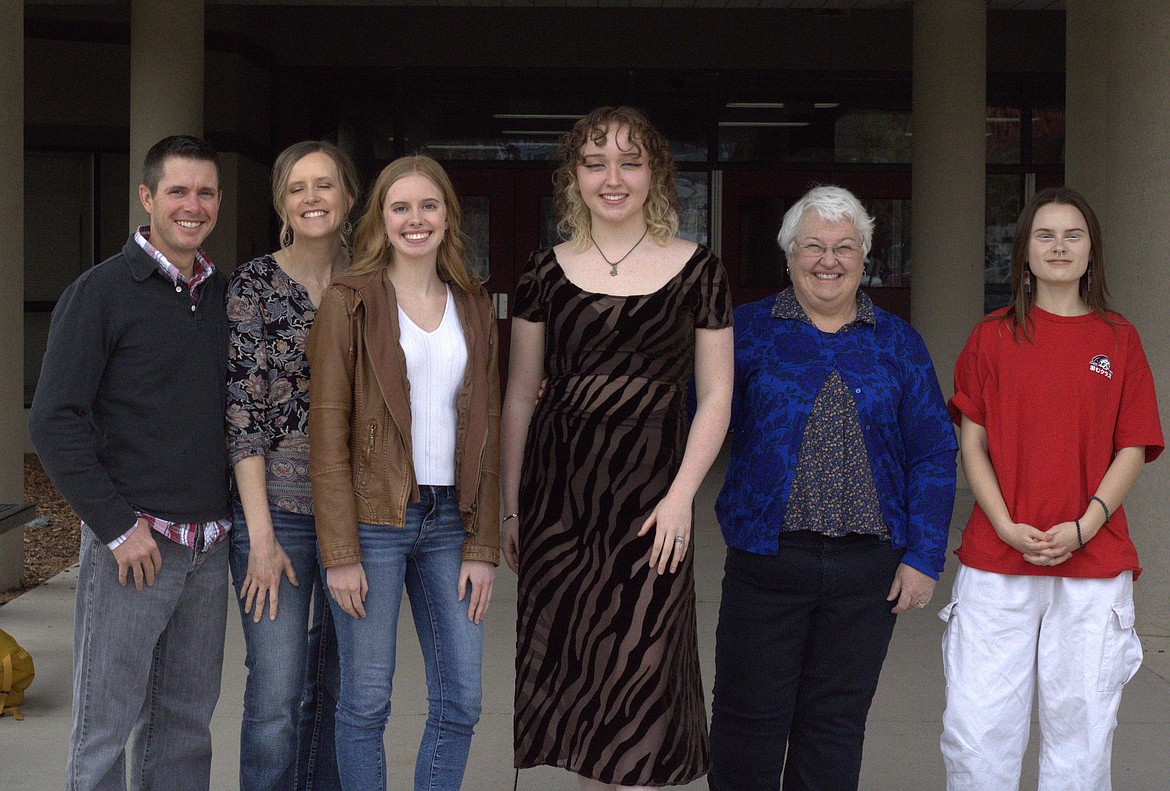 Sandpoint High School class of 2022 salutatorian Madison Duke, center left, and valedictorian Anna Auld, center right, pose with their families in front of SHS after the lunch held in their honor.
(Photo by BEAUX WHITE EAGLE)
by
BEAUX WHITE EAGLE
Staff Writer
|
June 8, 2022 1:00 AM
SANDPOINT – The hard work has paid for two seniors at Sandpoint High School as they graduate with high honors as valedictorian and salutatorian.
Anna Auld said while it is an honor to be named valedictorian the excitement she feels comes second to graduating in general and going off to college in the fall.

"Everybody says, it's like a super big deal. But you know, I've always gotten straight As, and I'm just excited to go to college," Auld said, "I'm happy that I achieved it, but I don't really care about, you know, like getting an award for it."
Thriving with challenges and having an intense interest in the human brain, Auld has chosen to attend the bioengineering program at the University of Pacific. Hoping to achieve her master's in neuroscience Auld said hopes to enter the bioengineering research field as she doesn't want to be a patient care doctor and would like the freedom to travel.

"They had about 550 applicants, and they interviewed about 100. And then they gave it to 10 people," Auld said.
When asked why she chose the University of Pacific Auld said it was because the school gave her the best opportunity. UOP has awarded Auld the Powell Scholarship, which will cover $43,000 a year, plus $5,000 that will be split in half to study abroad and a research grant.
"I guess the main reason why I chose a career in sciences is that I want to travel, which seems kind of weird because it seems like a really hard career. You're gonna be working long hours, long hours. But science is kind of universal. So I could take my career anywhere and with a career like that, you'll make a lot of money. So I'll have the money to travel if I want to. That's mostly the reason why I wanted to be in engineering," Auld said.
Salutatorian Madison Duke said she is also looking forward to heading to college. Duke will be attending the University of Utah to achieve a degree in nursing. Having chosen to become an obstetric nurse, Duke said she did so after writing a research paper on the career.
"I did it on OBGYN and it kind of was like, 'Ooh, this is something I'm kind of interested in,' and it kind of spiraled from there," Duke said.
Looking forward to college Duke said she will miss her hometown of Sandpoint because of its recreation access, caring community, and beauty.
"I mean, it's beautiful here. There's a ski mountain 10 minutes from my house. The beach is 10 minutes from my house. So I'm gonna miss that," Duke said.
However, Duke said this doesn't mean she isn't looking forward to her time in Utah. Having not yet toured the campus, Duke said she looks forward to the attractions of Logan, and visiting with her family that lives in the area.
Both students will be graduating with the rest of their class this Friday, at War Memorial Field.
Recent Headlines
---