POAC's annual ArtWalk opens Friday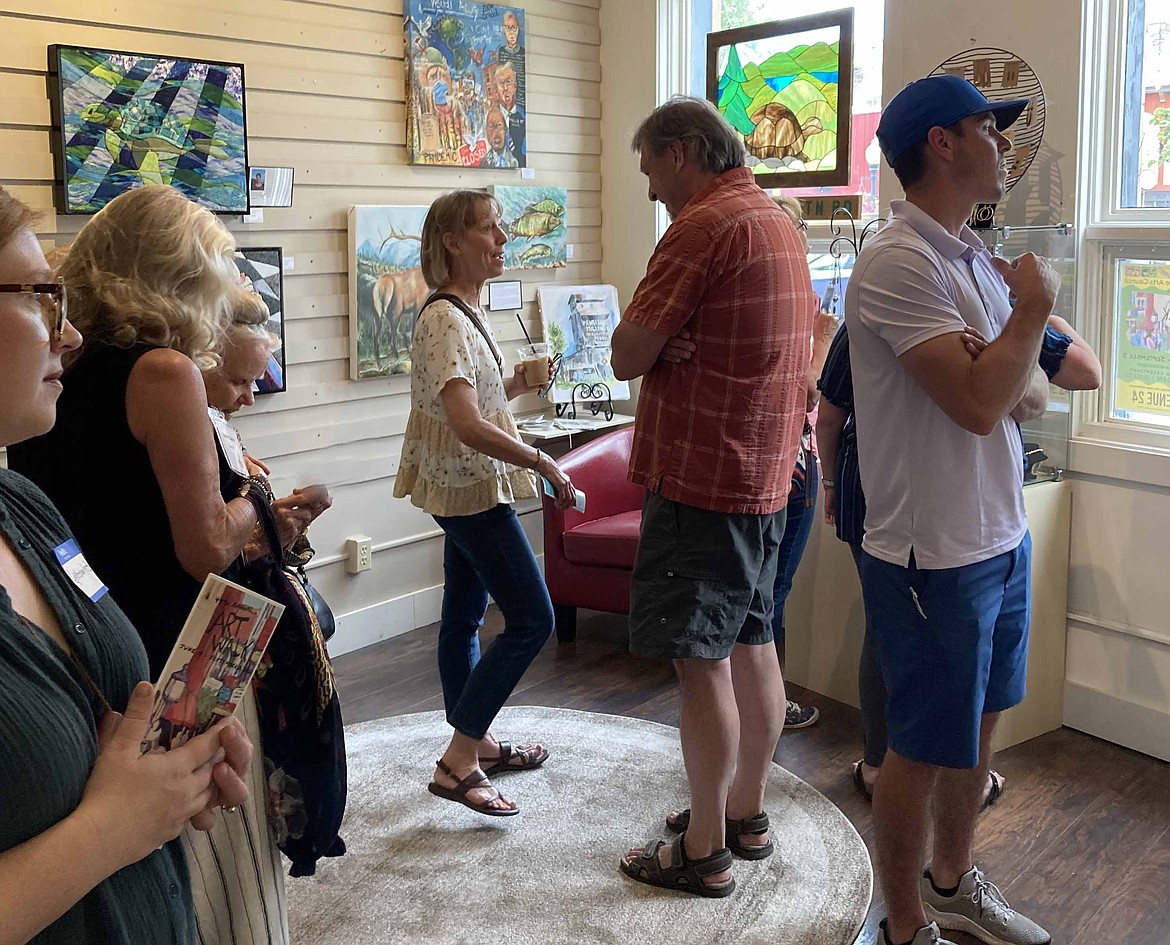 Artist Randy Wilhelm, center, discusses his work at last year's ArtWalk. Wilhelm will be exhibiting his paintings plus the artwork of over 35 local artists at this year's ArtWalk opening Friday, June 17, with receptions at 28 downtown locations starting at 5 p.m.
(Courtesy photo)
Exhibiting an array of diverse style and varied media artwork, twenty-eight downtown venues will transform into art galleries for Pend Oreille Art Council's 45th annual ArtWalk opening Friday, June 17. Citywide receptions will start at 5 p.m. and refreshments will be served until 8 p.m.
ArtWalk kicks off summer fun in Sandpoint. Come meet your neighbors and friends and expect to see some of the most creative artwork produced by over thirty-five talented local artists. Pick up a map at POAC's office, 110 Main Street, or any participating location, then plan your route.
"This is going to be one of the best shows we've ever done," POAC board president Carol Deaner said. "The quality of workmanship and design is extraordinary. There is undoubtedly something for everyone's taste in art. And, you don't have to worry about getting to each venue on Friday evening because these artists' work will be on display until September 2."
POAC encourages you to see each venue. Pick up a "passport" at any location, have it stamped at ten participating businesses or more, then submit it for a drawing to be held on September 9 for two season tickets to Pend Oreille Arts Council's 2022-23 Performing Arts Series.
Participating businesses include:
Arlo's Ristorante (124 S. Second Ave.) Artists: Tessema C., Lindsey Falciani; Azalea (322 &324 N. First Ave.) Artists: Johnelle Metz, Barbara Schelling; Burlwood Dreams (201 N. First Ave.) Artists: Larry Book, Ron Lawson, Corey Obenauer, Kimberly Obenauer; Colombia Bank Community Plaza (231 N. Third Ave.) Artists: Art for Life, Jeanine Asche, Jenni Benoit, Carolyn Broadway, Susan Kirkpatrick, George Kiselica, Marni Quist, Michael Smith, Jean Spinosa; Cropper & Co. (210 Second Ave.) Artists: George Kiselica, Nellie Lutzwolf, Savannah Piits; Eichardt's Pub (212 Cedar St.) Artist: Gretchen Herb; Grace & Joy (212 N. First Ave.) Artists: Betty Billups, Teascarlet; Matchwood Brewing Company (513 Oak St.) Artist: Kathy Robinson; Neiman's Floral Market (211 Cedar St.) Artists: Jody Aslett, Kim Cash, Catherine Earle, Sohini, Fran Summerday; Outdoor Experience (314 N. First Ave.) Artist: Ed Robinson; Pend d'Oreille Winery (301 Cedar St.) Artists: Mary Gayle Young; June: Jeff Rosenkrans; July: Kathy Gale; August: Connie Scherr; The Tin Roof (120 S. Second Ave.) Artist: Ben Joyce; Yafay Wellness Collective (202 N. Second Ave.) Artist: Matt Lome.
POAC is committed to bringing arts and culture to Bonner County through visual and performing arts programs. All POAC events are family-friendly, and costs are kept to a minimum in order to help make them affordable to the community. Funding is obtained through grants, sponsorships, and individual donations.
For more information about Pend Oreille Arts Council's events and how to get involved go to www.artinsandpoint.org or call the office 208-263-6139. The Art Gallery is open Monday to Friday from 10 a.m. to 4 p.m.
Recent Headlines
---