Rains have area waters running high, faster than normal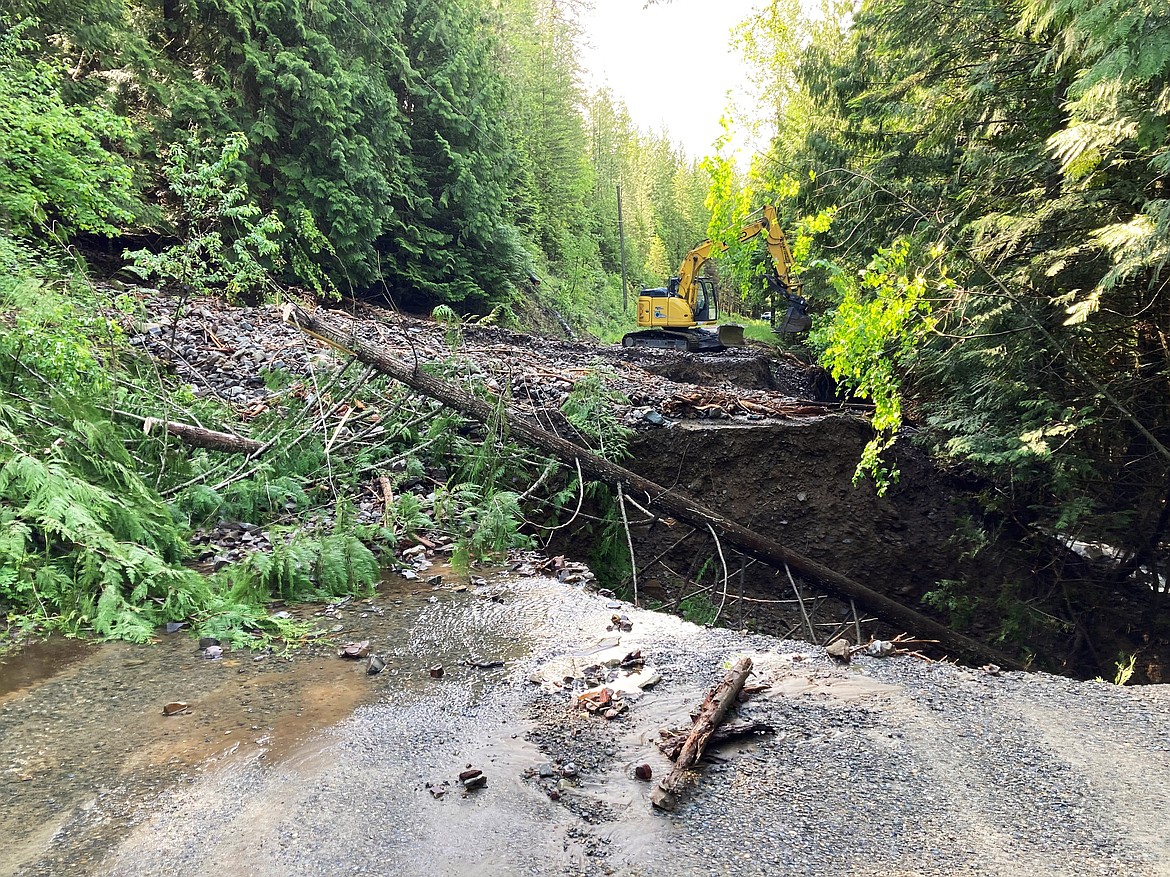 Crews work to repair Lightning Creek Road, which was damaged when debris washed into the creek plugged a culvert near Goat Mountain Trail. The road was rendered impassable by the damage, which the U.S. Forest Service hopes to have repaired by Wednesday.
(Photo courtesy J. HEISEL/U.S. FOREST SERVICE)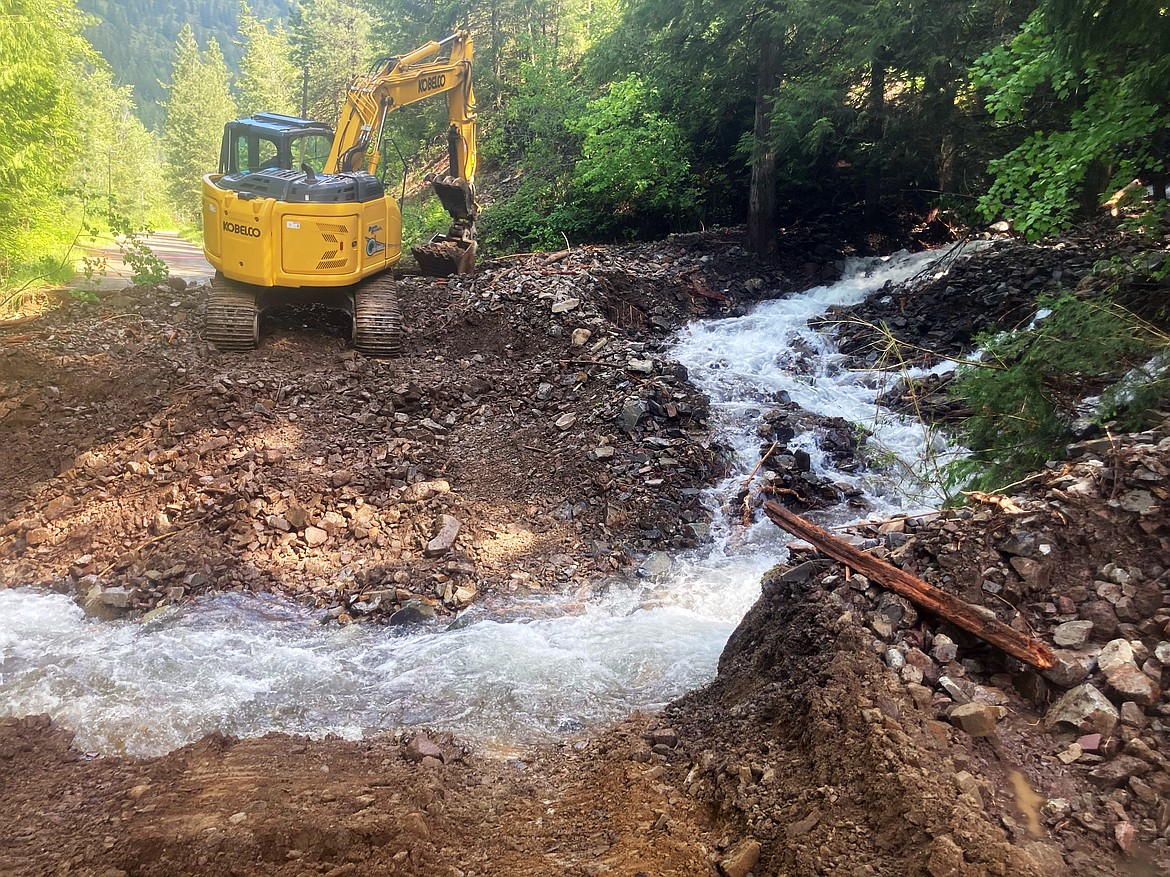 Crews work to repair Lightning Creek Road, which was damaged when debris washed into the creek plugged a culvert near Goat Mountain Trail.
Previous
Next
by
CAROLINE LOBSINGER
Staff Writer
|
June 19, 2022 1:00 AM
▶️ Listen to this article now.
While the rains have subsided for a spell, more is on the way — and that has the county's lakes, streams, and rivers running higher and faster than normal.
With snow still in the higher elevations and more rain expected, Lake Pend Oreille is predicted to approach its flood stage of 2063.5 in the coming weeks, Bonner County officials said. 
That heavy precipitation from a series of late spring storms, combined with above-average snowpack runoff, meant significantly higher inflows into Lake Pend Oreille, Molly McCahon, Lakes Commission executive director, said. It also raised the flood risk downstream of Albeni Falls Dam, with the Pend Oreille River likely to stay above flood stage in the coming week.
To mitigate flood risk, McCahon said the U.S. Army Corps of Engineers is operating Albeni Falls Dam with all gates open in a free flow operation. 
Free flow is when the river flow control switches from Albeni Falls Dam to the natural constriction between Dover and the dam, balancing flood risk on the lake and downstream, McCahon said. 
"The project will remain on free flow until it has been determined that the current event is in recession and the flood risk has passed," she said, adding the Seattle District is coordinating with local officials.
Residents in flood-prone areas should take precautions and be prepared for flooding, McCahon said. In addition, those taking to the lake and river should be prepared for water levels to temporarily rise or fall in the coming week.
"Corps modeling, using National Weather Service River Forecast Center hydrologic forecasts, suggests we could see peak Lake Pend Oreille elevations approaching 2,063.0 feet, and outflows approaching 110,000 cubic feet per second," said Leon Basdekas, Upper Columbia water manager for the Army Corps of Engineers.
As of Friday, the lake at the Hope gage was at 2,061.91 feet with outflows of 100,800 cfs, Basdekas said.
Adding to the challenges, Corps officials said a 100-foot section of the Clark Fork Drift Facility log boom failed, which could send logs and smaller debris into the lake.
"Officials are monitoring the situation until high flows recede and emergency repairs can be made," McCahon said. "Until the breach is fully repaired, officials advise that boaters use caution and be alert for logs and debris which can float just beneath the water."
Those high lake levels and fast river flows have prompted the Bonner County Marine Division to urge boaters to increase their distance from shore and avoid putting up a wake completely to minimize the chance of wakes rolling over the shoreline and onto adjacent properties. 
"With all this runoff and a failed boom on the Clark Fork River, we are seeing a lot of debris entering waterways, as well as docks coming loose, so please maintain a proper lookout and be careful of hazards," McCahon said.
With both the Clark Fork and Pend Oreille rivers moving "at a steep clip," small motors are often unable to compete with the currents. McCahon noted that failing motors are a common problem in early summer, with many boaters having just pulled their boats from storage. As a result, the fuel is old or bad, and motors haven't been maintained, which potentially puts boaters at risk. 
"Always check the weather before heading out on the water," McCahon said. "Storms come on very quickly in our area."
In East Hope, city officials said they are keeping an eye on the water levels, which saw Strong Creek flow high and muddy over the past week. In nearby Clark Fork, Lightning Creek Road suffered damage when debris washed into the creek plugged a culvert near Goat Mountain Trail. The road was rendered impassable by the damage, which the U.S. Forest Service hopes to have repaired by Wednesday.
On the county's western half, snow depths are declining and the speed at which it melts will determine if there is another peak in water level on Priest Lake and Priest River, McCahon said. While cooler temperatures and some rain were predicted over the weekend, warmer temperatures are in the forecast for the coming week.
"Keep in mind that historic lake levels have exceeded the current lake level," she said. "Peak lake level and river flows each spring are determined by Mother Nature and the speed of runoff. This year, peak runoff is occurring later than average."
While Outlet Dam is wide open to allow outflow to pass freely through the dam, McCahon cautioned residents to be prepared for higher lake levels and river flows in the coming weeks.
Bob Howard, director of Bonner County Emergency Management, said Priest Lake is sitting about a foot above its summer pool. And, like on Lake Pend Oreille, Howard said a fair amount of debris has found its way into Priest Lake.
"Be cautious and keep an eye out," he added.
And that advice holds true as well for folks who live near smaller creeks that have exceeded their banks, Howard said While they don't have the crews to deliver them, Bonner County Emergency Management does have sand and sandbags on hand for folks to pick up to put around their homes.
The department can be reached at 208-265-8867.
State and county officials urged residents to be prepared for possible increases in the lake level and river flows in the coming weeks and follow safety guidelines. 
USFS officials reminded drivers to remember that road conditions can be unstable and soft, especially with the recent spring rains. "Practice the 'know before you go' principles — have a plan, a map, and an alternate route in mind in case unsafe conditions are encountered," Kary Maddox, Idaho Panhandle National Forests public information officer, said in a recent press release.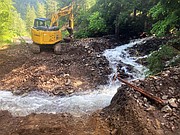 Recent Headlines
---