Sandpoint Renaissance Faire featured a merry olde time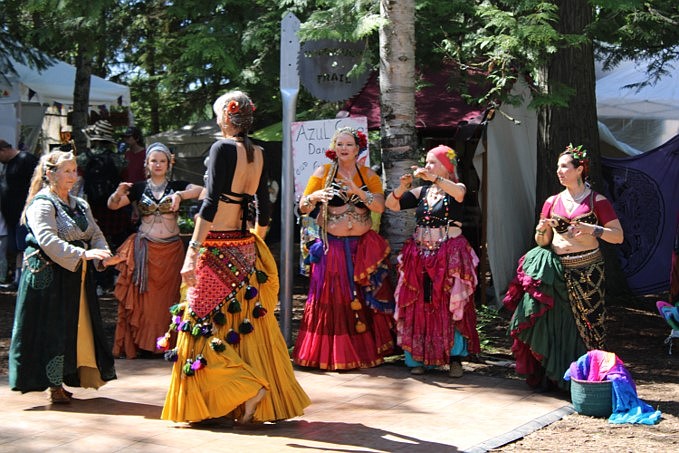 A group performs at the fifth annual Sandpoint Renaissance Faire.
(Photo courtesy TANYA ANDERSON)
by
BEAUX WHITE EAGLE
Staff Writer
|
June 19, 2022 1:00 AM
SANDPOINT — It was a merry olde time at the Sandpoint Renaissance Faire, with 5,000 visitors traveling back into history for the event's first year at the Bonner County Fairgrounds.
The brainchild of two Sandpoint Renaissance Faire board members, Tanya Anderson and Anita Pew, the Sandpoint Renaissance Faire started in 2017 with a simple idea. Pew attended Sandpoint's annual cosplay and fandom event, Sandemonium, and left with inspiration.
"So she calls me on our way home from the cosplay. 'Hey, what do you think about doing a Renaissance fair?' And so, of course, I screamed for about, you know, 20 minutes at as high of a pitch as I could, and then, once she got her hearing back, we thought, hey, this is a great idea," Anderson said.
That first year, friends and coworkers gave Anderson and Pew the support needed to move forward with planning. After a few meetings, they soon had a board consisting of four members, including Anderson and Pew, all of whom are still on the board today. Taking the next year to plan, the first Renaissance Faire was held at Wood's Ranch in early September 2017. 
"The first year was kind of more cleaning horse manure and making sure that we had a spot and we were going to be happy if anybody showed up. Even if it was just a costume picnic on the grounds, we were going to be happy, "Anderson said.
With the help of a lot of volunteers and sponsors, Anderson said the first year was a success. The event has since grown to have a larger board and an advisory committee, and has become a registered non-profit organization known as the Renaissance Association.
"It just kept growing from there. So many of the volunteers that were there the very first year are on our advisory council, if not our board," Anderson said.
The era chosen for the Sandpoint Renaissance Faire is before the Spanish Armada in 1583, transporting attendees back to a time ruled by England's Queen Elizabeth I. Choosing the era because of its popularity, Anderson, who plays Her Majesty annually, said she had two queens to choose from but chose Queen Elizabeth for her strength and renown. 
"I played the Queen the first year as well, and they said you need to pick somebody, either Elizabeth or Mary Queen of Scots, and I thought, Well, Mary Queen of Scots was beheaded. So I better go with Elizabeth," Anderson said. "I chose to go with a queen who was a strong queen and who was well known as the daughter of King Henry VIII."
Growing in size and changing venues throughout the years, this year's event was held June 11-12 at the Bonner County Fairgrounds and went well, hosting more than 5,000 visitors during the two-day event.
"Being able to host an event and have over 5000 people visit, it was something for sure," Anderson said.
The board and volunteers get involved in every way possible, with Anderson not being the only board member to have an alter-ego appear during Ren Faire weekend. Boundary County Sheriff's Deputy Robert Pew of Boundary County not only facilitates the games and activities found at the Pirate Cove, but he is, in fact, the pirate known as The Blind Pew.
"His character is just amazing. He is so good with the kids. They have games and activities, and he is true at holding character," Anderson said. "I think if anyone holds character as true as the Queen does, it would be The Blind Pew."
This year's Ren Faire featured many attractions significant to the era, including places to visit such as the Pirate Cove, food, music, and entertainment. One of the shows featured came from Wild Hearts Equestrian, which gave a moving performance, Anderson said. 
"Truly one of the most heartwarming shows I saw this year was Wild Hearts Equestrian. Jessie Leen's performance brought tears to my eyes, and you're trying to be in character and stay composed and poised as a queen. Watching this performance just drew at my heartstrings. You see the patience she has for her horses, you know, just the beauty of the relationship she has with them," Anderson said.
There were many highlights to the year's event, Anderson said, including an area of exploration for children called The Fairie Realm. 
"The fairie realm was so beautiful this year. We had this kind of blocked off in a way where you're going into but that's why we call it the fairy realm, because you're just going into this other realm for children. In there, you have these white, sheer chiffon drapery surrounding the fairie realm. When you walk in the entrance, you're walking into just beautiful hanging wisteria, white, and purple everywhere, lanterns and little golden tables and chairs. 
There are three sections within the fairy realm for activities, and so the kids had little activities in each section. We had three fairies that ran the fairie realm. They help the kids with activities and they are just amazing," Anderson said.
While the Sandpoint Renaissance Faire is set in 1583, Anderson said those who visit should never feel obligated to dress according to that era. 
"We just want people to come regardless of what their dress is like. We want people to come and enjoy it, whatever that looks like to them is, you know, up to them. We have had fairies, pirates, mushrooms, and mermaids. We have people from all walks of imagination," Anderson said.
While the board has worked hard over the years to keep the event going, Anderson said most of that success has come from the community and volunteers. 
"We are most blessed in Sandpoint, for sure. The amount of love and outreach in the community and people who are just giving and kind. I have never seen a town, and I've moved a lot, that comes together in harmony as much as Sandpoint does," Anderson said. "It takes a lot of volunteers and I would say a good solid portion of the fair is contributed by volunteer work." 
Anderson said the board is always looking for volunteers and is open to new ideas from the community as well. To volunteer, contribute an idea, or find out more, visit The Sandpoint Renaissance Faire Facebook page or website. 
Recent Headlines
---