East Hope announces fundraising raffle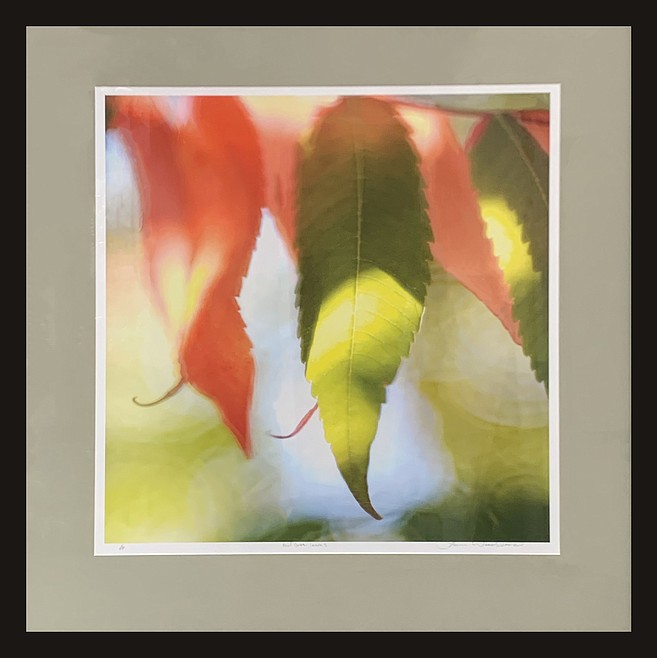 A photo of the artwork, "Red Green Leaves" by Tom Woodward is to be raffled off in East Hope's summer fundraiser for the city park. Tickets go on sale July 1, 2022
(Photo courtesy CITY OF EAST HOPE)
by
BEAUX WHITE EAGLE
Staff Writer
|
June 21, 2022 1:00 AM
EAST HOPE – City officials have officially announced a summer fundraiser to continue improvements at East Hope City Park.
The project for the park, located across from what is now Hope Market, began with building the Veterans Memorial Wall in 2021. The dedication to veterans allows all honorably discharged veterans and their families to purchase an engraved plaque to be added to the wall.
Since then, donations have allowed the city to purchase plants and a playground set for the park. With the plants planted and the water system for their care set to go in soon, city officials said East Hope is looking to raise additional funds for benches, flower baskets, and more. And that's where the city's new summer fundraiser comes in
After finishing its flamingo flocking fundraiser in May, East Hope council members discussed parameters for raffling off a donated art piece at its June meeting. The artwork is a printed fine art photo by former East Hope resident and photographer Tom Woodward. Woodward gave the work to Laurel and Larry McBride when he moved; the McBrides then donated it to the city.
The photo, entitled "Red, Green, Leaves", is 33" x 33" and is printed on archival paper, framed with an eight-ply mat frame from Hen's Tooth Studio in Sandpoint. The city clerk and treasurer Christy Franck said the art piece has been appraised at $850.
Tickets for the raffle will go on sale on July 1, the prices will be $20 for a single ticket and $100 for a pack of six. The raffle drawing will take place at the Sept. 13 council meeting.
To view the print, visit the city website, Facebook, or East Hope City Hall during regular business hours, Monday through Thursday, 9 a.m.-3 p.m. and Friday, 10 a.m.-3 p.m.
Recent Headlines
---