Change of bridge ownership worries businesses owners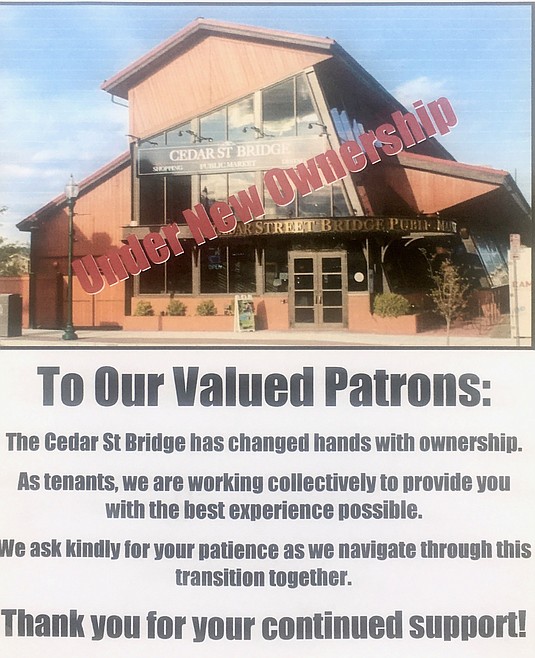 A flyer announcing a change in ownership of the Cedar Street Bridge. Owners of businesses on the structure are concerned about where that leaves them and their businesses.
(Courtesy photo)
by
ANNISA KEITH Contributing Writer
|
June 22, 2022 1:00 AM
SANDPOINT — Changes for the 24 locally owned businesses in the Cedar Street Bridge began last month.
On May 17, business owners received a brief email from Los Angeles business, the Law Firm of Fox & Fox, informing recipients they would now be paying rent to Delaware-based 215-219 Larchmont Boulevard, LLC.
[Many of the facts contained in this article come from interviews and documents shared by 10 business owners within the bridge. Of that number, six asked to remain anonymous fearing potential retaliation from the new owners.]
Less than a week after the change in ownership, the business owners said the bridge's custodians were fired and combination locks were placed on restroom doors. Tenants were notified by email that restrooms were no longer public and that dogs were no longer allowed inside the market.
Business owners reported having to fill out documents detailing current business ownership and lease agreements, also known as tenant estoppels.
Then, shop owners said they began receiving varied information about changes to their lease terms, although information received varies from business to business.
Rent increases averaging between 40% to 60% have been reported for all businesses needing to renew their leases.
Businesses owners with verbal agreements or month-to-month leases report being given the option to sign a new five-year lease with higher monthly rent, or having until the end of the month to vacate the space.
Year-long lease holders said they were not given the option to renew their contract under the current terms. Like those with shorter leases, they were given the option to sign a five-year lease or move out.
All business owners, including those with long-term leases, will see changes to their terms, the business owners said. All of those interviewed reported upcoming changes to their Community Area Maintenance agreement.
A CAM agreement covers the maintenance and expenses for the common areas of a rental space such as sidewalks, walkways, utilities, and restrooms.
Language in the new CM agreements change fees from a flat rate to a percentage of the total costs for maintenance, repairs, and potential upgrades. However, language within the agreement stated that it would be "unlikely" tenants would be billed the entire amount of their share, should expenses arise.
All expressed uncertainty about the agreement, with three business owners saying they felt the language was "intentionally vague." Others said their businesses could not financially afford unpredictable future expenses.
One said upcoming rent hikes, paired with the rise in inflation, has prevented them from hiring an additional employee.
A pattern of miscommunication?
Of all those interviewed, rent payments for the month of June have yet to be cleared, including those made by wire transfer. No one has physically met the new owners of the bridge, and store owners are made to send physical mail to a Sandpoint post office box. Emails from Larchmont have "[Spam]" included in the title line, even though emails are sent to the main inboxes of recipients, the business owners said.
"We get cryptic emails they say 'spam' in the title line," Adam Wegman, owner of Sandpoint Jewelry Studio, said on Tuesday. "The whole thing is a little shady and creepy."
Some business owners said they had deleted the correspondence thinking it was actually spam.
According to information obtained by the Delaware Secretary of State's website, Larchmont's registered agent is the Corporation Trust Company, also known as CT Corp. In the U.S., all businesses must have a registered agent that is available during business hours.
CT Corp was included in the April 2013 Offshore Leaks according to the International Consortium of Journalists database.
Shell companies are used for a variety of legal and legitimate reasons, such as shielding the identities of business owners, shareholders, and other private persons. Such companies are also commonly used for other reasons.
More information found on Open Corporates revealed that Larchmont had a Los Angeles branch sharing an address with the Law Firm of Fox & Fox, however, the businesses was "cancelled" in May 2020.
Repeated efforts to contact the registered agent of the branch, Frank Oliver Fox, for comment were unsuccessful.
Into the unknown
Seven of the business owners interviewed said they are looking for space outside of the bridge an attempt to stay in business. However, all expressed sadness about the changes on the horizon.
"My concerns are for my friends who have to close their businesses, it's just sad," Andy Girton, owner of Sand Creek Quilting, said on Thursday.
A majority of those interviewed compared the community within the bridge to that of a family. They said those who work and own businesses within the bridge are incredibly close with one another.
"It feels like there has been a death in the family," said Junior Sekaya, owner of Bodhi Elements on Friday.
All business owners said they would have felt more at-ease with the changes if they got a chance to meet the new owners.
"We had only hoped to have an option for a civil correspondence. Just to know 'why' and what their intentions are," Taylor Francis, owner of Taysty's Wine Bar and Eatery, said on Saturday. "This is such a close-knit community. We are so deeply saddened and crushed. We truly lost family. It's a close-knit fabric that will be lost."
Many shop owners struggled to hold back tears during interviews, others struggled with anger.
"It seems as though people are being pushed out," Wegman said. "The sale of the building and those who were involved with it — they did not do their due diligence in protecting everyone in the bridge. Things have changed so rapidly, and not for the good of this community in my opinion."
Wegman share news of the change in ownership in a Friday Facebook post, which has garnered numerous comments and shared over 800 times.
"I wanted to make everyone aware of this amazing building and the home-town, family-owned businesses who make it a fun place to shop. That will soon be changing because of new ownership," Wegman said in the post. "I'm not sure what can be done, but please support our little businesses that feed our families, as we all navigate a strategy on what to do next."
Francis, like Wegman, encourages the community to support the businesses within the bridge.
"I want to stay in business, but I have no idea what that looks like," she said. "Boycotting the bridge is the wrong approach entirely. The small businesses that are able to remain will suffer largely from the current owners' actions. … I think this community needs to be informed of the reality. The people who own the building are responsible, not the shop owners."
Those who asked to remain anonymous said that they would like their businesses to remain in the bridge. However, they said they felt "hands are being forced" and that the change in ownership is "jeopardizing their pursuit of happiness."
Despite the heavy emotions, many of the individuals who work in the bridge are turning to one another, to their faith, and to the greater Sandpoint community for support.
"Regardless if our business continues or not, we will continue to fight for this bridge and for the community of Sandpoint," Francis said.
Recent Headlines
---