Reynolds brothers chosen for Timber Days honor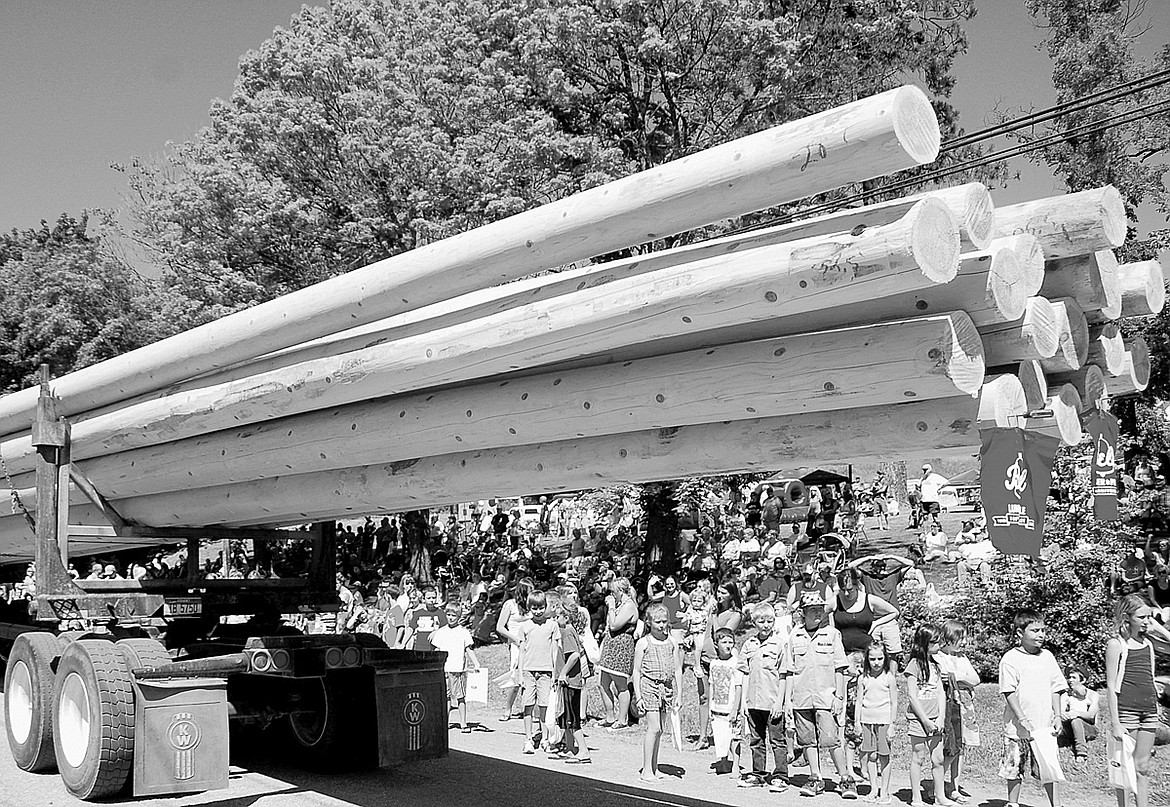 (Courtesy photo) A look back at a past Timber Days parade.
by
MARYLYN CORK Contributing Writer
|
June 22, 2022 1:00 AM
100 Years Ago — 1922
Logging news
Vic Pierson recently purchased 1540 acres of cedar from the Sommers Manufacturing Co., located near Usk, Wash., and containing 40,000 pieces of cedar. Mr. Pierson expects to employ from 25 to 60 men getting the stuff out, and the operation to extend over two years. Jack McKay has almost finished the log drive for the Dalkena Lumber Co., being at Eight Mile with the rear.
90 Years Ago — 1932
Stole his oats
Chas. Maitland left four sacks of oats down in the field (Bodie Canyon) to be sowed next day, but some kind soul saved Charlie the hard job by stealing them. Say, a person must be "feeling his oats" to pull a stunt like that.
80 Years Ago — 1942
Pick up certificates
Those who took the first aid course for air raid wardens several weeks ago may pick up their certificates by calling at the Lathrop Service Station.
70 Years ago — 1952
Has a cute new pet
Leo Black has found himself a quarter-pint-sized bobcat kitten, not yet weaned, and Leo is doing the honors with the regulation nursing bottle and nipple. The kitten is cuter than a button and appears quite able to keep any too-inquisitive dog in his place, even at this early date.
60 Years Ago — 1962
Small fire reported
A lightning fire was reported on The Falls district by the lookout on Gisborne. The fire burned one-quarter acre of timber before dying out.
50 Years Ago — 1972
Fiedler buys distributorship
Don E. Fiedler has purchased the Union Oil distributorship from Donald Easley, according to announcement made this week. The distributorship services the Priest River area, Priest Lake, Newport and Metaline Falls area with offices located in Newport.
40 Years ago — 1982
Fishing derby nears end
The largest mackinaw so far in the fishing derby at Priest Lake is a 43 ½-pound fish caught by Tom Russel of Coeur d' Alene. Dolly Varden division leader is Jay McCaw of Prescott, Wash. Kyle Waggoner of Coolin leads the cutthroat division, and the largest string of silvers was caught by Bill Jeeters of Priest Lake.
30 Years Ago — 1992
Spill prompts evacuation
A Merritt Brothers employ was handling a 20-foot propane tank with a forklift on DARE weekend when the tank dropped to the concrete, rupturing the valve and leaking liquid propane to the ground. Propane vapor is easily ignited. West Pend Oreille Fire Department fire chief Les Kokanos had power shut off to the area immediately. Petrolane out of Sandpoint pumped the tank out and emergency personnel then checked buildings at the mill site with a meter to make sure the gas was gone.
20 Years ago — 2002
Reynolds brothers chosen
Lloyd and Laurence Reynolds have been selected as the 2002 "Bull of the Woods" for the upcoming Priest River Timber Days.
Recent Headlines
---