BCSO urges responsible recreation during Fourth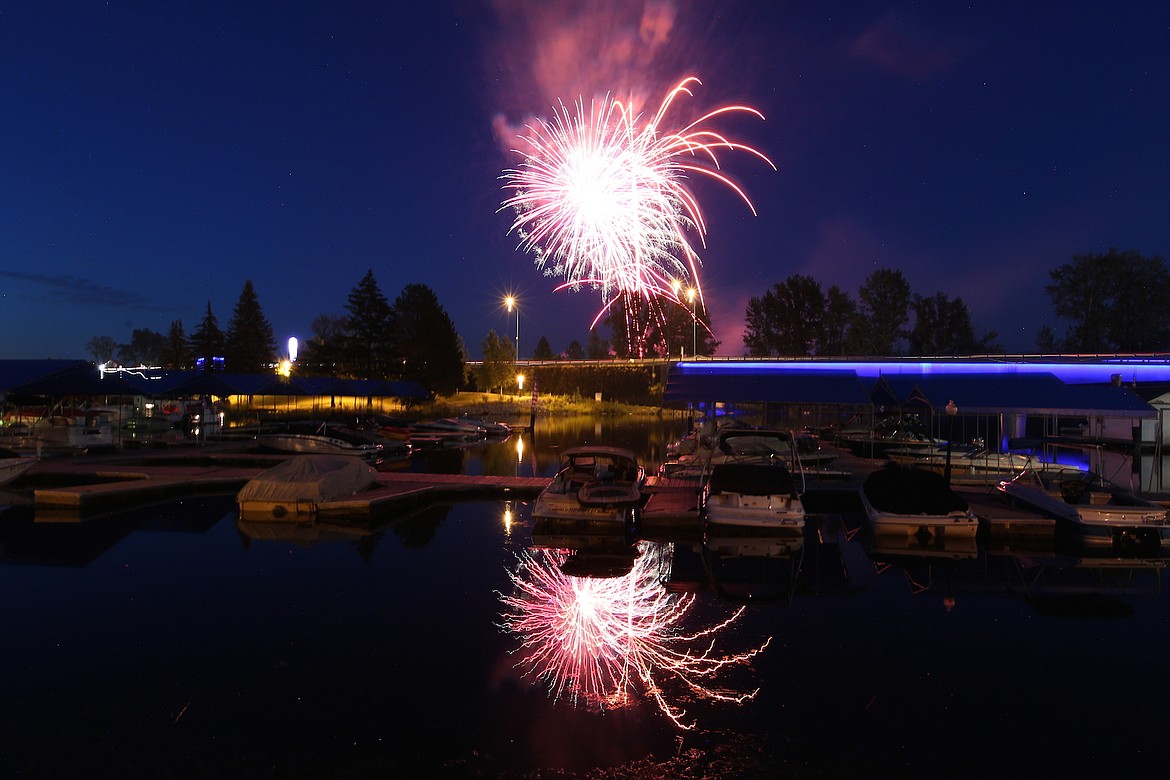 Fireworks exploding over City Beach are reflected in the surface of Sand Creek during a past Sandpoint Lions Clubs Fourth of July celebration. Bonner County Sheriff's Office is asking residents to be responsible during the upcoming holiday weekend.
(Daily Bee file photo)
by
DANIEL RADFORD
Staff Writer
|
June 29, 2022 1:00 AM
SANDPOINT — With the summer heating up, and the Fourth of July on the horizon, Bonner County Sheriff's Office officials are urging residents and visitors alike to use fireworks, legally, properly and wisely.
"The Bonner County Sheriff's Office, along with our partner fire districts, are strongly urging residents & visitors to use fireworks legally, properly, & wisely," the Sheriff's Office wrote in a Facebook post last Monday.
Instead, BCSO officials encouraged residents to attend one of the public firework displays in the area, "including at Elkins Resort on Priest Lake, Bonner Park West, Garfield Bay, Clark Fork, Sandpoint City Beach and East Hope."
The Sheriff's Office reminded their Facebook followers of Idaho Codes 39-2602(6) and 39-2606, should they choose to have their own firework show.
IC 39-2602(6) states that "nonaerial common fireworks" include "ground spinners, fountains, sparklers, smoke devices or snakes designed to remain on or near the ground." They cannot travel outside of a 15 feet diameter (a 7.5 feet radius) nor emit sparks or burning material which land outside a 20 feet diameter (a 10 feet radius), nor can they travel above a height of 20 feet. "Nonaerial common fireworks do not include "firecrackers, jumping jacks or similar products."
And IC 39-2606 states that "Nonaerial fireworks may be sold at retail" and used from the midnight ofJune 23 until the midnight of July 5 and in the winter from the midnight of December 26 until the midnight of January 1.
"Aerial fireworks present a huge risk for causing wildfires, especially as drier [and] warmer conditions approach," officials warned.
The current fire risk according to North Side Fire District's website is "low," while according to the Selkirk Fire District's website it is "moderate."
The post also urges followers not to shoot off fireworks when it is windy, regardless of if they are the "safe and sane" or "non-aerial common fireworks" that are legally permitted in Idaho, to always fully extinguish firework debris before disposing of it, and to "always follow all safety instructions on the firework."
Recent Headlines
---