POAC summer adult art classes now in session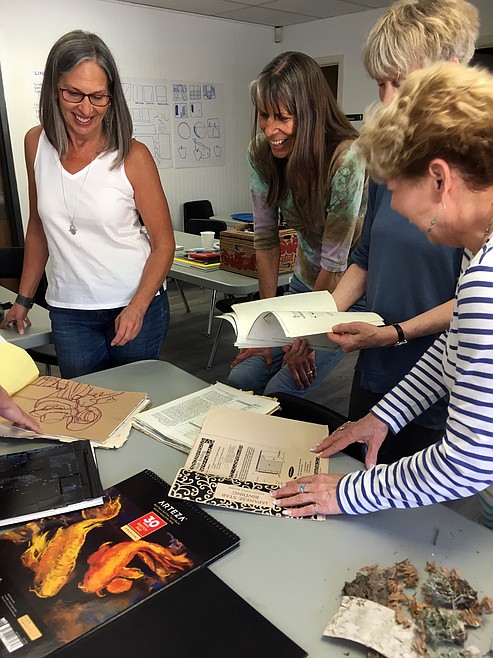 Enjoying the creativity of taking an adult art class at POAC's Joyce Dillon Studio are, pictured from left, Susan Silberman, Karen Hanson, Eli Sevenich and Lee Bonn.
(Photo courtesy KATHY HUBBARD)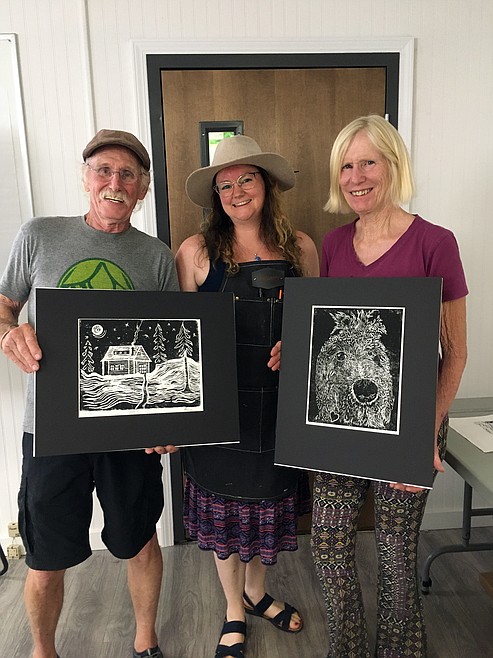 Showing off their artistic skills learned at POAC's Joyce Dillon Studio adult art class with Lindsey Falciani, center, are Peter, left, and Lorel Boas.
Previous
Next
When the Pend Oreille Arts Council's board of directors decided to start offering adult art classes in their Joyce Dillon Studio, there was some skepticism that the program would be successful. Well, those doubters are now overwhelmingly enthusiastic about the positive responses from both the participating students and artist-teachers.
Since opening in January, student participation has increased rapidly. In a recent conversation with current students, Lee Bonn, Susan Silberman, Karen Hanson, and Eli Sevenich, they all talked about how much they have enjoyed having the opportunity to learn together. What stood out in their praise was that they found it inspirational and non-threatening to be creating among other creatives.
"I really appreciate how my teacher inspired me to stretch in unexpected ways," Silberman said. Bonn pointed out that there is a "closeness in every class that really makes you want to know other artists and become part of the creative community."
Hanson added, "Whichever class you are taking will give you a way to ease into a new skill that you may find becomes a part of your life."
When asked what they would say to someone considering a class at the Joyce Dillon Studio they all responded in unison, "Do it! Now is the Time!"
Carrying on where they started, and expanding the curriculum, POAC is excited to offer a wide scope of classes and workshops this summer season. There will be classes in drawing, painting, printmaking, fiber arts, design, color theory, photography, jewelry making, collage, sculpture, kite making, card making and much more. Classes are designed to reach all levels and class sizes are small so that all participants can get individualized attention. Beginning artists and practicing artists are all encouraged to join the fun.
"The summer focus is on a variety of short workshops that people can fit into their busy summer schedule," POAC board member and Joyce Dillon Studio coordinator, Jan Rust said. "Participants will have an opportunity to learn about jewelry making, acrylic painting, kite design, card making, photography, color theory, drawing, and sculpture. There is even a class that allows students to get a head start making Christmas décor."
The entire summer schedule can be found at www.artinsandpoint.org. To give you a brief overview, renown western artist and POAC Artist of the Year, Dan Carpenter, is teaching two three-day classes in acrylic painting.
Alison Barrows-Young is teaching three classes this summer. The first is designing kites followed by classes on the Relativity of Color and Color Symbolism. There are two photography classes taught by Candace Holtberg-Bennett and Vicki Cahill will teach card making in two separate sessions.
Lee Bonn is bringing Christmas in July to the studio and follows up in August with Elves and Sprites and Driftwood Mixed Media. Lindsey Falciani will teach three different classes based around printmaking and mat cutting while Barry Burgess will teach drawing.
If you are interested in taking a class or becoming a teacher at the Joyce Dillon Studio, please go to: artinsandpoint.org/jds-studio. There you will find additional information about the studio, complete class descriptions and dates, student registration, and teacher applications.
The Pend Oreille Arts Council's gallery is open Monday to Friday from 10 a.m. to 3 p.m. For more information on how to become a POAC member artist call the office at 208-263-6139.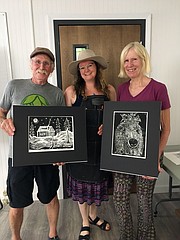 Recent Headlines
---