Summer Sampler set to cook up fun, tasty treats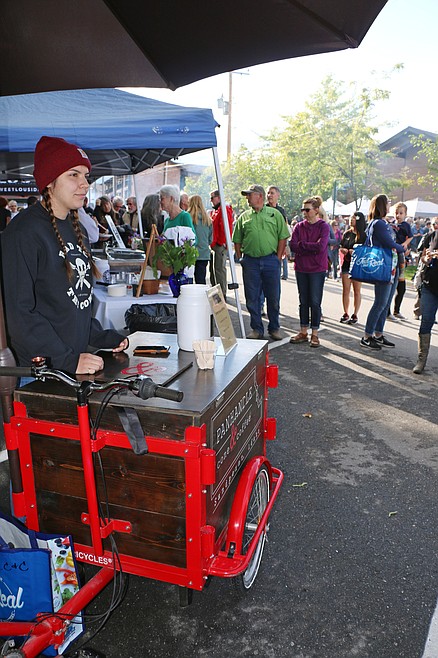 An employee with Panhandle Cone & Coffee waits for customers during a brief lull in the action at a past Summer Sampler.
(File photo/CAROLINE LOBSINGER)
by
BEAUX WHITE EAGLE
Staff Writer
|
June 30, 2022 1:00 AM
SANDPOINT – After a hiatus due to the pandemic, Summer Sampler is back to cook up plenty of fun and tasty treats.
The event, which is celebrating its 15th anniversary, will be held from 5-8 p.m. at Farmin Park.
Described by Kate McAlister, Greater Sandpoint Chamber president and CEO, as the unofficial kick off to summer, the event brings the local community and tourists to the middle of downtown to enjoy food and drinks from the restaurants of Sandpoint.
Pulling together bite sizes of their menus, McAlister said the event gives restaurants some exposure while giving attendees the opportunity to discover their next favorite dish or lunch spot, and at the same time raising "a little money for the chamber of commerce."
The event, which attracted "a consistent 15 vendors in the past" was slated to host 11 vendors, McAlister said. However, due to staffing issues many businesses continue to face, that number has dropped to seven vendors, with some dropping out as recently as this week, she said.
"Since COVID, life has changed for everyone, especially restaurants," McAlister said.
The event was canceled due to the pandemic in 2020 and then again due to vendors dropping out in 2021. McAlister said this event will go on uninterrupted.
"We wanted to have the gathering because it has been a long time and we want to provide a reason for locals to come out and reconnect," McAlister said. "We need to start bringing back some of the favorite events in our town."
The soundtrack for the evening will be provided by a band from Oregon called Cedar Teeth. The five-piece group will combine banjos, vocals, guitars and more to create a sound that Impose magazine has called "the most rustic Northwest pacific pop.. Having produced their debut album "Hoot" in 2014, the band has played festivals such as Summer Meltdown and been featured on National Public Radio's online show Livesessions. Booked in a partnership between the Chamber and Mattox Farms, McAlister said she is excited about the partnership and the music.
"I'm looking forward to having them here. Mattox Farms' Robb Talbot, always provides top notch music for our area" McAlister said "This is a great partnership for the chamber and I hope we can do more in the future."
Tickets will be $1 charged at either entry on Main Street, with most of the food and beverages will be priced between $5 and $10. For every $10 of tickets purchased, a raffle ticket will be earned for a chance to win a set of Festival at Sandpoint tickets to be given away at 7:30 p.m. With a set of tickets for each concert at the festival, McAlister said the only rule is raffle ticket holder must be present to win.
While the purpose of the event is for restaurants to showcase their menus, McAlister said those who attend are welcome to bring their own food, drinks, and chairs to simply "have a seat" and enjoy the live music.
"It is a great kick-off event. Wear your Sandpoint suit, meaning shorts and flip flops," McAlister said." I hope to see everyone there."
Recent Headlines
---