39th annual Gun 'n' Horn show coming this weekend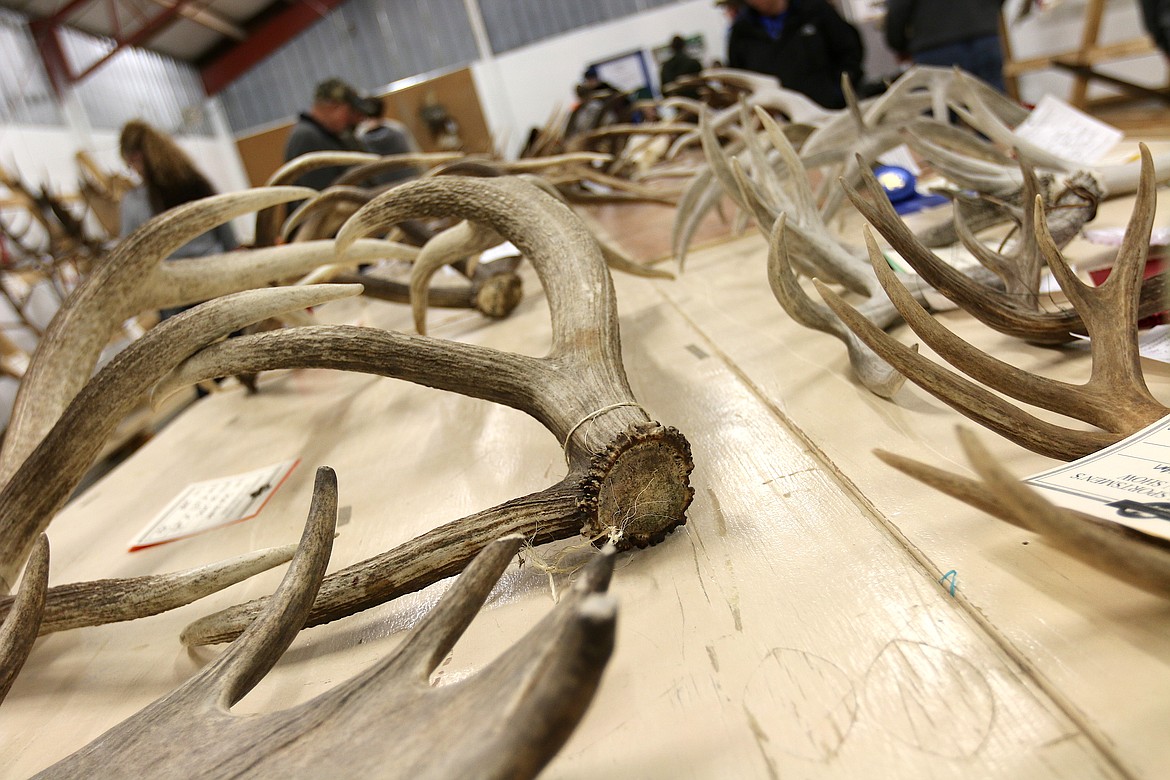 (Photo by CAROLINE LOBSINGER) Area residents look at horns brought in to be measured and judged at a past Bonner County Sportsmen's, annual Gun 'n' Horn Show. The show will be held Friday through Sunday, at the Bonner County Fairgrounds.
by
ANNISA KEITH
Staff Writer
|
March 1, 2022 1:00 AM
SANDPOINT — Outdoorsmen and women of all ages will have a chance to gather this weekend to indulge in all things hunting.
The 39th annual Gun 'n' Horn Show is coming to the Bonner County Fairgrounds this Friday through Sunday. Bonner County Sportsmen organize the volunteer-run event featuring knife and firearm vendors, informational booths, food, and a horn and skull competition. Admission is $5, with all proceeds benefiting hunter education programs and youth scholarship in Bonner County.
"It's our main fundraiser so that we can support the scholarships, so we can run youth day at the range, and so we can support a kid going to summer camp," said Kathy Konek, a volunteer and member of Bonner County Sportsmen.
This year's event features 130 tables with over 70 vendors — 15 of whom are first-timers at the show.

"There's something for everybody — rifles, knives, ammunition, accessories," Konek said. "We're a gun and horn show. People come to see guns, that's what they're going to see."
The free-to-enter horn competition is scored by a panel of judges, with racks to remain on display the entire weekend "for people to 'ooh' and 'ahh' over." Awards are given for archery, rifle, and muzzleloader — deer, elk, whitetail, and mule deer. Animals that don't have horns are also going to be judged in the competition, including bear, cougar, and wolf skulls. Those interested in entering the contest will be able to do so on Friday from noon to 7 p.m.
"We don't charge anybody to enter them and the judges don't charge us to score them," Konek said
Even though many aspects of the Gun 'n' Horn Show do not involve money, the proceeds that are generated go toward helping educate people of all ages in Bonner County about hunting and firearm safety.
"We want to promote gun safety," Konek said. "A lot of the kids we see at the range, some of them have never touched a gun before. Some have a lot of experience. And it's just a great opportunity for a one-on-one."
Bonner County Sportsmen also offers various scholarships for those considering, or actively pursuing, trade school and higher education. Konek said they would like more people to take part in the application process.
"Just because you're going to a trade school doesn't make it any less expensive," Konek said.
More information about scholarship opportunities can be found on the Bonner County Sportsmen website at BonnerCountySportsmen.org/copy-of-projects.
The show begins on Friday at noon, going until 6 p.m. Events on Saturday and Sunday begin at 9 a.m., and run until 6 p.m. and 3 p.m. respectively.
Bonner County Sportsmen hold monthly meetings from September through May at the Leo Hadley Range, 1114 Lake St. The public is invited to attend.
Recent Headlines
---