Schweitzer announces Community Day fundraiser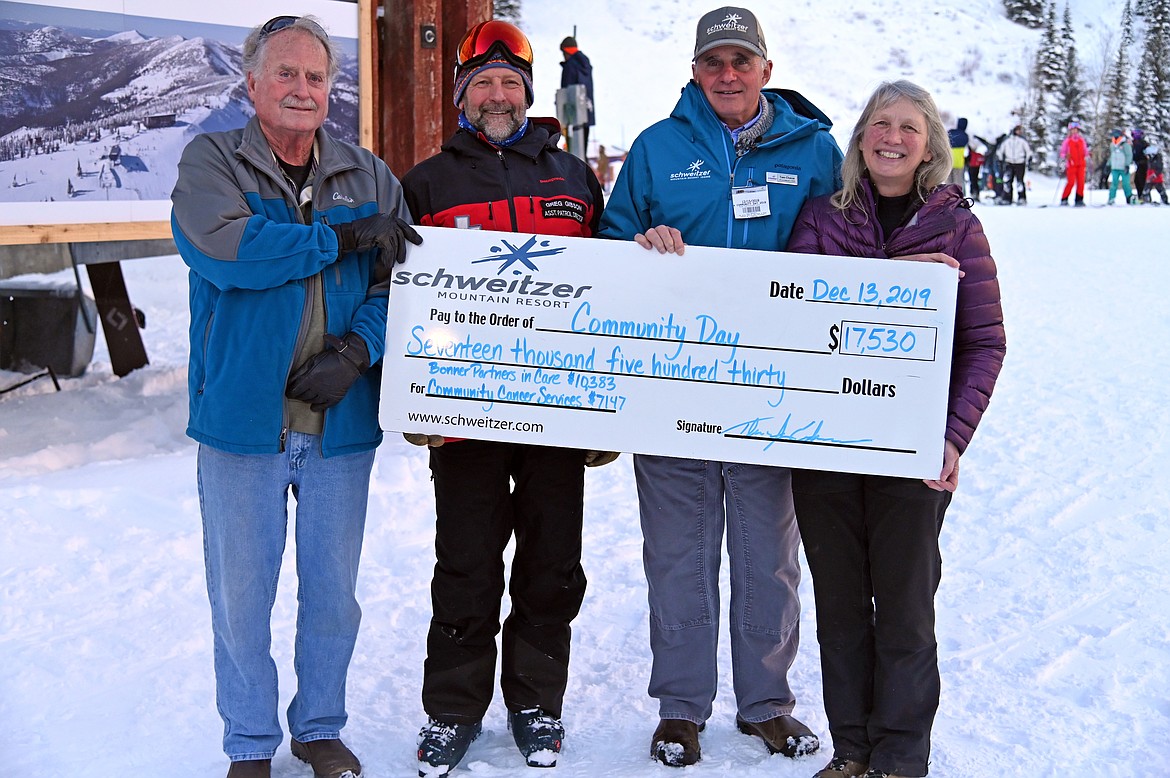 Schweitzer's Greg Gibson, second from left, and Tom Chasse, second from right, present proceeds from its Community Day fundraiser to representatives from Community Cancer Services and Bonner Partners in Care in 2019. After a pause due to the COVID-19 pandemic, the event returns to the mountain on March 25.
(Photo courtesy SCHWEITZER)
SANDPOINT — Community Day, Schweitzer's long-standing fundraiser for two local non-profits, Bonner Partners in Care Clinic and Community Cancer Services, is scheduled to return on March 25, after a hiatus due to the COVID-19 pandemic.
The event, which typically took place in early December has been shifted to a spring date to provide skiers and riders a chance to enjoy the entire mountain.
"Community Day has historically been held in December, but we felt that by moving the event to spring, it gives everyone who's donating to these important non-profits a much better ski experience at Schweitzer," Schweitzer marketing manager Dig Chrismer said. "Conditions mountain wide are really good this time of year and we feel that one good turn deserves another."
Lift tickets for Community Day are $20 and available for purchase online. 100% of all proceeds will go directly to Community Cancer Services and Bonner Partners in Care with guests having the option to select which organization they would like their purchase to support.
Founded in 2002 by a group of local citizens, Community Cancer Services, home of "Heather's House", is a non-profit, community-funded, cancer resource center. CCS provides information and direct support services to cancer patients and their families residing in Bonner and Boundary counties.
Bonner Partners in Care, which opened for patients in July 2003, provides medical services and other support to the community. Thanks to dedicated community members and benefactors, volunteer physicians, physician assistants, nurses, and others staff the clinic every Tuesday evening to provide medical services. Numerous other volunteers help with prescription assistance, bookkeeping, clerical duties, and supply management.
"Both of these non-profits serve people in need in our community and it's an honor for us to be able to support them in this way with a great day on the mountain," Chrismer said.
For more information about Community Day or to purchase tickets, please visit www.schweitzer.com.
Recent Headlines
---