Oldtown man facing felony DUI charge
by
ANNISA KEITH
Staff Writer
|
March 16, 2022 1:00 AM
SANDPOINT — A Oldtown man is facing charge of aggravated driving under the influence after running into a parked Bonner County Sheriff's deputy's patrol vehicle earlier this month.
Jonathan Lee Bauer, 36, is facing a felony charge for aggravated driving under the influence after striking the vehicle on March 3.
According to court documents, Bauer struck the back of Deputy Tom Cimbalik's cruiser while Cimbalik was investigating an abandoned vehicle in the 16000 block of U.S. 2 near Laclede at 6:48 p.m. K9 Deputy "Nova" was in the vehicle with Cimbalik at the time of the collision.
Originally charged with misdemeanor DUI, the charge was elevated to aggravated DUI after Cimbalik's injuries were discovered to be more serious than originally anticipated.
According to information from the Bonner County Sheriff's Office, Cimbalik is experiencing a Grade 3 concussion, and is not able to attend work due to the injury.
Nova is still being evaluated, but is expected to recover according to the Bonner County Sheriff's Office Facebook page.
"The Prosecutor's Office worked with ISP to put a complaint together," said Capt. Tim Hemphill, BCSO public information officer, on Tuesday. "The extent of the injuries was significant to the point that it would rise to the felony level rather than the misdemeanor level."
Idaho State Police Cpl. Jason Maxwell received consent from Bauer to conduct a breathalyzer test after he was taken to Bonner General Health. Bauer blew a .163% on the blood alcohol screening. It is illegal to operate a vehicle in Idaho with a blood alcohol content over 0.04%. An individual is legally considered impared at 0.08% BAC.
Bauer could face a maximum penalty of 15 years incarceration on top of a $5,000 fine. He bailed out of the Bonner County Jail the same day he was arrested on March 11. Bauer's bail was set at $50,000 by First District Magistrate Judge Tera Harden the same day.
Bauer has one previous case in the Idaho court database for a 2015 driving infraction. He will appear for a preliminary hearing on March 23.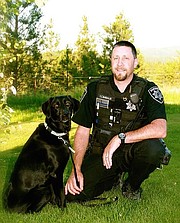 Recent Headlines
---