Workforce housing bill advances
by
DEVIN WEEKS
Hagadone News Network
|
March 16, 2022 1:00 AM
▶️ Listen to this article now.
House Bill 701 passed out of the Senate Commerce and Human Resources Committee with a unanimous "do pass" recommendation on Tuesday.
The "Idaho Workforce Housing Fund" bill would allow Gov. Brad Little's workforce housing initiative to use $50 million in federal funds from the American Rescue Plan Act to help create housing that is affordable for workers across Idaho.
HB701 would help middle-class families by providing gap financing necessary to cover costs that are just out of their reach and give builders the funding they need to get projects going.
Testimony in support of the bill came from across the state, including from Denise Caruzzi of the Boise/Ada County Homeless Coalition; Ali Rabe, former Idaho senator and executive director of the Treasure Valley rental assistance nonprofit Jesse Tree, representing herself; Caleb Rupp, CEO of Pacific Companies in Eagle and a builder who has constructed workforce housing for 30 years; Kendra Knighten, a policy associate with the Idaho Asset Building Network and a lifelong Idahoan; and Karen Lansing, executive director of the Habitat for Humanity Idaho Falls Area.
No testimony opposed the bill.
"People who've lived here for generations, people in my family, my friends, others I'm sure you know, are being forced to move to other states or other areas of Idaho," Rabe said. "We can't afford to ignore this housing crisis any longer."
She said Idaho doesn't want to become the next Oregon, California or Washington, but "Idaho is headed that way, where tens of thousands of people are living in homelessness if we continue to do nothing as a state government.
"The mechanism as the funding source here would be a game changer for our state," she said. "It is time to chart a new path. I encourage you to vote 'Yes' on this bill."
Lansing said Coeur d'Alene, Boise, Idaho Falls and Pocatello have "the great distinction of being identified as the least affordable cities in the entire United States to purchase a home."
"This is out of control," she said.
Rupp said passing this bill would unlock $200 million in resources the state has available to it, but cannot use because Idaho doesn't have a gap financing source.
"That is one of the beauties of this funding source," he said. "It unlocks that."
Sen. Jeff Agenbroad, R-Nampa, presented the bill to the committee. He said across the state, employers are reporting difficulty housing workers.
"In almost every corner of the state, young people, young families, senior citizens and people on a fixed income are struggling to keep up with the cost of housing," Agenbroad said. "This fund will benefit many of the Idahoans we depend on each day who work in grocery stores, schools, health care facilities and the list goes on."
The bill passed the House 37-31 on March 4. The only North Idaho legislator to support it is Rep. Paul Amador, R-Coeur d'Alene.
It now goes to the full Senate.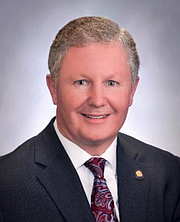 Recent Headlines
---