SMS student earns place on national team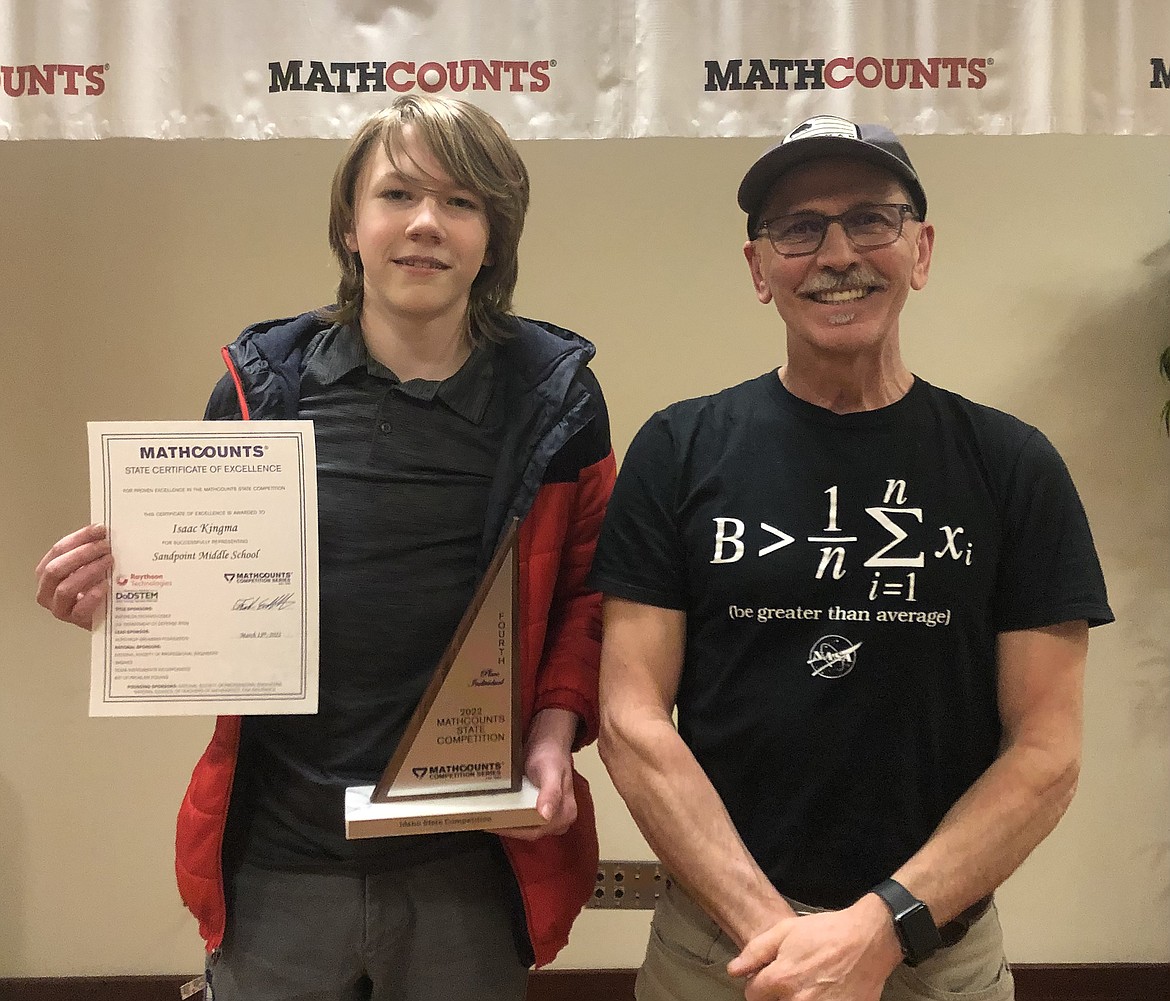 Sandpoint Middle School student Isaac Kingma poses with SMS teacher Pat Lynch after earning a spot on the state team headed to the national MATHCOUNTS competition.
(Courtesy photo)
A Sandpoint Middle School student has earned a spot on the state team headed to the national MATHCOUNTS competition.
The distinction follows the SMS competing in the Northern Chapter MATHCOUNTS tournament on Feb. 17 with four other North Idaho middle schools, finishing second. Only the prestigious North Idaho Stem Academy bested SMS in the competition as perpetual rival Coeur d'Alene Charter Academy finished in third place.
The SMS MATHCOUNTS core team was led by captain Isaac Kingma, and his teammates Evan Brubaker, Trevor Richardson, and Brennan Schuh. In addition to the core team led by Kingma, SMS had two additional teams of four competing. The first alternate team consisted of captain Kate Marks, Maicy Whitman, Hannah Ricks, and Hunter Squires. The second alternate team was led by captain Canyon Lucht, Medea Moon, Quinton Bednarczyk, and Jacob Alexander.
In addition to the core team finishing second in the Chapter competition, Kingma placed second overall among the scores of mathletes competing. This ranking earned Kingma a trip to the State of Idaho MATHCOUNTS competition held in Boise at the BSU campus on March 12.
After the dust settled in this grueling competition of the smartest 55 middle school kids in the state, Kingma was ranked third overall. Eventually, after a Jeopardy-like countdown round of questions, Kingma ended up finishing fourth overall, which earned him a place on the state team competing at nationals in Washington, D.C. in May. Kingma's place as a member of the state team provides him with an all-expense paid trip to Washington, D.C., where he will compete with his team. After the national competition, Isaac will have an opportunity to visit numerous Washington venues and monuments.
"I have had the opportunity to coach kids in our afterschool MATHCOUNTS program for over 20 years teaching at Sandpoint Middle School," SMS teacher Pat Lynch said. "In all those years of coaching and mentoring many amazing individuals, I have had only one other student make the state team competing at nationals. Watching Kingma spend countless hours preparing for the state competition showed that we have kids out there right here in Sandpoint who are demonstrating what hard work, focus  and dedication can accomplish."
Recent Headlines
---