Reclaim Idaho submits final signatures for education initiative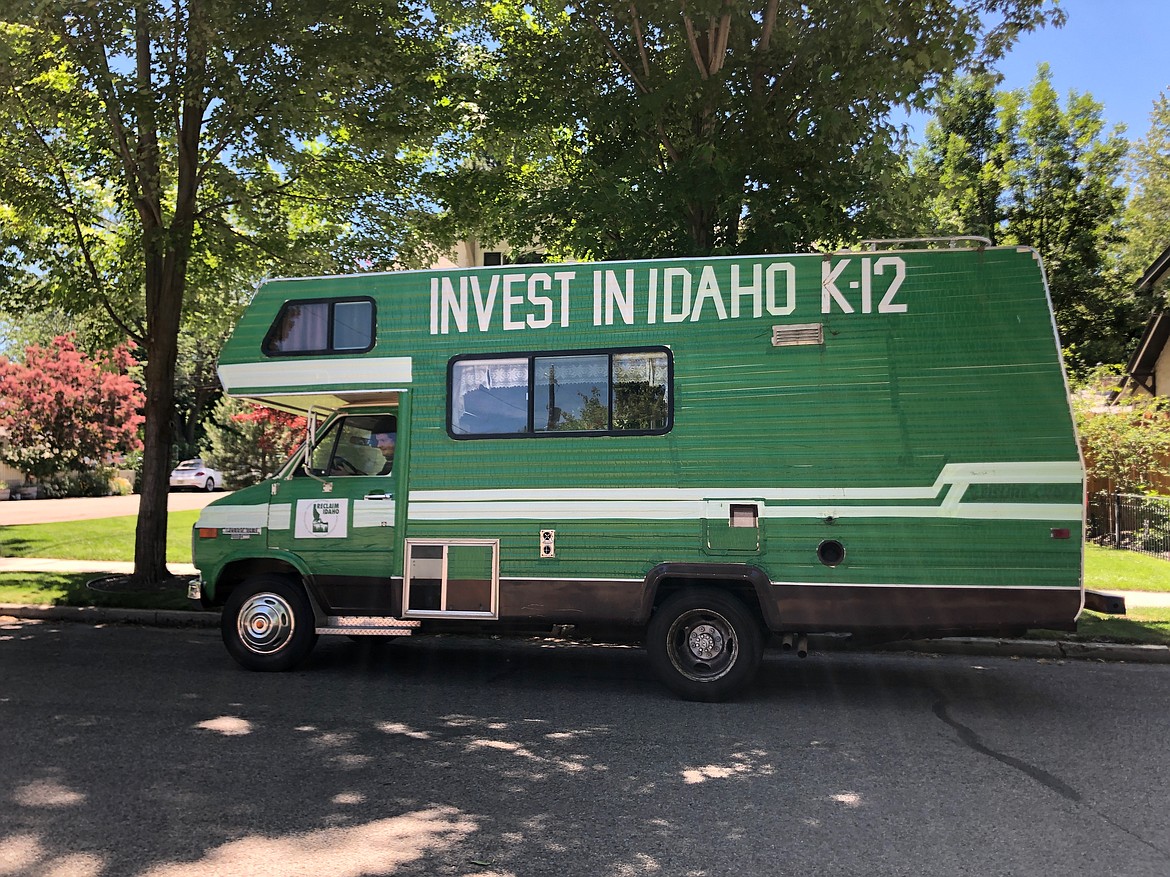 Reclaim Idaho announced Monday that it had turned in the last of nearly 97,000 signatures in their effort to get the Quality Education Act on the ballot. The initiative aims to increase K-12 funding by over $300 million annually.
(Courtesy photo)
by
CAROLINE LOBSINGER
Staff Writer
|
May 3, 2022 1:00 AM
▶️ Listen to this article now.
SANDPOINT — In the last 30 days, Reclaim Idaho collected more than 20,000 signatures of the nearly 97,000 submitted as part of its drive to get the Quality Eduction Act on November's ballot.
"We've proven that there are a whole lot of people in every community in Idaho who support this initiative," Luke Mayville, co-founder of the grassroots group, said. "We've had volunteers working on this in every region of the state and there is not a single place where we didn't find lots of eager people willing to sign the initiative."
"It's just clearly true, that no matter what people's political party or ideology, the vast majority believes that every Idaho child deserves a quality education. And we're proud of the fact that we're giving the voters of Idaho a chance to give our kids something closer to the quality education they deserve."
The group began collecting signatures in June 2021, reaching nearly 97,000 signatures throughout the state, with the last submitted to county clerks on Monday. If approved, Reclaim officials said the act would raise $323 million a year in support of strong K-12 programs and better pay for teachers and support staff.
The grassroots group also secured signatures from 6% of voters in 20 legislative districts, including districts 1 and 7 in North Idaho.
Reclaim Idaho gathered 2,708 signatures in Kootenai County, 3,590 signatures in Bonner County, more than 700 between Boundary and Shoshone counties, and another 3,625 signatures between Latah and Benewah counties.
In order to place an initiative on the ballot, a campaign must collect 64,945 valid signatures and also signatures from at least 6% of voters in each of 18 legislative districts.
Once the signatures are validated, the group estimates that at least 70,000 of those signatures will be counted as valid.
"It was incredibly challenging," Mayville said of working to garner support during a pandemic. "It took hard work and dedication from over 600 volunteers across the state and dozens of local leaders who coordinated the signature drive in their own local communities. Without commitment from people all across the state, there was no way we could have got this done."
While the final signatures were submitted Monday, Mayville said they represent only a small number of those turned in to local county clerks.
"The big picture is that probably 99% of our signatures were submitted before today," he said.
The signature drive was Reclaim Idaho's second attempt to get the Quality Education Act on the ballot. The grassroots organization's first effort was derailed when the state's stay-at-home order prematurely ended their signature drive, making it illegal to gather or collect signatures.
Mayville said momentum has grown over the past 10 months since the campaign was rebooted in June 2021. That, he said, is a credit to the hard work of more than 600 local organizers, leaders and volunteers across the state.
"Thanks to [them], Idaho voters will have a chance to boost pay for teachers and support staff and give our kids something closer to the quality education they deserve."
Idaho's county clerks have 60 days to verify all signatures before those signatures are submitted to the Idaho Secretary of State for a final review. The Secretary of State will then assign the initiative a place on the November ballot. Reclaim Idaho officials said they expect the initiative to appear on the ballot as Proposition 1.
While the Idaho Legislature has made some progress in making some new investments in education, Mayville said those investments just aren't nearly enough to keep up with the rapid growth that's happening in the state.
"We are dead last in funding for education, dead last of 50 states and it's going to take a whole lot more than the Legislature has been willing to do to move the needle," he added.
Mayville said school districts across the state, especially in rural areas, lack stable funding for a wide range of programs — including programs like welding, carpentry and agricultural science that provide students with job-ready skills.
According to a report by the Idaho Center for Fiscal Policy, the average Idaho teacher salary remains lower than it was in 2009 — even as salaries in Washington, Oregon and Wyoming have grown by an average of 12%, Mayville said. A 2022 survey by the National Education Association found that 51% of Idaho teachers are considering leaving the profession.
"You could travel all across the state, especially to rural districts, and you'll find that districts are cutting back on programs," Mayville said. "They're losing some of their most committed qualified teachers. They're sometimes forced to pay their support staff poverty wages, because they just don't have the funds to pay more than $11 or $12 an hour. So in districts all across the state, there are major gaps that this initiative would help fill."
The initiative, dubbed the Quality Education Act, would be paid for by a tax increase to corporations and Idahoans making over $250,000 per year. For individuals, the tax would apply to income above the $250,000 mark. Married couples would pay the new tax for income over $500,000.
Reclaim Idaho is the nonpartisan, volunteer-driven organization that spearheaded the Medicaid Expansion ballot initiative, which passed with 61% of the statewide vote. In addition to providing health care to more than 100,000 Idahoans, Medicaid Expansion is bringing back over $400 million annually in federal funds to Idaho, shoring up Idaho's rural hospitals, and creating thousands of jobs around the state.
Recent Headlines
---