Margaret making health a priority in Clark Fork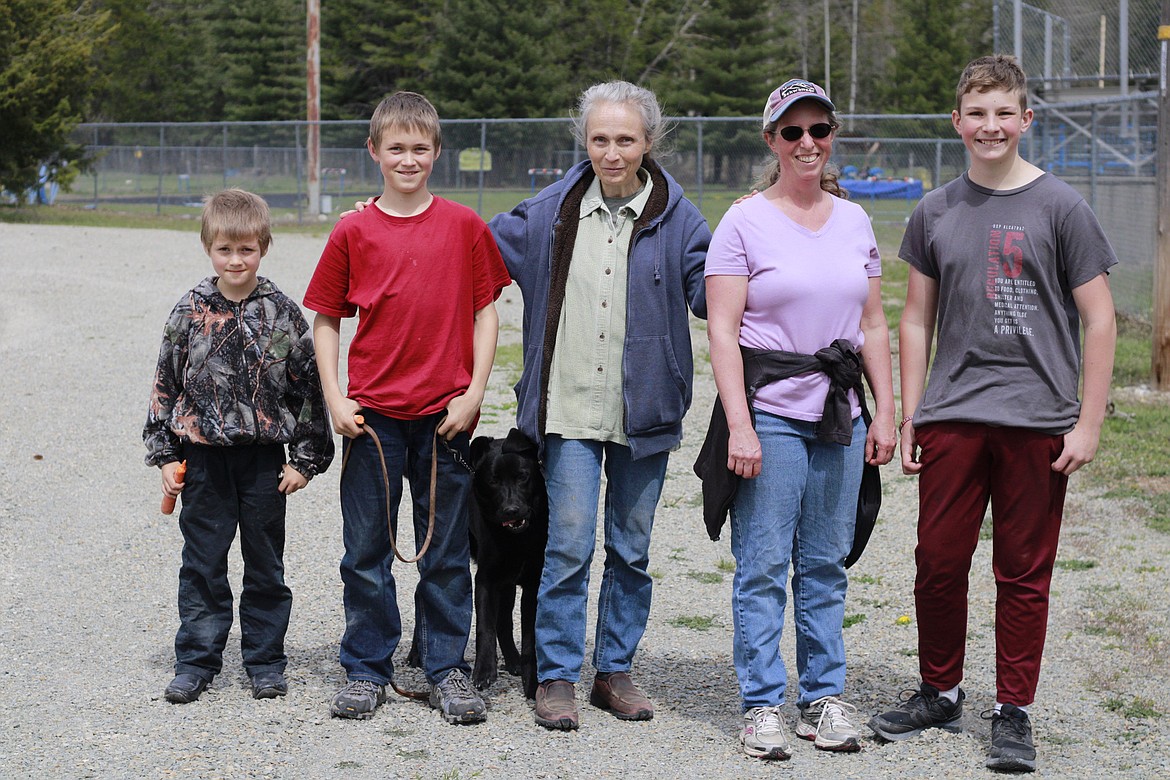 Dr. Heather Robinson (center) with Susan Roberts (second from right) with their children at Wampus Cat Park in Clark fork for "Walk with a Doc"
(PHOTO BY BEAUX WHITE EAGLE)
by
BEAUX WHITE EAGLE
Staff Writer
|
May 4, 2022 1:00 AM
CLARK FORK – Dr. Heather Margaret is aiming to make sure health and fitness are priorities in the community.
Moving to Clark Fork in 2016, with an extensive background in family and lifestyle medicine, Dr. Margaret went to work at Homestead Health Direct Primary Care and has been very active in developing community health programs ever since. Margaret's education in family and lifestyle health is the driving force behind her efforts, she said.
Working regularly with Nanci Jenkins and other public health officials in the community, Margaret has organized a health fair, does a regular "Walk with a Doc" program, and has arranged for the local hardware store to have "the best produce around."
Margaret and other community health officials formed the Produce Ministry Team, Inc., which is an Idaho non-profit corporation based in Clark Fork, dedicated to the health of family and community, undertaking a variety of service projects. One of those service projects is affordable produce year-round.
Speaking to members of the community about the importance of eating more fruits and vegetables, Margaret discovered many families attribute their lack of healthy eating to cost, from the cost of gas for the drive to Sandpoint to the cost of fresh produce itself.
After coming to this conclusion, Margaretinitiated an effort through PMT, Inc.. to make quality, affordable produce available to the community.
"Make sure it's [fresh produce] is there and keeping the price low, puts the ball back in their court," Margaret said.
Before the idea could come to fruition, PMT, Inc. made sure this effort would not have a negative financial effect on locally-owned grocery stores in Clark Fork. And in doing this discovered another reason for unhealthy eating – is the cost of fresh produce to grocery stores. PMT, Inc. was able to gain the support of local business owners as a result.
"For them [grocery stores], it's labor intensive and a profit loss," Margaret said.
In partnership with Evergreen Homestead Supply, a local hardware store, the program began by ordering and selling just $250 of fresh produce every two weeks in 2016. Since then the program has grown to now include $600-$800, or 700lbs of produce on a weekly basis.
"Thursday we put it all away, the coolers are as full as we can get them," Margaret said. "By Saturday, people are like 'you're out. It's hard because I try to order enough"
Other health geared programs in Clark Fork focus on mental and physical health with a compassion class held on the first and third Monday of every month at 1:30 p.m. at the Clark Fork library and "Walk with a Doc" every Monday and Thursday from 12:15-1:15 p.m. at Wampus Cat Park.
The compassion class allows for individuals to go and learn not only how to better understand themselves but also their loved ones. While the "Walk with a Doc" allows for participants to not only get some exercise but also gain advice and education from Dr. Margaret while nurturing friendships.
For more information or to keep up with programs and others visit the Produce Ministry Team, Inc. Facebook page https://bit.ly/3KCD6cp
Recent Headlines
---