A 'Wheel' fun time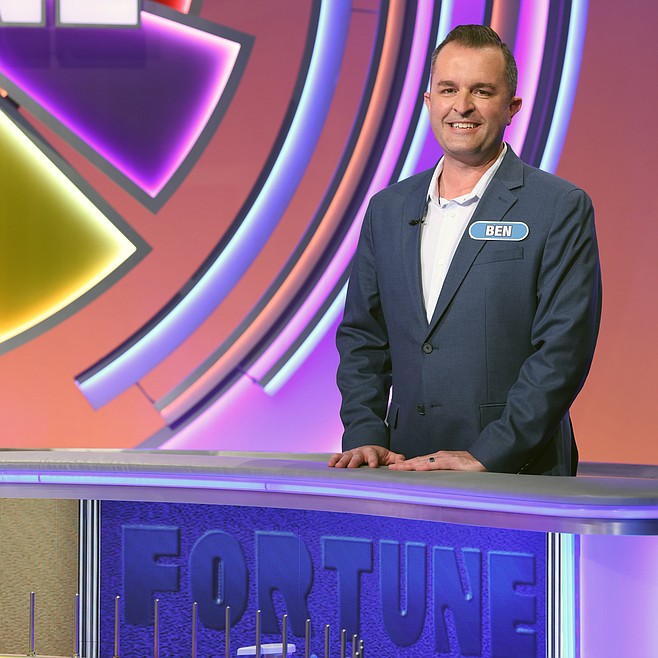 Ben Vanhorn, who grew up in Kootenai, is pictured during his appearance as a contestant on "Wheel of Fortune" during a March taping. His episode airs Tuesday at 7:30 p.m.
(Courtesy photo)
by
CAROLINE LOBSINGER
Staff Writer
|
May 8, 2022 1:00 AM
▶️ Listen to this article now.
SANDPOINT — Growing up, Ben Vanhorn loved watching game shows.
His mom, Joanne Tharp, recalls one instance where the family was watching "Wheel of Fortune" when the youth casually walked in the room and instantly solved the puzzle.
"She was shocked because there wasn't that many letters and I didn't even have to think about it," Vanhorn said. "My mom always thought I was going to be a game show host because I loved watching game shows so much."
While not a host of a show, Vanhorn recently competed on "Wheel of Fortune" with his episode set to air Tuesday at 7:30 p.m.on KHQ.
A member of the Wheel Watchers Club — Vanhorn is as much of a fan of game shows as he was as a youth — applied to be on the show in November after seeing an email that they were looking for contestants. The following month, he was contacted by the show for an interview with one of the show's contestant coordinators. He was notified in January that he'd been picked and taped his episode in March.
However, it wasn't the first time he'd applied to be on the show. He tried out in 2010 but says the pressure got to him. Every night when they watched the show, his wife would tell him to try again because he was so quick at solving the puzzles.
He doesn't know why he was picked this time, but said the whole experience has been fun but a bit surreal.
"It still feels like a dream to me because I did it in March so I don't even think it will feel real until I see myself," he added.
While he lives in Corona, California, Vanhorn said he still considers Kootenai and Sandpoint his hometown. He thinks he might have said that on the show, but the University of Idaho graduate isn't sure.
"The whole thing is kind of a blur," Vanhorn added. "It was crazy."
Before the show goes live, Vanhorn said contestants are told to be ready, that it would be the fastest 20 minutes of their lives.
"Which it is," he added. "It want by in a blur."
He is glad, he said, that she encouraged him because he had so much fun and allowed him to fulfill a dream that started when he watched the show growing up in Kootenai.
Vanhorn would watch the show with his grandparents, Jesse and Bertha Vanhorn, or his parents, Dale Vanhorn and Joanne Tharp.
"Mainly my grandparents are the ones that really got me into it. My grandma more specifically, she was a big huge game show fan," he said. "Whenever I was at her house, usually she had game shows on and her my grandpa, that was their thing — they never missed "Jeopardy" or "Wheel of Fortune"."
As his grandparents tried to predict the color of dress that Vanna White would be wearing that day as they waited for the show to start, Vanhorn was settling down for the serious business of the puzzles.
"They would have those kind of little side games that they play with each other before the game started," he added. "Usually I kind of ruined the game for them because during the actual game I was typically answering the puzzles before they were."
While he enjoys other game shows, including "The Price is Right" and "Jeopardy", Vanhorn said it was easy to submit the application for "Wheel of Fortune". There is the connection to his family, watching the show throughout his childhood, and he's good at solving puzzles.
"Well, I'm good at it," he said before chuckling. "I tell people, I'm like, I try to be humble, but I'm good at "Wheel of Fortune"."
He joked that when people asked him if he'd practiced for the show, his reply was that he'd been practicing for over 30 years since first starting to watch the show with his parents and grandparents. He also spent plenty of time playing the game on the computer with his dad — and playing hangman while fishing on Lake Pend Oreille to pass the time.
Being on the game show is much different than watching it from the comfort of your couch, Vanhorn said. First, there are the nerves of being on the set and having the television cameras on you.
"When you're at home, it's always your turn," he said. "You're not concerned about what the other two people are
Then, there's having to keep track of what the other players are doing, remembering that you're on a clock when it's your turn and being ready with the decision of whether you are going to solve the puzzle, spin or buy a vowel. And if you decide to spin, Vanhorn said you have to be ready to say what letter you want as soon as the wheel stops on a dollar amount.
"You're like thinking ahead and then the whole time you're watching the other contestants to see what they're doing," he added. "And then you're still staring at the board because you're trying to figure out what the puzzle is. So, it's like you've almost got to be almost two steps ahead before it's your turn. Where at home, you're just sitting there trying solve the puzzle."
Perhaps the best part of being on the show was spinning the wheel, which weighs 2,400 pounds — and looks much smaller than it appears on television. Meeting Pat Sajak and White was surreal, Vanhorn said, but both were very friendly and super nice to the contestants.
"The nerves didn't really hit me until right before the show started and they started playing the music and those two walked out," Vanhorn said. "That's when I was like, 'Oh, whoa,' that's when it really hit me that I'm actually on the "Wheel of Fortune"."
While Vanhorn can't say how he did on the show — they sign a non-disclosure agreement — he said his goal going in was to solve at least one puzzle. And regardless of how he did, he noted the show gives all contestants $1,000 for taking part.
"Just one puzzle, then I'll be happy because I can claim like, hey I went on the show and I've solved one puzzle," he said he told himself. "That's more than a lot of people can say, but yeah, it's cool that they give you a $1,000. So before I went on, I was like, already I've won a thousand bucks — even if I don't get a puzzle, they'll give me $1,000 bucks so that's pretty cool. That's a lot of money."
While he'd love to do the show again, Vanhorn said "Wheel of Fortune" only allows contestants to appear the one time. He encouraged anyone who has ever dreamed of being on their favorite show to give it a shot.
"It's super fun," he said. "Nerve-wracking but super fun, too."
Recent Headlines
---