The Yarn Table spins power of a place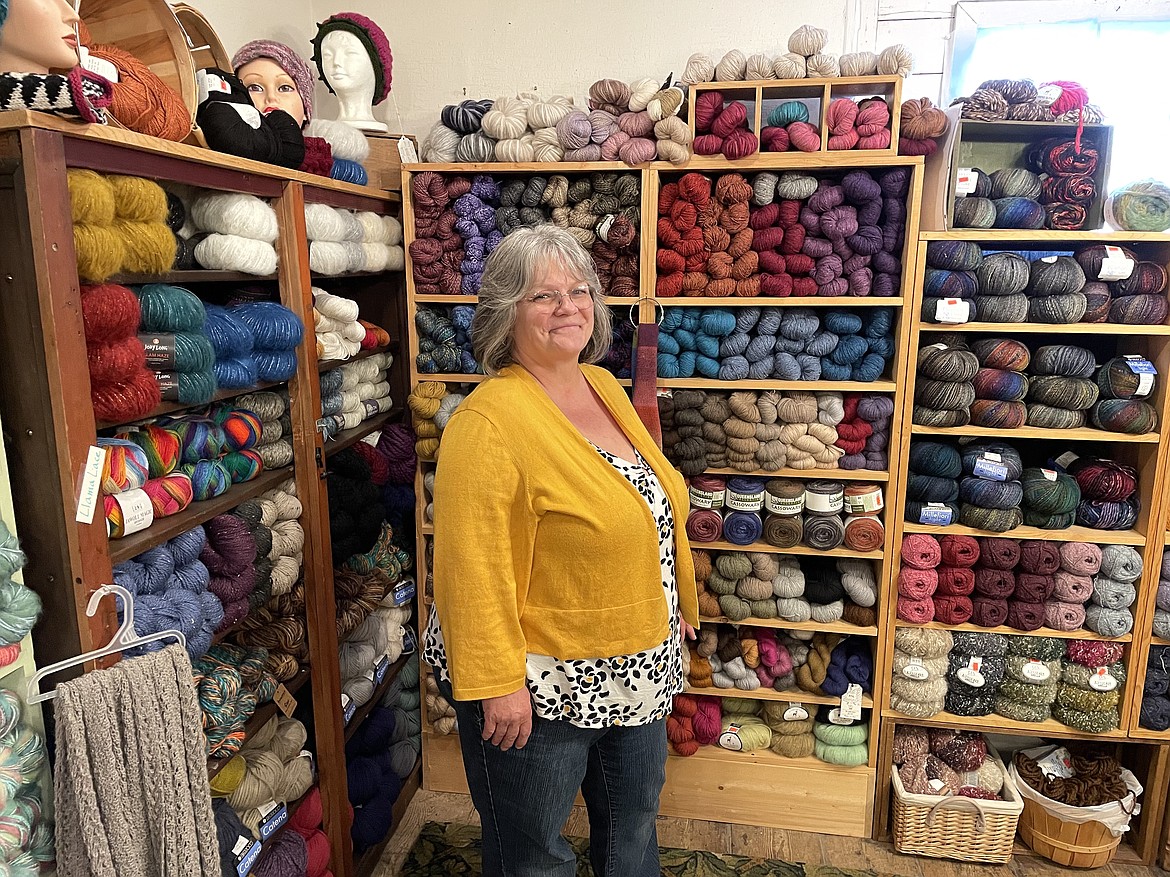 Patty Cameron stands inside The Yarn Table after taking over after former owner Charles Briska passed away last November.
(Photo by SUSAN DRINKARD)
by
SUSAN DRINKARD Contributing Writer
|
May 10, 2022 1:00 AM
It's the power of place, the shopkeeper, and the variety of yarns that contribute to the ongoing success of the yarn shop in Foster's Crossing, not to mention its regular customers.
The shop is undergoing a transition of sorts. Long-time owner Charles Briska passed away last November. His business partner, Patty Cameron, who had worked with him 15 years, has taken the shop on and is busy making some shelving changes and enhancements. She has even given it a new name.
Originally named Something Olde, Something New, Cameron has changed the name to The Yarn Table in honor of the many years Briska sat with women at the table visiting and "knitting faster than anyone." She believes the tradition of people coming together to knit at the table will continue for years to come.
"Charles wanted to keep the shop for the community. There is a group of 12 women who carpool here from Coeur d'Alene to shop because Coeur d'Alene doesn't have a yarn store," she said. "Many come from Bonners Ferry," but she has seen repeat customers from as far away as Seattle. There are yarn stores in Seattle, of course, but "they like to come here," she said.
Sitting at the table with Cameron, surrounded by the finer yarns — alpaca and merino — and seeing some of Briska's knitted handiwork—ponchos and afghans — displayed on the wall, not to mention his homemade slippers dangling from the ceiling, harkens to days of old when life was less hurried and there was time to visit, sit, knit, or crochet, or at least that is a popular notion of the "days of old." Lending to the vibe is the creaky and uneven floor because The Yarn Table is in an old railroad freight house known by Sandpoint locals as Foster's Crossing. The shop does not smell musty, though in another iteration it was a bookstore. The pleasant fragrance as you enter is probably due to the homemade soaps for sale by Sandpoint's Kim Spencer, who taught Cameron how to knit ages ago.
But don't think you are done seeing all the hues and touching the different textures of yarn until you enter the 1909 Great Northern Railroad baggage car on the west side where you step down to find acrylic blends, affordable mill ends often used to knit sweaters, lace-weight yarn that gives projects drape and elegance, and the plant-based soft and durable cotton yarns.
The business saw a revival of interest in knitting during COVID-19. "We had our best two years during Covid," she said, "because people needed things to do while they were at home, inside," adding that she is seeing more teenagers interested in learning to knit and crochet.
The Yarn Table usually serves as the north entrance to the antique shops, but construction requires visitors to enter at the east entrance for the time being.
Cameron will soon be offering classes at The Yarn Table for beginners and others interested in refining their skills. Meanwhile, she invites people of all ages to "come in and pet the yarn!"
Recent Headlines
---