Virtual reality room opening at Sandpoint Library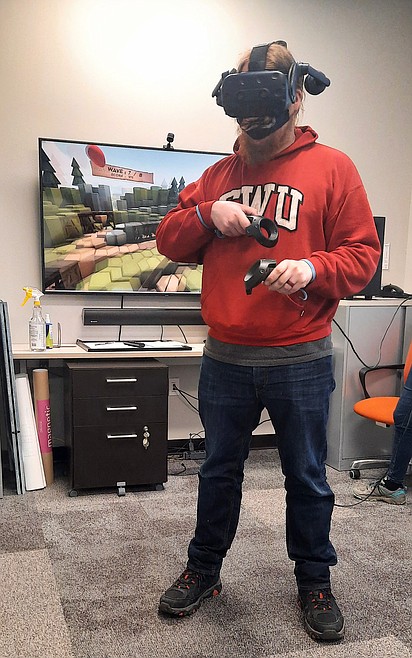 Brenden Bobby, East Bonner County Library District public information officer, tests out the library district's virtual reality system in preparation for Saturday's Sandemonium Lite.
(Courtesy photo)
by
BEAUX WHITE EAGLE
Staff Writer
|
May 11, 2022 1:00 AM
▶️ Listen to this article now.
SANDPOINT – The East Bonner County Library is welcoming back two significant events this weekend with the return of its virtual reality room experience and Sandemonium.
Sandemonium, Sandpoint's very own fan-con event to celebrate all things nerdom, will be returning to the Sandpoint Library with "Sandpoint Lite," which will also serve as the "soft opening" of the library's virtual reality experience.
Brought to the library in 2017, the VR experience allows users an allotted time to experience games and sports with the library's VR set-up. This will be the first time the program will be open to the public since it was shut down in 2019 following quarantine and social distancing mandates.
The VR experience will be open as a part of Sandemonium as a reintroduction to both the event and the program. After Sandemonium, the program will be open on a schedule with specific days and times of availability – no prior arrangements will need to be made.
"Just come on in and stop by the VR room," said Brendon Bobby, public relations officer for the East Bonner County Library District
Users will be able to choose from 20 different games and programs from genres like esports, and education, to using programs like Google Earth that allow a user to explore the real world. Those who may not be gamers, per se, will have many other options to enjoy experiences such as navigating a virtual museum, designing schematics in three dimensions with Gravity Sketch, or even exploring the bottom of the ocean.
"My personal favorite is the VR Funhouse, where you get to experience a number of carnival-style games like whack-a-mole and a virtual batting cage, as well as a skeet shooting game where you break clay targets with a pistol and a sword," Bobby said
Regardless of age or interest, kids and adults can find something valuable to take away from participating in the VR experience, he said.
"The gains from it will be different from person to person. Kids through adults that are already well-versed in immersive gaming will get to experience games from a whole new perspective," Bobby said. "Being able to manipulate your surroundings and throw virtual objects without having to worry about real-life consequences gives users a sense of freedom to experiment and explore in ways they don't get to in real life"
VR headsets and the computer gear required to run the programs cost around $4,000 and have only gone up in the past five years, students, gamers, and curious thinkers will get to enjoy an incredible experience without the worry of the cost.
"It feels pretty incredible to be able to fly around on rockets or go deep diving in the ocean," Bobby said. "Experiences the vast majority of people will never get to have outside of the headset."
VR organizers do have much planned for the VR program including S.T.E.M collaborations and obtaining more programs. However, Bobby said he and others who have worked on the program hope to hear from the community as the program gets underway.
The VR room will have a soft opening at Sandemonium on Saturday, from 12-4 p.m. at the Sandpoint Library, 1407 Cedar. After the event, the official opening of the program will be Thursday, May 19, from 3-5 p.m.
The VR room will then be open every Thursday from 3 -5 p.m. for 15-minute sessions available for walk-in appointments. The library does ask that users with a time slot "stick around" until their turn, otherwise a slot can not be guaranteed. As VR can be overwhelming even for adults, children under the age of 10 must be accompanied by an adult.
Recent Headlines
---