Randy Weaver dies at 74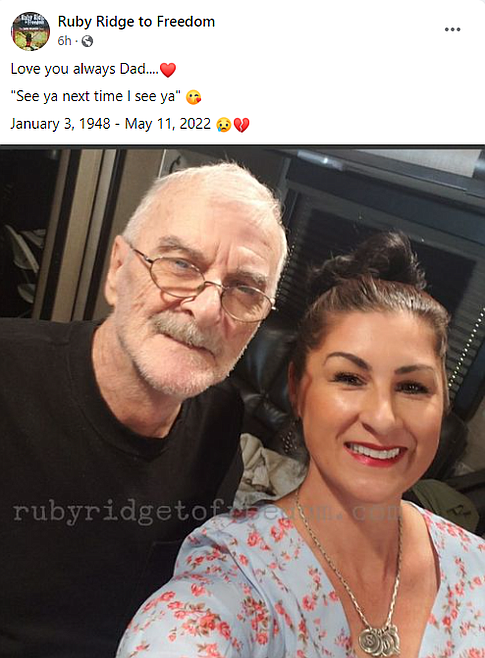 by
BILL BULEY
Hagadone News Network
|
May 13, 2022 1:00 AM
The man at the center of a standoff in North Idaho 30 years ago that resulted in three deaths and drew national attention has died.
Randy Weaver, whose name will forever be linked to Ruby Ridge, died on Wednesday. He was 74.
His daughter Sara, on her "Ruby Ridge to Freedom" Facebook page, posted this:
"Love you always Dad...."
"See ya next time I see ya"
"January 3, 1948 - May 11, 2022"
Randy Weaver had apparently not been well. On April 21, Sara Weaver wrote, "Those of you that pray and feel led to pray, please pray whatever Holy Spirit puts on your heart for my Dad now. God knows."
Weaver moved his family to North Idaho in the 1980s. The Army veteran was later suspected of selling a government informant two illegal sawed-off shotguns.
According to an Associated Press report, on Aug. 21, 1992, "a team of U.S. marshals scouting the forest to find suitable places to ambush and arrest Weaver came across his friend, Kevin Harris, and Weaver's 14-year-old son Samuel in the woods. A gunfight broke out. Samuel Weaver and Deputy U.S. Marshal William Degan were killed."
The next day, an FBI sniper shot and wounded Randy Weaver, AP reported.
"As Weaver, Harris and Sara ran back toward the house, the sniper fired a second bullet, which passed through Vicki Weaver's head and wounded Harris in the chest."
The family surrendered on Aug. 31, 1992.
Harris and Randy Weaver were arrested, and Weaver's daughters went to live with their mother's family in Iowa. Randy Weaver was acquitted of the most serious charges and Harris was acquitted of all charges.
The surviving Weavers filed a wrongful death lawsuit. The federal government awarded Randy Weaver a $100,000 settlement and his three daughters $1 million each in 1995, AP reported.
Anti-government people continue to point to Ruby Ridge as reasons to not trust the government. Timothy McVeigh cited Ruby Ridge as motivation for when he bombed the federal building in Oklahoma City in 1995.
Sara Weaver lives near Kalispell, Mont.
In a 2012 interview with the AP, she said, "It killed me inside," regarding the Oklahoma City bombing. "I knew what it was like to lose a family member in violence. I wouldn't wish that on anyone."
Several people posted comments online offerings condolences and praise of Weaver.
"Had the honor of sitting and chatting with Randy not to long after Ruby Ridge. He was an honorable and humble man. You and your family should never had been put through one of the biggest unjust travesty that I had seen in quite some time," wrote Scott Foster.
Another person wrote that after she met Weaver "he touched my shoulder and said, are u ready to listen and I was. He told a brave story, a heartbreaking story and such a gentle sweet man."
Judy Mathis Riggs wrote: "He was a very special man. We loved going to visit when you all lived here. He loved his Family. Prayers for all of you! We will always remember him!"
Recent Headlines
---