LPO Rep launches education program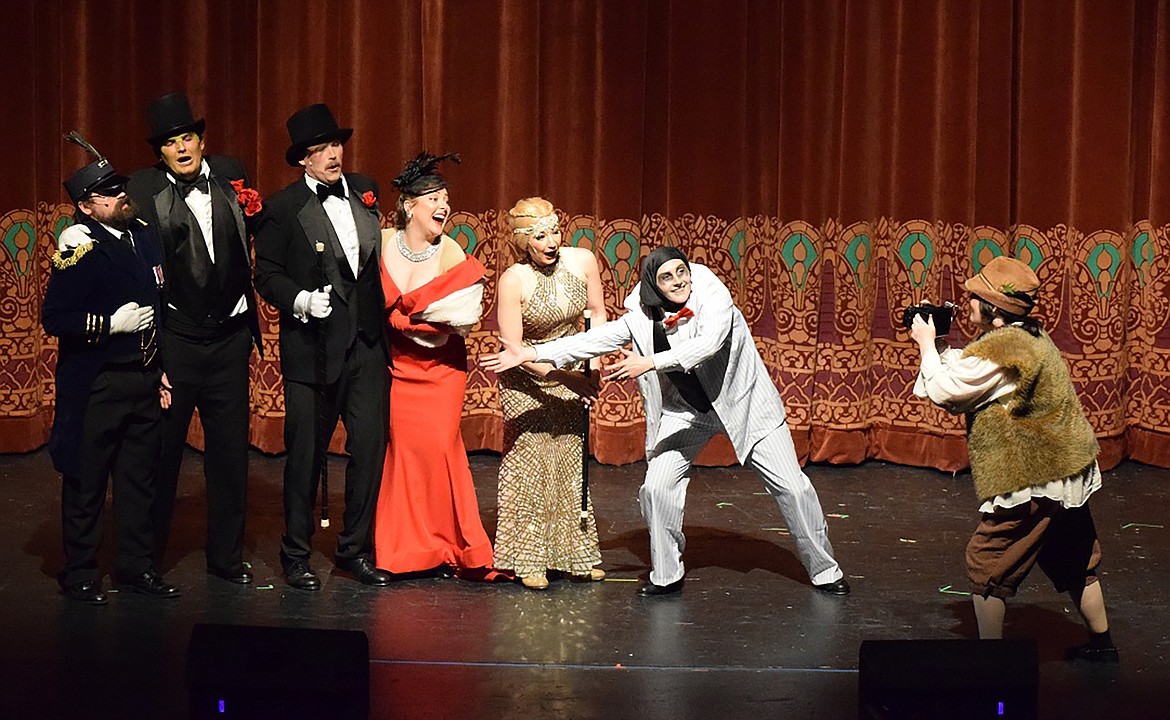 The cast of "Young Frankenstein" performs in a scene in the debut production of the Lake Pend Oreille Repertory Theatre. Now the group is launching an education program, kicked off by a summer camp in July. Registration for the camp opens today, May 15.
(Courtesy photo)
by
CAROLINE LOBSINGER
Staff Writer
|
May 15, 2022 1:00 AM
▶️ Listen to this article now.
SANDPOINT — Imagine an iceberg.
A tiny bit sits above the water, while below, is a vast majority of the structure.
In some ways, theater can be compared to that image. The tip of the iceberg is the production, the show that everyone sees. What people don't see — the base of the iceberg — are the lighting designers, stage hands, production crews, costume designers, directors, and more. Those folks are often invisible, but they are integral to the success of a production.
Local youth will now have a chance to learn all about theater—from the very beginning—as part of an immersive, four-week summer camp put on by Lake Pend Oreille Repertory Theatre.
"Students are going to be able to have the full experience," Gray said. 
There will be auditions, casting, rehearsals, building and costume design, prop design, everything that it takes to put on a production.
"There will be all of these really fun, immersive experiences," Gray said. "That really is what theater is." The skills are so amazing and we're going to be able to kind of hone in on those every year. But the payoff is in the performances and the productions that the kids get to do, because that's where you really get to see the work come to life. And all of those skills really come out, and it's just fun. It's just so much fun. "
While Gray and Roberts will be on hand to help and guide the campers, they are going to be active participants in every decision and every part of the process of putting on the production of "Peter Pan."
Over the four weeks, the students will rehearse, build sets and props, learn to analyze a script, create costumes, play theater games, and gain confidence daily.
The camp will culminate in two performances of "Peter Pan" at the Panida Theater on Aug. 6-7.
The camp is part of a year-round education program being launched by LPO Rep to teach all aspects of putting on productions and to create a culture of theater that will sustain year-round productions in the community.
The education program will teach everything from theater fundamentals to the technical skills of acting, from auditioning to rehearsing, to stage blocking and lighting design, as well as writing to directing, Roberts and Gray said. Ves
Gray had put on summer camps through the Sandpoint Music Conservatory but had capped the number at about 30 students. She'd always hoped to do a really big production, one with 50 or more students, but one thing or another always kept it from coming to fruition.
Then she met Roberts, who shared the same goals and dreams of building a sustainable theater culture in the community for all ages.
"All of a sudden, all of the barriers that were in the way before kind of just went away," Gray said.
It wasn't long before she realized that Roberts would be perfect for her dream of adding an education program to LPO. And, starting in July, that's exactly what she'll be doing.
"The goal is to really provide actual education year-round for students, so that's like the big overarching goal," Roberts said. "And I'm so excited to be starting that with the summer camp. But yeah, the summer camp's basically the time for them to all come together and work on a show, produce it, and have that magic of experiencing a show. "
In the fall, classes will focus on the fundamentals of theater, learning and practicing the skills. The 10-week courses will get funding assistance from the Pend Oreille Arts Council, helping make them affordable for students. Students also learn how to "take a story from the page to the stage," Roberts said.
Another immersive experience is planned for winter, where both youth and adults will learn how to direct a show, assemble a production crew, and cast actors. Students who may not want to be on stage will learn lighting and costume design to be a part of a production team.
"We're trying to create kind of a machine that kind of fuels theater for the [future] so that we don't have to be the only directors in town," Gray said.
It was important to figure out how to incorporate that aspect of theater into the camp — and into the education program LPO Rep is launching. The behind-the-scenes parts of theater are as important and a key part of creating the theater culture they both dream of having in the community.
"Theater can feel a little bit intimidating, and our goal is to make it accessible and fun," Gray said. "And to also be accessible and fun ourselves, and to make sure that everybody knows that there's a spot for them."
Having grown up loving theater and knowing from their early days that they wanted to be involved in theater, Gray and Roberts said they wanted to provide that same experience for others, to give them a chance to learn and have fun through creating a production.
But they also know that that takes having a solid foundation in theater culture, from actors to set designers to directors. Creating and teaching the skills needed to put on a production
"Part of the philosophy and culture that LPO Rep is trying to build is that theater is actually much like raising a child; it takes a whole village, it takes a whole town, it takes everybody coming together in that community to really keep it moving forward," Gray said. 
She added that that culture can get lost because the final product has always had so much pressure on it. 
"So what we're trying to build is this culture, this community-oriented ability for everybody to come together, contribute their creativity, and build something together."
By creating an education arm of LPO Rep, Roberts and Gray said they hope to teach those skills, build that foundation and create that culture so that productions aren't just random events here and there, but are part of a year-round program.
"I think a huge part of us coming together to work on this, though, is the desire to establish this culture," Roberts said. [Putting on] a show isn't just something you can do in a day or even a month. It takes planning and processes and having the right people on board to have all of the people you need, from a lighting designer to a stage manager. "
It's that culture they want to bring to the community.
"There is so much desire to have more performances, and there's so much talent here," Roberts said. "So to be able to really harness and hone that talent instead of just kind of having random things here and there—these pop-ups—we really want to have this consistent culture, but that takes work, it does take effort, it's not something that just suddenly appears or you can kind of do as a side job."
While students may or may not want to pursue a theater career, the skills they learn through the arts are ones that apply to life in general and help them become a well-rounded person, Gray said.
"I have a sign in my office that lists all the skills theater teaches you, and it shows this person holding a book, and there's a list of words that just go all the way to the top of all of the life skills you learn when you're putting on a production and a performance."
According to Roberts, the skills learned through being a part of a production are diverse and varied, ranging from communication to teamwork to being able to conduct themselves in all settings.
"It's cool to be able to learn acting or things like that, but really, they're also learning communication skills and life skills that even if they don't continue on with theater, they will still use these skills," Roberts said.
It just happens that they learn them while "playing" during a theater camp or class, the pair said.
Helping them with their mission are a whole host of community members and groups, and without that support, creating LPO Rep's education program would not be possible. 
"We're very blessed as a company to already have so many community members who are with us, who are supporting us, and who want to support us," Gray said. "We're just so grateful."
While the camp has a $250 tuition, LPO Rep has teamed up with the Pend Oreille Arts Council to offer scholarships for those who need them. Registration for the camp, which will kick off in July, opens today, May 15. All youth between the ages of 8 and 18 are invited to enroll in the summer camp production.
The first day of camp will be Monday, July 11, with classes taking place from 1-4 p.m. through Aug. 3. The first week of camp will take place at the Heartwood Center, with the rest of the camp being held at the Panida.
Information: lporep.com
Recent Headlines
---