Teen center to have less bowling soon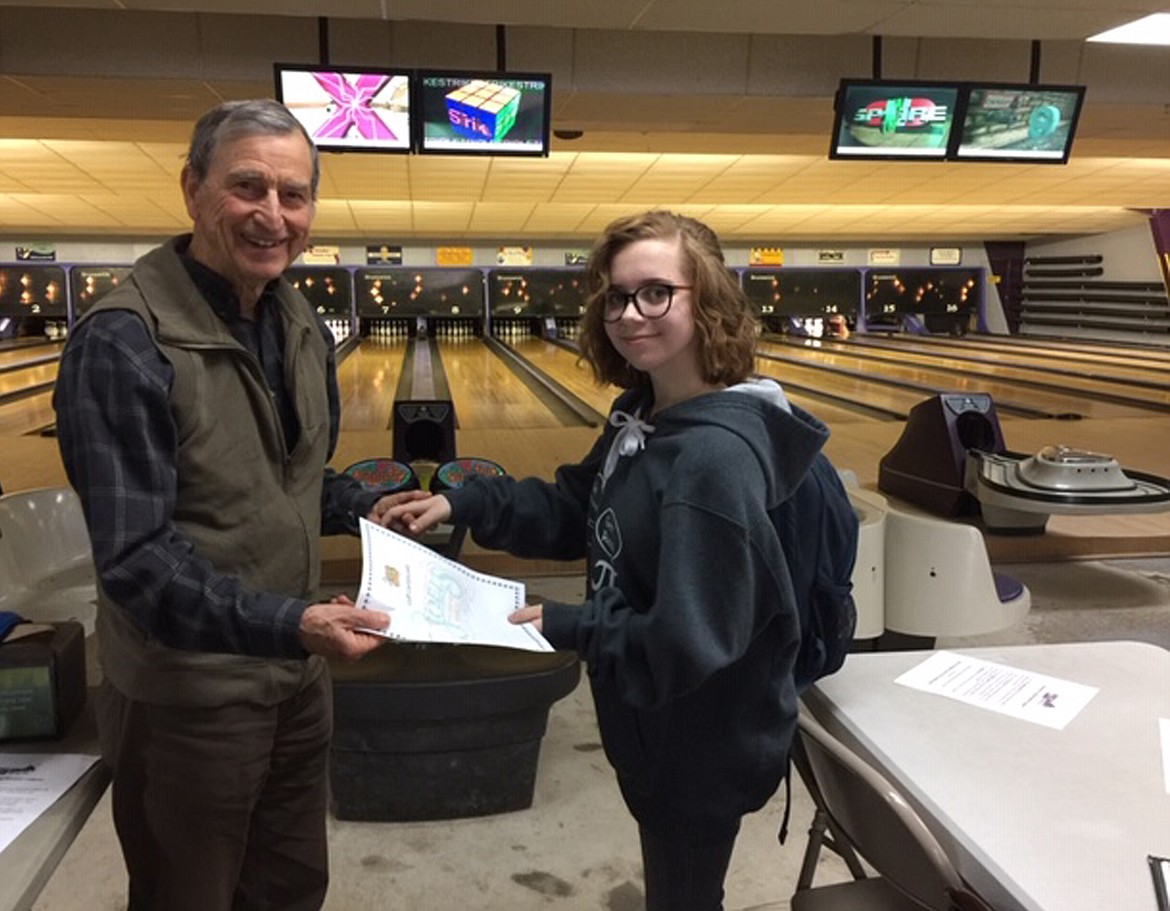 Kyla LaFountain, right, winner of a recent Sandpoint Teen Center bowling tournament, gets gift certificate. The center announced this week that it would be offering less bowling after the end of the school year.
(Courtesy photo)
SANDPOINT — There will be fewer bowling days at the Sandpoint Teen Center after the end of the school year.
The center announced there will be less bowling at Huckleberry Lanes, and participated in Idaho Gives, in hopes of generating funds for alternatives as well as for other aspects of the program.
The STC is a non-profit organization that offers local teens activities and programs that are not only fun but educational, with the goal of helping teens develop leadership qualities, interpersonal skills, and community awareness. The center also provides a safe environment where teens can socialize, while getting healthy snacks and meals.
Among the many programs and activities, teens can enjoy bowling five nights a week at Huckleberry Lanes. At least until the end of the school year when the partnership between STC and Huckleberry Lanes will change.
The center does have its own building that features a bakery and lounge but partnered with Huckleberry Lanes to allow kids to bowl, in a specific window of time marked for STC. Moving forward, bowling alley officials told the center that they can only host the STC two days a week, instead of five.
To most, the fewer number of days may not seem like an issue initially but program director Phylis Jay said it does pose a challenge for filling those days during the summer. Jay estimated that about 1,000 kids attended the bowling program in the last month. Jay says she has begun looking into alternatives like another building, working closely with a local contractor on these possibilities, and raising money for the project in the meantime.
Another building would not only solve the loss of the bowling alley but also allow for more fitness programs, additional office space for staff, and even a study hall.
"Some kids will come to sit and do their homework, in the bowling alley," Jay said
With all STC offers local youth, the bowling alley is not their only expense. That's why the center was one of many local non-profit organizations to take part in Idaho Gives, an online fundraising competition.
Idaho Gives took place from May 1-5 and gave participants the opportunity to raise money for their organizations through donations and cash prizes based on donations. STC set a goal for Idaho Gives of $10,000 and was able to raise $4,605 during the competition.
All of the programs offered can benefit teens in a number of ways, Jay says she also sees the impact the STC has on the community by giving teens a place to go and have fun in a safe environment, featuring a zero-tolerance policy for bullying and disciplinary action, such as banned periods for bad behavior.
The center is asking the community to see the value in it and donate toward the new building or volunteer. Donations can be mailed to STC with the label "building fund" or submitted online by going to the STC website.
Recent Headlines
---