Forest land owners, community invited to field day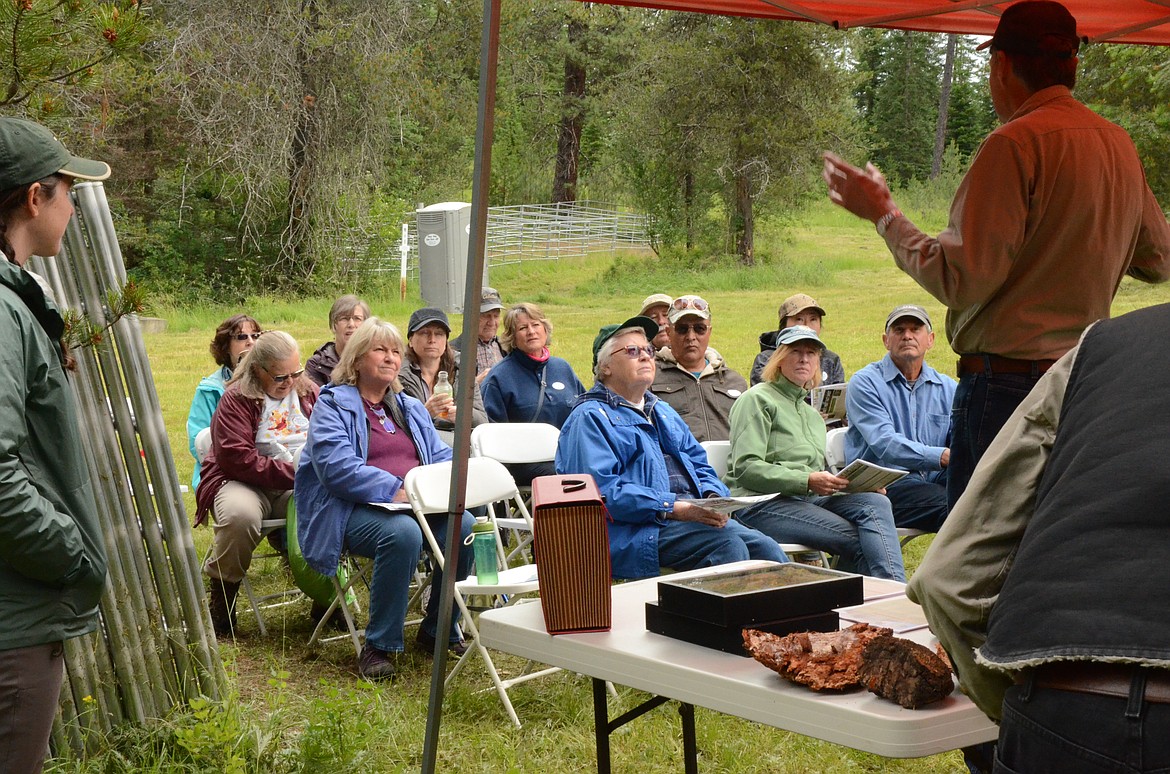 The Idaho Forest Owners Association is inviting the community to attend this summer's Forest Owners Field Day. Pictured above, community members listen to a presentation at a past event.
(Courtesy photo)
by
MARCY TIMBLIN Contributing Writer
|
May 26, 2022 1:00 AM
SANDPOINT - The Idaho Forest Owners Association is inviting the community to attend this summer's Forest Owners Field Day.
The event will be held Saturday, June 18, at the Pine Street Woods in Sandpoint. This is an outdoor educational experience not to be missed if you own forestland or just like to understand forests. There will be talks and demonstrations on forestry topics that will enlighten and amaze you!
Located just west of downtown Sandpoint, Pine Street Woods Community Forest was purchased by Kaniksu Land Trust in 2019 for the purposes of education, conservation, and recreation. These 180 acres of rolling hills, healthy woodlands, and beckoning trails provide a place for all residents to learn, play, and connect with nature forever.
The Field Day gate opens at 8 a.m., with presentations starting at 9 a.m. The Field Day is structured like a fair with booths and stations. A short walking distance from the central location there are stations where talks and demonstrations are given. If walking is a concern, talk with Field Day personnel and rides can be arranged. There are six presentation time slots with 15 topics to choose from. Maps with the locations and times of presentations are available at the Field Day. The presentations begin at 9 a.m., 10 a.m., 11 a.m., 1:30 p.m., 2:30 p.m., and 3:30 p.m. Presentations are 50 minutes, with 10 minutes between sessions. Lunch and networking time is from 12:00 p.m. until 1:30 p.m.
The Field Day focuses on basics as well as advanced information for everyone. The presentations are taught by experts who deal with these issues on a daily basis. Idaho Department of Lands and other specialists from both Washington and Idaho will be presenting their fields of expertise for your learning experience.
The topics at the Field Day will range from noxious weeds and how to control them, conservation easements, rodent control, forest pollinators, and wildlife friendly forests to the correct way to plant tree seedlings, pruning to help improve the health of your forest, and which mushrooms growing in your forest are safe to eat. The new Forest Practices Act Shade Rule will be explained, and Small Woodlot Tools will be on hand to show off tools designed to make forest management for the small woodland owner easier. 
Aero-Flite of Spokane will introduce the basics of aerial firefighting, and Idaho Department of Lands specialists will help you learn what is infecting your trees from the roots to the crown be it a fungus or beetle. 
The event costs $25/ person or $35/family of two or more, if your registration is received by June 10. A catered lunch is available for $12/person with early registration. After June 10 or at the gate, registration is $35/person or $45/family of two or more. If you wish, you may bring your own picnic lunch. If you have questions, please contact IFOA at evpifoa@gmail.com or at 208-755-8168. A registration brochure is available on the IFOA website at: https://www.idahoforestowners.org/event-registration.
Recent Headlines
---