Kinderhaven announces it can 'no longer exist'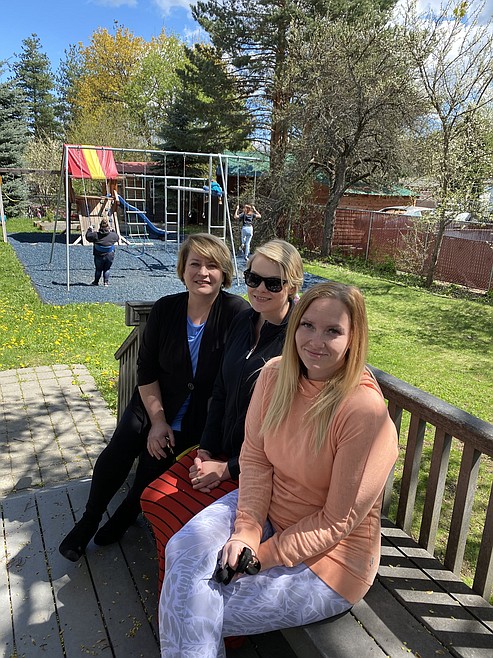 Kinderhaven's Jennifer Plummer, executive director, takes a quick moment for a photo with staff members Cecilia Cecil and Brittane Barker.
(Courtesy photo)
by
CAROLINE LOBSINGER
Staff Writer
|
May 27, 2022 1:00 AM
▶️ Listen to this article now.
SANDPOINT — At 9 years old, she was in 15 foster homes in less than two years before arriving at Kinderhaven.
And, in the time she has been with the group foster home, she has made tremendous strides, Jennifer Plummer, Kinderhaven executive director said.
She also will likely be one of the last at-risk youths the facility will be able to help.
Thursday, Kinderhaven announced it was closing due to enforcement of the Families First Preservation Services Act, passed by Congress in 2018.
"We are sharing a message we never thought we would have to deliver," Kinderhaven announced in a statement. "After serving thousands of local children for over 25 years, the Kinderhaven we have all known and loved can no longer exist."
There is hope that, at some point, Kinderhaven will be able to reopen as a group home. However, Plummer said for that to happen it will likely take some kind of legislation.
The act mandated that all group homes for foster youth become a qualified residential treatment program facility. QRTP group homes are required to have a trauma-informed treatment model with licensed clinical therapists onsite. The facilities in this classification are required to facilitate outreach and engagement of the child's family in the child's treatment plan. In addition, facilities provide discharge planning and family-based aftercare supports for at least six months.
As of June 2021, Children's Village in Coeur d'Alene is one of only five Idaho federally accredited QRTP facilities. It also has the only crisis nursery available to shelter children starting on their day of birth.
While the legislation was passed in 2018, Idaho delayed implementation of the law. That delay ended in October 2021 and Kinderhaven had been working with state officials ever since to try and come up with a way to keep the facility open. They've received nothing but the highest of compliments and praise for the facility, how it has operated and the work it has done, Plummer said.
"[The] sweeping federal legislation, which eliminates the traditional use of group homes like Kinderhaven, has made it impossible for Kinderhaven to continue to serve our local children," board chairman Kathy Chambers said. "Though we have collaborated with officials at the Department of Health and Welfare, our state legislators and governor's office, we must acknowledge our inability to exist within the parameters of the new law."
While Kinderhaven will continue to exist in some fashion, what exactly that will look like is unknown, said Plummer, who has been at the group home for nine years.
"All I can say is that we will not be the Kinderhaven that everyone has come to know and love, we will not be that same organization. And we don't have all the answers right now. We just know that we can't function the way we did with the new law."
While the facility won't be able to accept new children, the youth living at Kinderhaven are staying until "they can be transitioned to whatever their forever home looks like."
Since making the decision, Plummer has been meeting with local agencies and officials to let them now. Thursday, Kinderhaven officials posted a notice to announce the pending closure to its website.
And while changes are ahead, even though she doesn't know what that means or will look like, Plummer said Kinderhaven will still exist in some fashion.
"We are fully dedicated to the children and families of Bonner County. That's our focus, that's been our mission from day one "And so without having all the answers, we just know that we will continue our mission to support, enrich and protect children in Bonner County."
Though they are saddened by this change in direction, Chambers said she, the rest of the board and Plummer are filled with hope and have their eyes firmly set on the future. 
"The support that we have received from you, our incredible Kinderhaven family, gives us the ability to support other local organizations dedicated to the protection and enrichment of children and families," Chambers said in the statement. "We know this raises many questions and we are working to put it all in words. Please stay tuned as we will be sharing more details in the very near future."
All of Kinderhaven's staff and board said they — and the children, are deeply thankful to the community for its unmatched support and dedication.
"We can all be so very proud in the knowledge that we have indeed healed the hearts and changed the lives of so many local children," she said.
Plummer and Chambers said they know the community will have many questions and said residents are welcome to reach out. If they can, they will answer those questions. And, as they are able to figure out exactly what Kinderhaven's next chapter will look like, they will share that with the community.
While Kinderhaven is closing, Children's Village in Coeur d'Alene successfully managed to become one of only five Idaho federally accredited QRTP facilities. It also has the only crisis nursery available to shelter children starting on their day of birth.
And that will continue, Vanessa Moos, MPA, the facility's chief executive officer, said.
"We want to emphasize to our community that because of their continued support, Children's Village remains in active service to the families who need us," Moos said, "and we will do everything we can to continue to advocate for their future successes."
The loss of Kinderhaven further exacerbates a lack of foster homes in the region and Plummer encouraged everyone to think about becoming one.
"We need foster families in our community," she said Kinderhaven would tell those who asked what the facility needed. "You don't have to be a perfect parent to be a foster parent."
Recent Headlines
---