Revenge comedy pursues funds for a good cause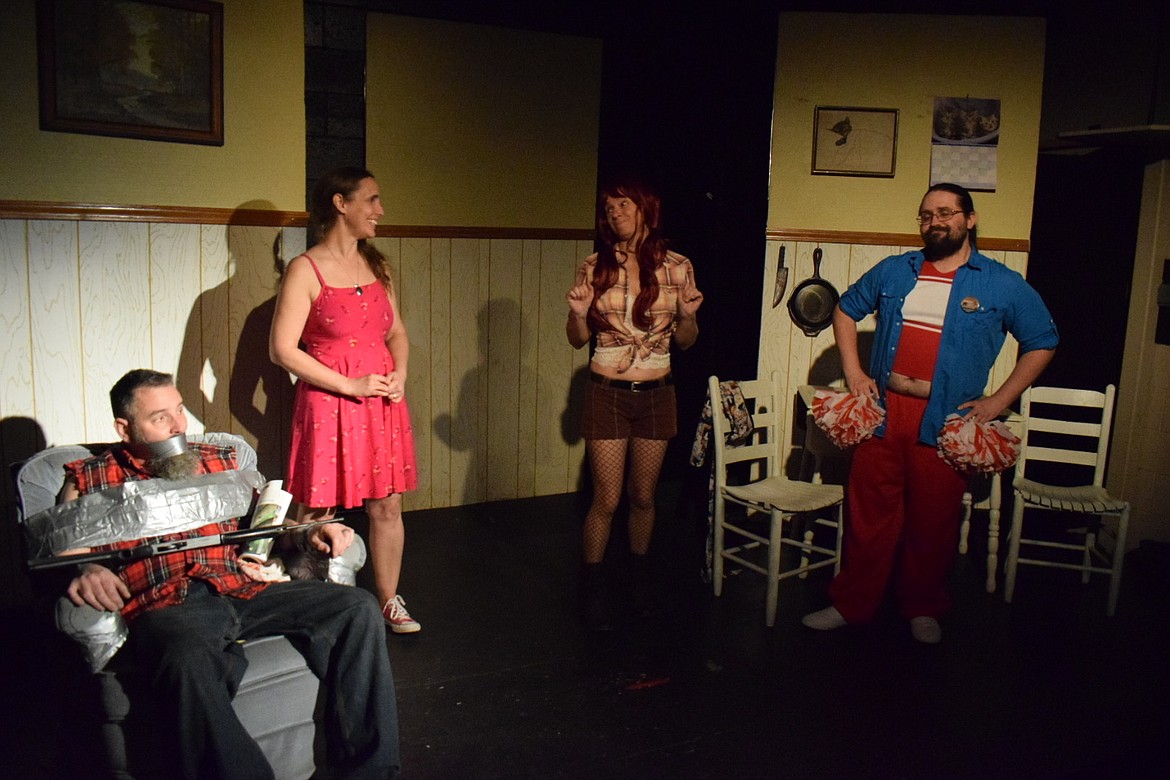 The cast of "Exit, Pursued by a Bear" take part in a dress rehearsal. Pictured are Meredith Field, who plays Nan; Seneca Cummings, who plays Kyle; Valarie Moore, who plays Sweetheart; and Cory Repass, plays Simon. Lighting is done by Odin Clark and sound by Tim Bangle.
(Photo courtesy VERONICA KNOWLTON)
by
CAROLINE LOBSINGER
Staff Writer
|
May 27, 2022 1:00 AM
SANDPOINT — Fed up, Nan has decided to teach her husband Kyle a lesson before she leave.
So with the help of friends Simon and Sweetheart, she reenacts scenes from their troubled marriage.
Chaos — and comedy — ensue, said Dorothy Prophet, who is staging the "revenge comedy."
"She's decided, finally, after many, many years of putting up with him and his abuse of sorts that she's done," Prophet said. "But before she leaves, she wants to show him why she's leaving. So she has some of her friends act out scenes from the marriage, so that hopefully he can see what happened from her perspective."
While the play covers a dark and painful subject, Prophet said the downfall of the couple's marriage — and the reasons why — is done in a comedic way.
"I personally have always believed that if you can tell a story with comedy, about something that's important, people will get it, because otherwise they don't want to hear it. If you can get them to maybe laugh a little bit and pay attention and get past their head to their heart through a story, then maybe it'll have an impact."
Typically, Cade Prophet Memorial Productions puts on two shows a year, one in the spring over Memorial Day weekend and the other in the fall.
The Memorial Day weekend show honors her son, Cade Prophet who was killed in a tragic accident at Palouse Falls on Memorial Day in 2017. He was 25. Her son was a youth who loved everyone and always made time for others. He had a soft spot for animals and loved to visit the animals at Better Together Animal Alliance, then known as the Panhandle Animal Shelter.
"When I was single mom raising three kids, we would often go to the Panhandle Animal Shelter, as something cheap to do," Dorothy Prophet said. "So I would take my kids to 'the zoo,' as we called it. We couldn't have pets, because we couldn't afford them. Right. So we would go to the animal shelter and visit 'the inmates' as Cade called them."
Even after he graduated and moved away, whenever Cade came to visit, they would go visit "the inmates," she added.
While it would be all too easy to hide away, grieve, and drink a bottle of wine during Memorial Day weekend, Prophet said she wanted to choose a different path. So, she finds a play that she enjoys, casts the parts and puts on the production.
All of the money is given to the animal shelter.
"I chose to honor him and what he would want and so I do the show and we donate the money to animal shelter," she said.
Being able to put on productions is not only good for her because it keeps her busy during a difficult time of year for her, Prophet said live theater is a lot of fun to be a part of and to be in the audience.
"Theater is good for a community but we can only keep it going if people come out and participate by buying a ticket and and watching," she said. "I will do whatever I can to keep Cade's memory going and I will do whatever I can to keep live theater happening in Sandpoint."
Tickets are available at Brown Paper Tickets as well as at Eichardt's and at the door.
Shows will be held today and Saturday at 7 p.m. with a matinee at 3 p.m. on Sunday. With only 65 seats available at the Panida Little Theater, Prophet encouraged those wanting to attend the play, to either order online or stop at Eichardt's in order to secure a seat.
The general admission tickets are $16 for adults and $12 for senior citizens and students.
Information: cadeprophet.org
Recent Headlines
---