Lifeguards needed at City Beach
by
CAROLINE LOBSINGER
Staff Writer
|
May 29, 2022 1:00 AM
▶️ Listen to this article now.
SANDPOINT — The more lifeguards on staff, the more of City Beach that can be patrolled the summer.
It's that simple.
The job requires focus and a desire to serve the community, but it also comes with one heck of a place to work. The job is fun, rewarding and something he wishes he'd known about growing up, Sandpoint Recreation superintendent Jason Wiley said.
"I think it's a fantastically rewarding job," he said. "I see the staff and they enjoy coming into work. They enjoy what they do. They enjoy being able to help people."
While a dedicated core of about seven lifeguards is coming back, another seven or eight lifeguards are needed to fully staff City Beach, Wiley said.
"That makes the season really, really comfortable for everybody as far as time off and making sure we've got coverage for everything," he said.
All anyone needs is to be interested in being a lifeguard. If they're trained, great. If they're not, Wiley said that isn't a problem either — the city will train interested candidates through the U.S. Lifesaving Association open water lifeguarding curriculum.
Set up specifically for City Beach, Wiley said the training is similar to that taught at the big beaches in Hawaii and California. The training, which takes about 50-60 hours, covers everything someone would need to know about open water lifeguarding.
"You have the elements, you're out in the sun, you're out in the wind, the rain," Wiley said. "We don't have to deal with riptides or currents, really but there are other hazards that do come and come into play out here in an open water environment. So it has a little bit more of an intensive training for recognizing the hazards beyond just a distressed swimmer."
But while it can be a lot, Wiley said the course is comprehensive and the city Parks & Recreation staff and the other lifeguards are there to ensure success — even if those interested need a bit of help brushing up on their swimming skills.
"We have staff that are phenomenal swimmers, they've been on the swim team, they're good instructors, and they will help people," the Parks & Rec director said. "Our goal is not to bring you on and if you can't make it, bye. We want you to succeed."
A good lifeguard is dedicated, motivated and cares about the safety of others, head lifeguard Sabrina Wilson said.
"If you want to be a lifeguard, and you don't care, when you get on the stand, about the little kids playing by the shore, you're not going to make it," she added. "People that are focused that are determined to do whatever it takes to get what they want. Those are good guards."
Lifeguards do their best to enforce rules in the polite and kind manner, while explaining like the risks behind them, Wilson said. 
"We need people that are organized and dedicated and can take on a lot of responsibility because we are literally watching people's lives," she added. "And we're saving people when they may need help. And if that responsibility is too much, that's okay, the job might not be for you. But we need people that can take that on and won't break under pressure because it's a stressful job sometimes."
Guards work a seven-hour shift, with the first 15 minutes spent getting ready to hit the stands. During a shift on stand — roughly about 20 minutes — guards are scanning their area, looking for distressed swimmers, looking for people who might need help and enforcing the rules. 
At the same time, guards are answering questions, looking for hazards approaching the swimming area, and handling complaints and enforcing rules. When the next guard comes to the stand, all that information is relayed before the first guard takes a break or heads to their next stand.
"While that sounds listening to it," Wiley says before continuing with an overwhelmed gasp. "But, you know, part of the training we go through, it teaches you how to do all of that. We've got procedures, we have a very, very in-depth manual that goes over all the rules and all those things and the USLA training is very thought-out, very methodical."
All lifeguards, both seasoned veterans and new guards working their first summer are given the necessary tools, training and support.
"And so while it is everything that [Sabrina] said it is, it's not like we throw you to the wolves," Wiley said.
"It's manageable," adds Wilson.
Everyone pitches in to help each other out, Wiley said, adding the lifeguards are a close-knit group of people who are there for each other, and ensure that all those working at the beach have the tools and training they need to ensure the public's safety.
"This is what the training is for, right," Wiley said. "If you want to [be a lifeguard, you can do it. We will help."
Wilson said she's always loved swimming, loved the water, since she was really young. She knew being a busser or washing dishes at a restaurant wasn't for her. It was then that she heard about the lifeguarding jobs at City Beach four years ago and signed up for the training.
"I immediately just got excited, because that sounds like such an amazing opportunity to be watching people in my community and knowing that I'm like making a difference in their lives," she said.
She was hooked after her first day of training. While she recognized the responsibility of holding peoples lives in her hands, of the seriousness of what she does, Wilson said the training is thorough and did a great job of preparing her for what she would face.
"What a great thing I can do to give back to my community with [lifeguarding]," she added. "And that really inspired me to go above and beyond and see what I can really do with that responsibility and who I can become because of that."
She loves knowing she can make a difference in people's lives, that she is able to protect people and keep them safe.
"I love being able to bring new people on and show them you can make a difference," she added. "You can protect people and make them feel safe, even though they're think they're having a fun day at the beach, we're always there watching them and making sure everything's going okay."
The skills that lifeguarding teaches, and the knowledge that comes from those, are empowering. Because of that training, and by being a lifeguard, Wilson said she has gained invaluable skills that she can take to any future job and use throughout her life.
"Because of my training and my years working here, I've completely transformed into this person I didn't think I could ever become," she added. "This job teaches you amazing communication skills, public relations skills, it teaches you the weight of responsibility, it teaches you how to work under pressure and stress. It teaches you just so many valuable things about working in teams. You make lifelong friends with this job and I am forever grateful for the day that I decided to sign up for this job because it really does give people a lot."
Many communities are struggling to attract enough lifeguards, with some opting to drop their programs, which is a shame for a number of reasons, Wiley said. For one, the program is a great way to training future leaders and due to safety reasons for another.
"You're missing the first responder element of people who are trained in that, who are walking around your community, not just when they're on the stand," he added. "They're giving back to the community, they're keeping an eye on everybody down here."
Wilson agreed.
"We're not just watching the water, we're listening and watching for people on the park side of the beach to see if anyone else on land needs help," she added. "We respond to the water and the land."
The program has a deep history in the community and one that has traditionally attracted a lot of support from both residents and the council, City Administrator Jennifer Stapleton said.
While the year is a challenging one for hiring, she said she hopes the community will respond to the city's call for additional lifeguards the same way it did a few years ago when it looked like Sandpoint might have to shut down its program. Then, an outpouring of support from all sides lead to a number of new lifeguards and allowed the city to keep the program going. The city has increased wages and done everything it can to be competitive, said Stapleton.
"And so there's a point, too, where we're still reliant on the community valuing the program and then carrying on the historical pattern of coming out and staffing the program, that this is a badge of honor to work in our lifeguard program," she added.
With seven lifeguards on staff, Stapleton said the city is nearing the point of making a decision on what its baseline level of service will be at City Beach.
"Do we just cut back on services so that we only are going to guard part of the beach this year, or what that may be," she added. "We're pretty close to having to have those conversations."
Lifeguards hit the stands on June 11 and will be at the beach through the Labor Day weekend.
Those interested in being a lifeguard at City Beach should contact Jason Wiley at 208-263-3371, or go online to sandpointidaho.gov and click on "How do I apply for a job."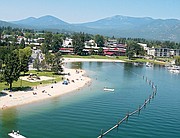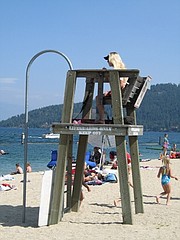 Recent Headlines
---