SHS hosts second annual All-Star Olympics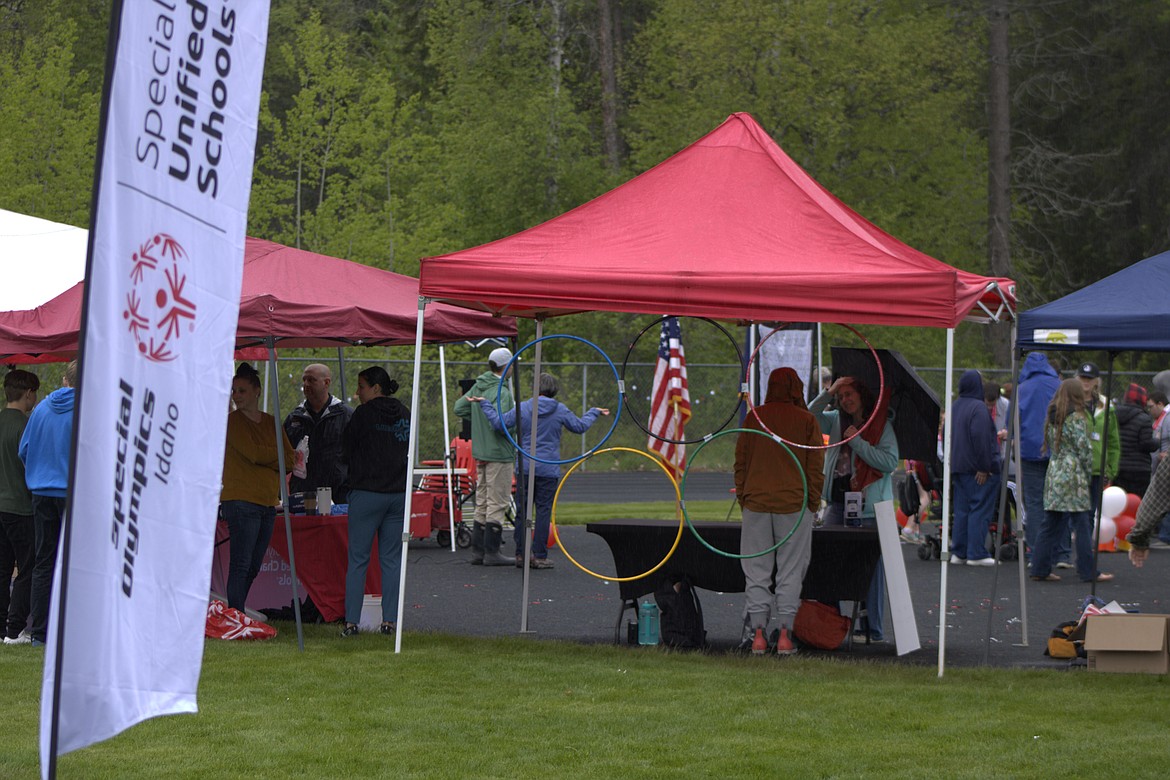 SHS track field became home to the second annual All-Star Special Olympics
(photo by BEAUX WHITE EAGLE)
by
BEAUX WHITE EAGLE
Staff Writer
|
May 29, 2022 1:00 AM
SANDPOINT – Despite the drizzling weather, athletes still enjoyed competing Wednesday morning in the All-Star Olympics.
Hosted at the Sandpoint High School track field, the All-Star Olympics still saw quite the turnout in spite of rainy, drizzly weather. Athletes and spectators played games, and ended the day with a pizza party, said William Capodagli, a special education teacher at Sandpoint Middle School, who along with Mary Imaz, a Spanish teacher at SHS, planned this year's event.
"[Even]on a dreary, rainy day, everybody had a great time," Capodagli said
The All-Star Special Olympics is an event that was started in 2021 from a simple idea. Zachary Ponder who was a special education teacher at the time came up with the idea and pitched it to, two then TAs Molly Balison and Taylor Sadewic.
With Balison and Sadewic spearheading the planning, the event gained support from teachers, parents, and student organizations. The student council made banners and fliers, SHS cheer donated pompoms, and welding classes made medals.
At the 2021 event, 18 students competed in four events at the "All-Star Olympics," including a 400-meter race, shot put, a 100-meter dash, a relay race, and included students from SMS and SHS.
"I brought the idea up and they ran with it," Ponder said
This year's event was a little bigger, with more than 50 competing athletes in 7 different events.
Students from both schools pair with a student from special education and together they competed as a team, helping one another and offering support while bonding and creating memories.
Ninth grade SHS student Ruby Jiles, said the event was great to participate in for those reasons with the added bonuses of helping someone and breaking out of comfort zones.
"It was honestly, so nice. Branching out and getting out of your comfort zone and making sure these kids are welcomed and they feel comforted," Jiles said
However, Jiles said her favorite part of the entire experience was seeing the joy in her partner Copper, and that certain memories made have even prompted her to start thinking ahead to her senior year and being a special education TA.
"Him [Cooper] l getting so happy after like succeeding. He pulled me aside and was like, 'thank you so much for helping me today,' Jiles said, "Like it meant a lot and kind of stuck with me,"
Many participating students felt the same way, and also planned to return to the event next year. Capodagli said this event other like it are important because they allow special education students to partake of school culture in a bigger way, and even gives them a role that is specific to them and what they are capable of.
"Seeing everybody with whatever capability they had, you know, was hitting that high note," Capodagli said, "They felt like part of that. School, you know, they have that school culture. So this is something that they have."
Recent Headlines
---