Bulldogs win on the road, 58-29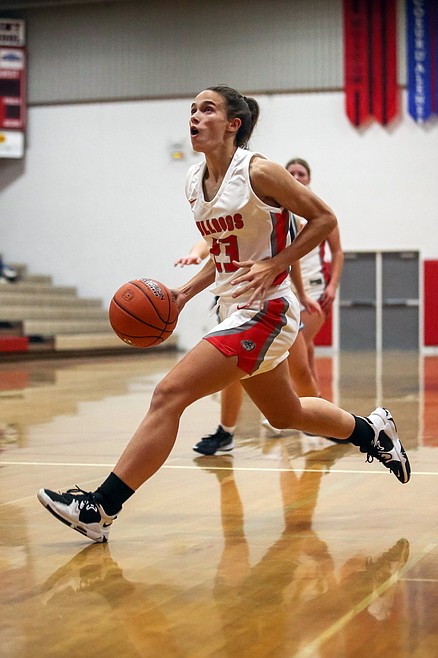 Aliya Strock dropped 19 points overall for the Bulldogs en route to Sandpoint's 58-29 win over Kellogg. Strock is pictured in a game earlier this week.
(Photo courtesy JASON DUCHOW PHOTOGRAPHY)
The Bulldogs were victorious 58-29 Friday night as they took on Kellogg in the girls basketball team's first game of the Silver Valley Tournament.
While the team struggled shooting early on in the first period, Sandpoint coach Will Love said the girls kept working hard.
"We were able to get to the free throw line but weren't able to capitalize," said Love.
The Bulldogs picked it up at the back-end of the first period and had a good run into the second period.
Aliya Strock dropped 19 points overall for the Bulldogs while Karlie Banks and Daylee Driggs followed closely with 14 points each.
"Aliya was hard to contain," said Love.
Kelsey Cessna also played strong and showed strong leadership for Sandpoint. She finished the game with seven points for the Bulldogs.
In the fourth quarter, the Bulldogs were able to play some of the players who don't typically get to play as varsity players. Love noted that Alex David scored her very first varsity basket in the fourth quarter.
"We're excited we got the win tonight," said Love.
The Bulldogs next play Saturday afternoon against Bonners Ferry at 12:30 p.m.
Sandpoint 19 18 17 4 — 58
Kellogg 9 6 5 9 — 29
SANDPOINT — Cessna 7, De. Driggs 0, Da. Driggs 14, David 0, P. Cessna 2, Richardson 2, Tuinstra 0, Bleckwenn 0, Strock 19, Laybourne 0, Banks 14, Thaete 0, David 2.
KELLOGG — Bening 2, Cheney, Clapper 0, Coe 7, Dechand 0, A. Groth 0, M. Groth 0, Hart 0, Henrikson 0, Jerome 13, Jessup, Karst 3, Potts 2, Reynoldson 2.
Recent Headlines
---