Grant, donations fund Thanksgiving dinners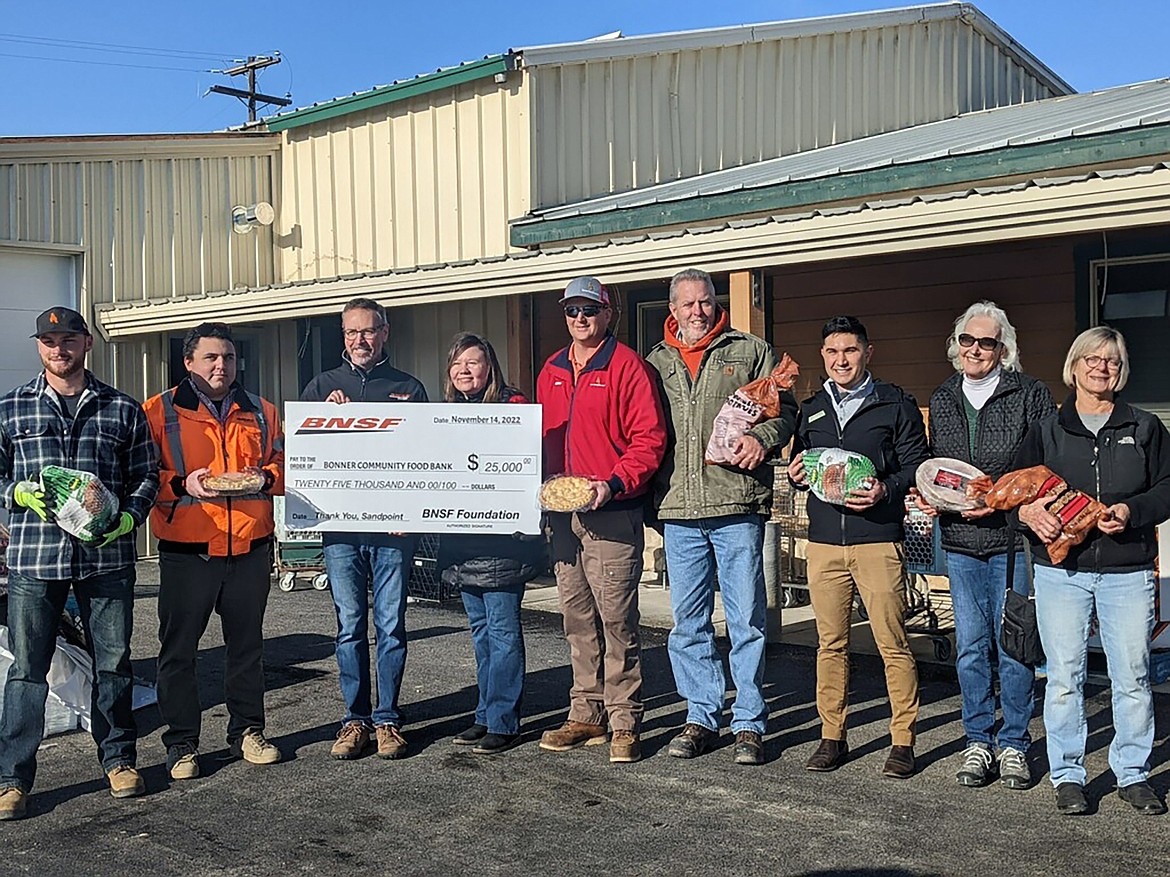 BNSF Railway, Ames Construction and Bonner County Food Bank officials gather for a photo after both donated to the food bank to help others in the community. Pictured, from left, are Sawyer Junker, Ames; Ryan Kopera, BNSF; Matt Jones, BNSF; Debbie Love, Bonner Community Food Bank; Mike Pamperin, Ames; Max Rexroad, Hanson; Jake Garringer, office of Idaho Gov. Brad Little; Roz Holland, Bonner Community Food Bank; and Judy Thompson, Bonner Community Food Bank.
(Courtesy photo)
by
CAROLINE LOBSINGER
Staff Writer
|
November 20, 2022 1:00 AM
Thanksgiving is a time of sharing and compassion, and thanks to the Bonner Community Food Bank, BNSF Railway, and Ames Construction, families in need in Sandpoint and the surrounding community will celebrate with a traditional turkey dinner.
Bolstered by a $25,000 grant from the BNSF Railway Foundation and a $5,000 gift from Ames Construction, the Bonner Community Food Bank began distributing Thanksgiving meals Monday, Nov. 14. Volunteers from both companies were on hand to help distribute the dinners, made possible through donations not only from BNSF and Ames, but also other generous businesses, organizations, and individuals throughout the region.
"We are grateful for all donations, especially during the holidays," Debbie Love, food bank executive director, said. "The contributions ensure families will enjoy a delicious, traditional meal without worrying about how they will pay for it."

The BNSF and Ames donations are, in part, a thank you to residents of Sandpoint and the larger Bonner County area for their patience and support throughout the five-year construction of the second rail bridge over Lake Pend Oreille, officials said.
BNSF Railway officials said the new bridge will help reduce congestion and move current and future freight traffic more efficiently.
"We are committed to investing in the communities across our 32,500-mile, 28-state track network," Matt Jones, director of public affairs for BNSF, said. "The citizens of Sandpoint and Bonner County went the extra mile while the new bridge was built, and we are thrilled to thank them with some Thanksgiving cheer."
Community support, grants such as that received from the BNSF Railway Foundation, and the donation from Ames Construction are tremendously important to the food bank and its mission of helping those in the community who need their services.
Demand for the food bank ticked upward last year after declining the previous summer and during the pandemic due to federal programs. That decline followed heavy use of the food bank at the start of the pandemic coupled with a sharp drop in volunteers.
The combination prompted a change in operations, temporarily moving away from its in-store client choice market to distribution of boxes outside. However, the food bank has shifted back to its in-store client format.
While a common misconception says those who use a food bank are lazy, Love said that's far from the case. Most are the working poor or turn to the food bank when they've run out of options.
"We have people coming in all the time not wanting to but they don't have anywhere else to go," Love said last year. "They're very prideful people, especially the older generation, they, you know, grew up in a time when, during the Depression, or that time when they utilized every little thing. So when they get to that point, they they think, 'Oh, a can of soup is just fine.' But really that's the only thing they have in their cupboard."
Love said she works to get as much fresh produce as she can, with local gardeners helping them stay flush during summer months with an assortment of vegetables. A "grocery rescue program" in which local stores donate items nearing the end of their lifecycle, but still good, to the food bank. A partnership with Litehouse Foods helped create a shopping list potential donors can download from the food bank's website or Facebook page.
The list includes such staples such as peanut butter, tuna fish, canned meat, canned pasta, canned tomato sauce and canned pasta sauce. Other items, such as baking supplies and seasonings, also are welcomed.
Love said most in the community realize that those who turn to the food bank are only doing so because they are desperate with no other avenue left.
"Our clients are lovely people. They are very gracious and thankful for everything that we do," she said in 2021. "We really it just feels like family, when you're when you're working here. And our community, it just feels like a big extended family where we all want to make sure everybody's getting fed, those basic needs are being met. Because when those families are getting their basic needs met, they can move on to other things and actually, you know, pay their rent or find a job or keep working, essentially, also be healthy. We want healthy citizens in our community and being able to have the basic food also plays a role in that, too."
The Bonner Community Food Bank has been serving the local community since 1981. As of September 30, 2022, they have distributed 360,539 pounds of food through donations from grocery stores and individuals. The food bank had over 24,000 visits in 2021 and is already over 28,000 as of the end of October of this year.
To donate to the food bank, learn more about its services or find out how to volunteer, go online to foodbank83864.com or on Facebook at facebook.com/bonnercommunityfoodbank.
Recent Headlines
---