'People really care'
by
BILL BULEY
Hagadone News Network
|
November 22, 2022 1:07 AM
HAYDEN — Monday morning, the final day of Operation Christmas Child in North Idaho, a senior citizen walked in the doors of Anthem Church.
She had seen the Operation Christmas Child sign and wanted to contribute, she explained. Out of breath, but smiling, the woman handed over a single shoebox.
"She was so proud of it," said an Operation Christmas Child volunteer.
It was that kind of effort that led to a record number of shoeboxes filled with items for children being donated this year.
"About 16,000," said volunteer Rod McCoy.
At that, the small group of about 20 volunteers cheered as they gathered in the parking lot to pray over two trailers packed with shoeboxes filled and ready to bring joy.
While it fell short of the 22,000 goal, it topped last year's tally of nearly 14,000 and left everyone involved feeling good about sending gifts to children who have little or nothing.
They attributed the record-breaking year to growth in churches and a desire to help others.
Kids emptied banks, high school students rallied to raise contributions, seniors spent savings and churches held packing parties.
"We're tickled pink," said Jerryne King, Operation Christmas Child North Idaho area team administrator.
National Collection Week, which ran from Nov. 14-21, wrapped up Monday as the last of the shoeboxes from throughout North Idaho were delivered to the drop-off center at Anthem Church in Hayden.
The majority of shoeboxes - filled with toys, school supplies, hygiene items and a gospel message - are bound for overseas countries.
Since 1993, more than 198 million children in more than 170 countries and territories have received a shoebox through Operation Christmas Child, which is a ministry of Samaritan's Purse, a Christian organization.
Most of those kids have never received a Christmas gift or even heard of Jesus Christ, and volunteers wanted to provide both.
"To me, it's not just about a Christmas gift. It's about the word of God," McCoy said.
He added that Operation Christmas Child "is probably the easiest way most people locally can reach out to Zimbabwe or Mexico."
Volunteer Alex Parenti supports the program because it lets kids know they are loved.
Parenti has children of his own.
"Kids all around the world are just as precious," he said. "I want them to get something and know that they're cared about."
Jessica Auten, a sophomore at Coeur d'Alene High School, is Operation Christmas Child's first student coordinator. She likes being involved "for the outcome of it.
"They get to know the word of God," she said.
Her mother Erica Auten, is an Operation Christmas Child North Idaho area coordinator. She said when she was growing up in Twin Lakes, her family had little money and no running water.
She recalled receiving a Thanksgiving dinner one year when a fire truck came around giving the holiday meals out.
That changed her life.
"I remember thinking, 'Wow, people really care and I don't even know them,'" she said.
Erica Auten said it's a huge boost for many kids who receive Operation Christmas Child shoeboxes when they realize that someone they don't even know bought gifts for them.
"It's that feeling that somebody across the world cares for you, and it's amazing," she said.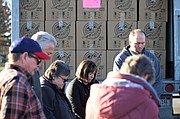 Recent Headlines
---