Miller's Country Store reopens as planned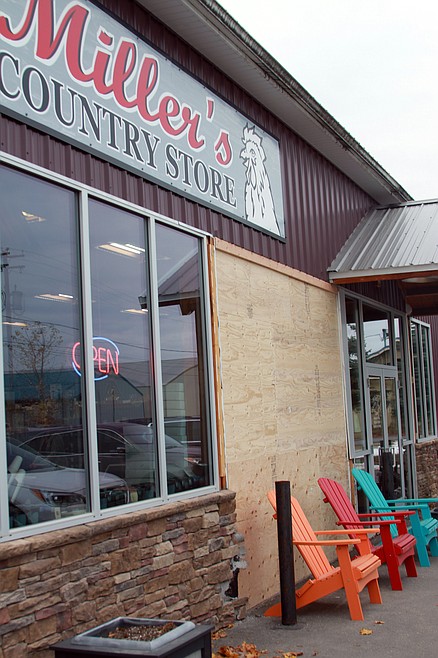 Brightly colored chairs are seen in front of a newly repaired wall at Miller's Country Store. The store reopened as hoped on Monday after a weekend of repairs after a car crashed through the front wall on Friday.
(Photo by DANIEL RADFORD)
by
DANIEL RADFORD
Staff Writer
|
November 22, 2022 1:00 AM
SANDPOINT — You'd never know walking into Miller's Country Store on Monday that just a few days prior there was a vehicle inside the Sandpoint business.
While things did not go as planned on Friday morning, they did on Monday morning.
The store reopened on schedule Monday after closing Friday morning to repair damage caused when a car crashed through the front of the building.
Miller's Country Store owner Lane Riffey said no one was injured and the structural integrity of the building was not compromised as the vehicle narrowly missed two king studs. The driver allegedly mistook the break for the gas and was stopped by the counter in the store.
Riffey said Monday that a beam that was dangling from the rafters has been replaced. In addition, electrical for the front desk, which ran through the beam that was ripped loose, has also been replaced. He estimates repairs currently total a couple thousand dollars.
The framing, wall, and insulation has all been patched. Riffey said they are just waiting on metal, windows and rock for the outside of the store. The windows are about six weeks out from arrival.
Recent Headlines
---