Bonner County picked for election audit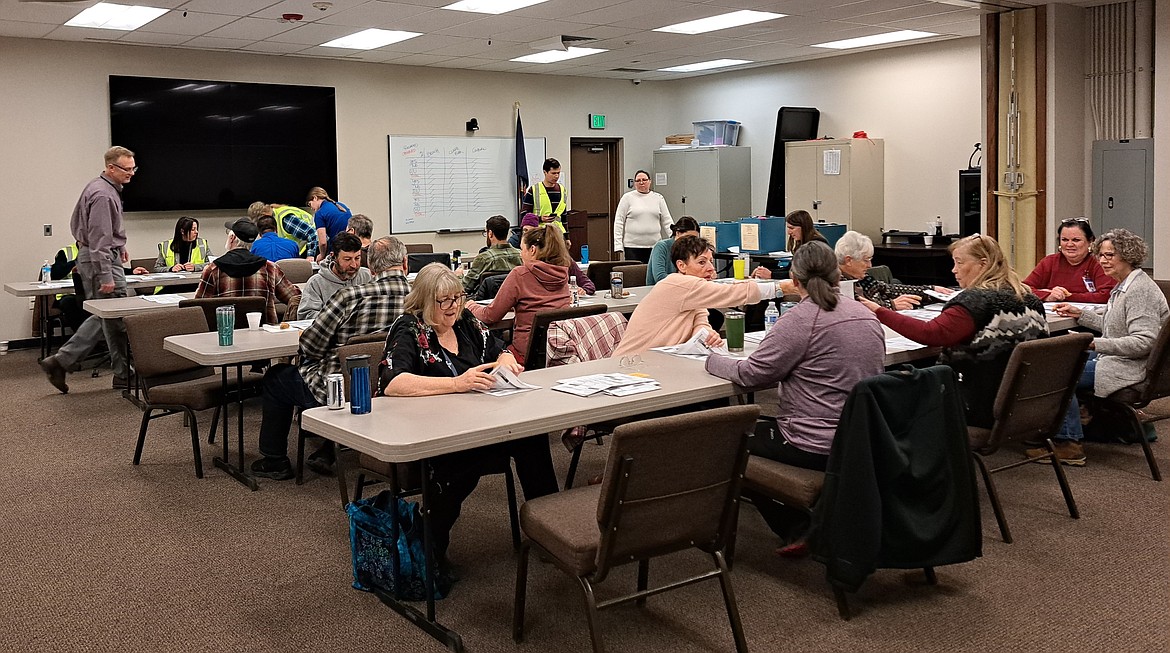 County Clerk Michael Roasedale and the Idaho Secretary of State's team supervise Bonner County's election audit on Nov. 22. Bonner County was one of eight counties randomly chosen for an audit this election cycle.
(Daily Bee file photo)
by
DANIEL RADFORD
Staff Writer
|
November 23, 2022 1:00 AM
SANDPOINT — Bonner County was one of the eight counties randomly selected for an election audit by the Idaho Secretary of State.
After the last cycle, the Idaho Legislature passed House Bill 349 and Senate Bill 1274 which directed the Idaho Secretary of State to develop an audit process. The measure has been interpreted as requiring a random selection of two out three of the largest counties, three out of eight of the medium-sized counties, and three out of 33 of the smallest counties. This year, Bonner County's number was drawn.
Ada and Kootenai counties are the two large counties (over 100,000 registered voters) that are being recounted.
Bonner, Bonneville, and Nez Perce counties are the medium-sized counties (20,000-99,999 registered voters) selected.
And Shoshone, Minidoka, and Oneida counties are the three small counties (under 20,000 registered voters) that are being audited.
Bonner County conducted its audit on Tuesday with county Clerk Michael Rosedale bringing in 16 workers to help count about 2,000 ballots from the three randomly selected precincts.Selected to be counted from Bonner County were Clark Fork, Colburn, and Beach (south Sandpoint).
A team of seven auditors from the Secretary of State's office also flew up to oversee the audit.
The audits only focus on one electoral option. This year, the auditors recounted Senate Joint Resolution 102, which allows the legislature to call itself back into session – a right that had been reserved solely for the governor.
SJR 102 passed by a margin of less than 20,000 votes, 51.8% for and 48.2% against. According to the finalized results from the county, 57% of the voters, 11,366, were for and 43%, 8,508, were against.
County Clerk Mike Rosedale said the county passed the audit with flying colors.
"We got 100.00% correct," he said. "Our results were perfect."
"What we produced on our canvass and on election night are exactly what the voters put down," Rosedale said.
This was not the first audit Rosedale oversaw. Last cycle, he volunteered the county for a recount of the presidential votes in order to disprove MyPillow CEO Mike Lindell's claim of widespread voter fraud in Idaho.
In the previous audit, there were seven or eight ballots where the voters used the rubber stylus of the pen to mark the ballot, faintly leaving marks that, although visible to the human eye, were not recognizable to the scanner, Rosedale told the Bee.
This audit, there were at least three ballots that had similar markings, but they were dark enough to be recorded by the scanner.
Recent Headlines
---