Shook Twins back with Thanksgiving tradition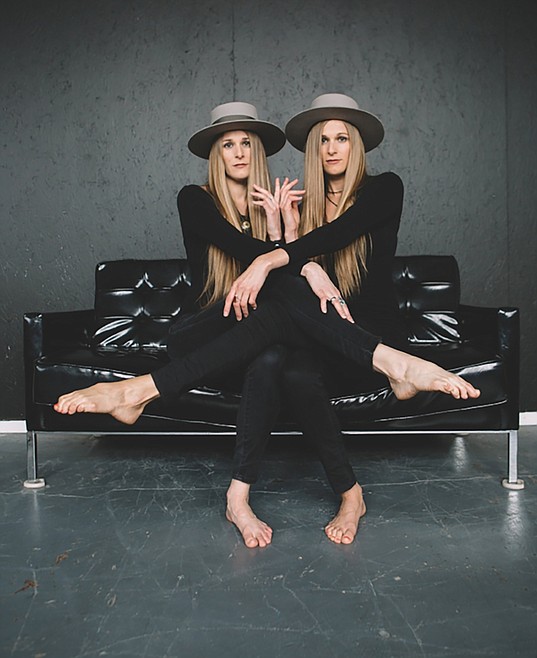 The Shook Twins — Katelyn, vocals and guitar, and Laurie, banjo and vocals — will return home to Sandpoint to continue a Thanksgiving tradition interrupted by the pandemic.
(Courtesy photo)
|
November 24, 2022 1:00 AM
The Shook Twins will return home to Sandpoint to continue a Thanksgiving tradition interrupted by the pandemic.
The duo will be playing for their Bonners Ferry fans and friends at the Pearl Theater at 7 p.m. Friday, Nov. 25, and they're bringing along special guest John Craigie as well. On Saturday, they will perform for their Sandpoint fans and friends at the Panida Theater at 7 p.m.
The identical twins; Katelyn, vocals and guitar, and Laurie, banjo and vocals, grew up in Sandpoint and began performing in 2007, never with a plan, just becoming the Shook Twins through the process of writing, recording and performing.
"Neither of us remember a time where we planned things out, it all unfolded naturally," Katelynn said. "We just started to play out and called ourselves Shook Twins, because that's simply who we are."
"We never set specific goals either," adds Laurie. "We talk about our hopes and dreams, but we've just let everything grow organically with the band."
Since their 2008 debut, "You Can Have The Rest," the Shook Twins have conjured up dreamy folk with ghostly traces of Americana tradition uplifted by transcendently hummable melodies and lilting cinematic instrumentation.
And playing hundreds of shows across the nation each year, they return home for Thanksgiving with their family, and share their thanks, when possible, playing for their local fans at both the Pearl Theater, 7160 Ash St., Bonners Ferry, and at the Panida Theater, 300 N. First Ave., Sandpoint.
John Craigie, called "… the lovechild of John Prine and Mitch Hedberg with a vagabond troubadour edge," brings a combination of wit, humor, storytelling and song, a perfect complement to the spirited Shook Twins. Together, they seem to work magic and give their audience far more than a mere concert.
"For us, music is a way to give back," Laurie said. "It's wonderful when our songs help someone through something. At each show, we have an offering to give. It's our way to hopefully bring joy to people."
"When we play, it's a night for everyone to escape," Katelyn concurs. "We all need that as humans — maybe now more than ever."
Tickets for the Pearl Theater concert are $25, available online bit.ly/3F1k2VP. Doors and the Pearl Cafe open at 6:30 p.m. To learn more, call 208-610-2846.
The Shook Twins, with their full band, and John Craigie will play the Panida at 7 p.m. Saturday, Nov. 26. Advance tickets are $25, available online at bit.ly/3TTgqZX. Tickets the day of the show are $28.
Recent Headlines
---