Another $2,600 comes in to Panida Century Fund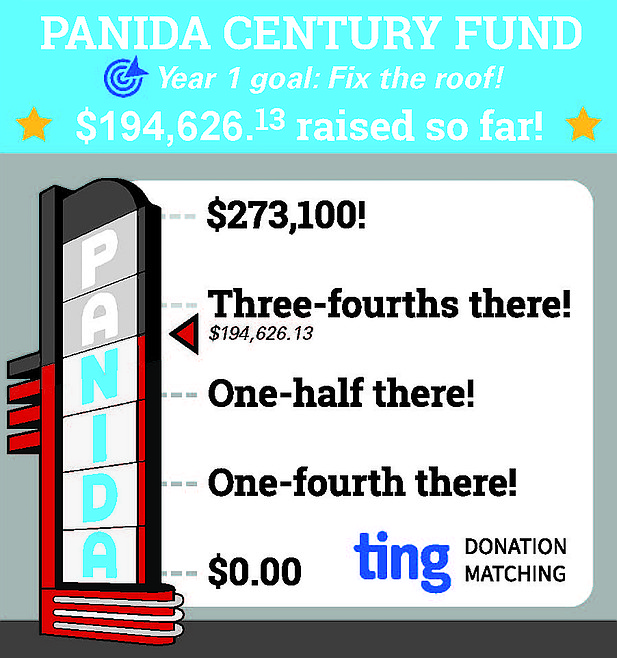 |
November 25, 2022 1:00 AM
The Panida Century Fund inched ahead this week, with individuals donating another $1,300 to help replace the theater roof – an amount that doubled to $2,600 when matched by Ting Internet with its pledge to match all donations from individuals.
With this week's donations, a total of $194,626.13 has been raised toward the Century Fund's first-year goal of $273,100.
And the week that comes holds promise to gain further in the effort to get a new roof for the theater. On Saturday, the Shook Twins will be passing the hat at their annual Giving Thanks concert in the Panida.
"That would be a great time for those who love the twins, and love the Panida, to bring some extra to help," noted Panida board member and fundraising chair Foster Cline.
Plus, this coming Tuesday is GivingTuesday, one of the biggest giving celebrations in the nation – also a great time for individuals inspired by the spirit of the day to consider a donation to help restore our historic theater, said Cline.
The Century Fund has a five-year goal broken out in annual phases, to raise a total $1.9 million to address long-deferred maintenance needs leading up to the Panida's 100th anniversary in November 2027. The first year's goal will provide the funds to replace the theater's roof, which has experienced wintertime leaking.
The campaign has gotten a huge boost from Ting Internet, which has pledged to match individual donations of $5,000 and under, up to a total of $200,000 over the five-year campaign.
To donate, or see detailed plans for the campaign itemizing expenses, go online to www.panida.org.
Recent Headlines
---