Community races to help food bank
A trio take off from the starting line as the 2022 Turkey Trot got underway on Thanksgiving Day. An estimated 250 people turned out for the annual walk/run and benefit for the Bonner Community Food Bank.
(Photo by CAROLINE LOBSINGER)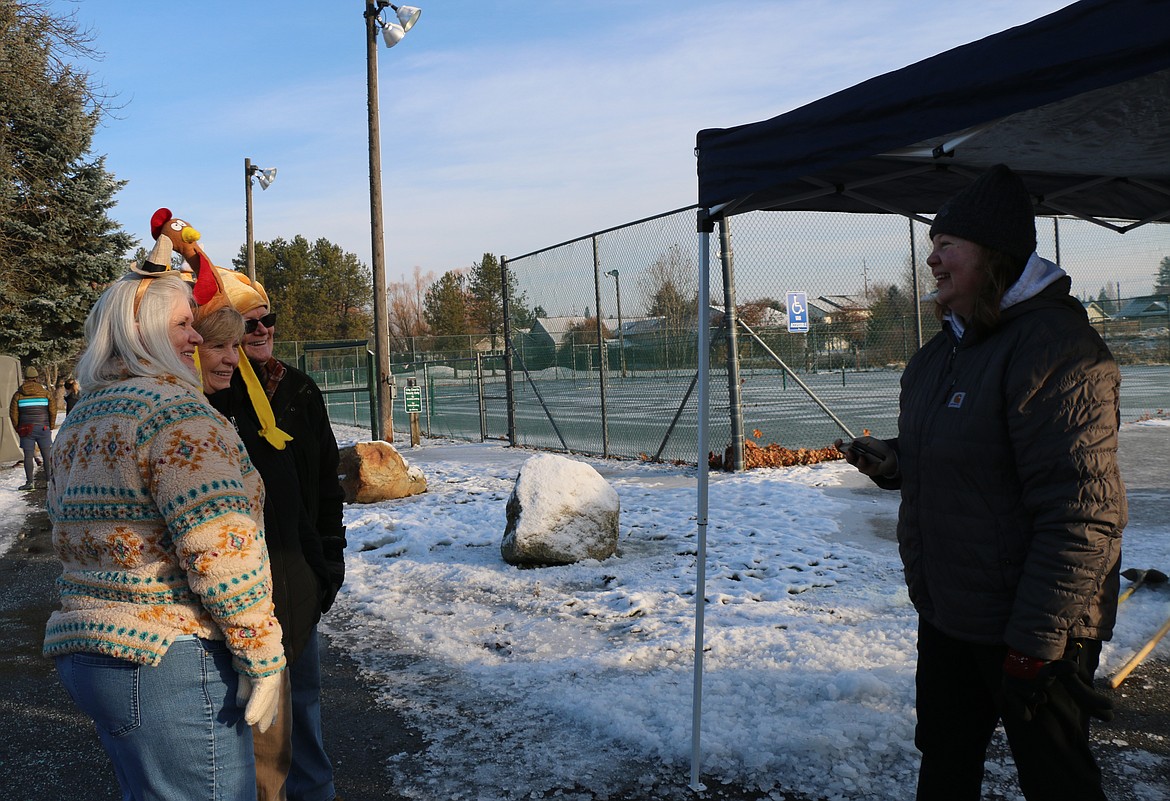 Bonner Community Food Bank executive director Debbie Love, right, takes a photo of Donna Davis, and her sister and brother-in-law, Brenda and Dale Rose as they wait for the start of the annual Turkey Trot event at Travers Park.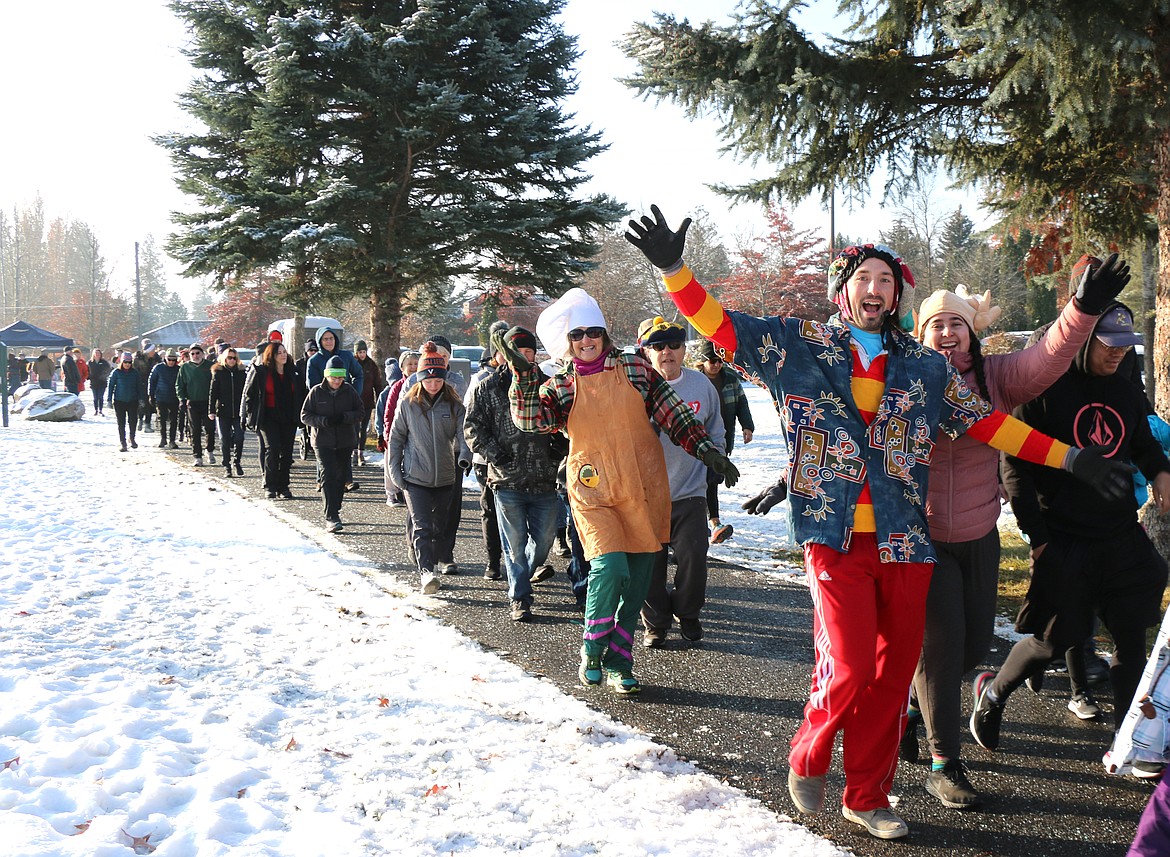 Many Turkey Trot participants, such as this trio, came dressed with Thanksgiving-themed hats and outfits. This year's event was the 15th annual iteration and was co-sponsored by the city of Sandpoint and Litehouse YMCA to raise funds and donations for the Bonner Community Food Bank.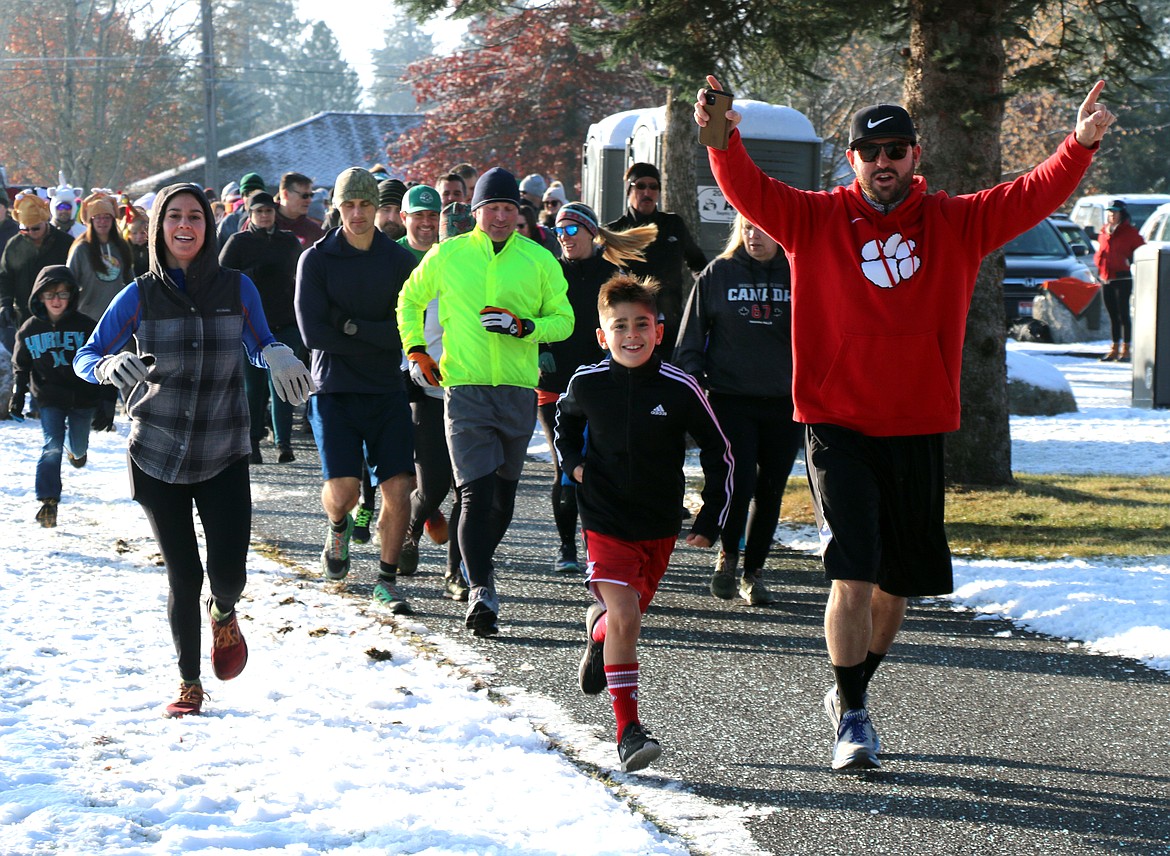 Turkey Trot participants celebrate the start of the annual fun run/walk and benefit for the Bonner Community Food Bank. Held on Thanksgiving morning, an estimated 250 people turned out for the annual walk/run and benefit for the Bonner Community Food Bank.
Previous
Next
by
CAROLINE LOBSINGER
Staff Writer
|
November 25, 2022 1:00 AM
SANDPOINT — At first, just a few folks were scattered around the parking lot at Travers Park.
Some were in sweats. Some in shorts. And still others had a Thanksgiving-themed hat on.
By the time the 15th edition of the community's Turkey Trot got underway just after 9 a.m. on Thanksgiving Day, about 250 people had turned out to start their day with a donation to the Bonner Community Food Bank and a lap (or more) around the park's track.
The low-key, untimed event features a 5K, 10K or whatever distance runners or walkers set as their goal. 
As young helpers carried food from the registration table to a food bank van, the crowd grew with friends laughing and smiling, and members of the Sandpoint High School cross country team stretching and prepping for the run.
Others joked that it almost seemed like summer compared to last year's biting chill from an arctic wind.
All, however, said there wasn't anywhere else they'd want to be.
"I like the morale," said Donna Davis, who convinced her sister and brother-in-law, Brenda and Dale Rose, who recently moved to the area from South Carolina. "I like that people are willing to spend their Thanksgiving morning making a good choice for other people that are in need."
Rose said it didn't take long for her to convince her family to start their day with a 5K walk around the park.
Supporters of the food bank, Brenda Rose said she and her husband had never done a Turkey Trot event before but thought it sounded fun and wanted to support a great cause.
"We've been donating food to the food bank," Brenda Rose said. "It's just a worthy cause, that's all, especially in these times … so it's all good fun."
The three came sporting festive, holiday hats on, but the sisters laughed when asked who got to pick which hat. 
"Oh, I designated the hats," Davis said, as both sisters began laughing.
"She's the bossy sister," joked Brenda Rose.
Like the Roses and Davis, Phil Hough, and his wife, Deb Hunsicker were among the walkers and runners who came wearing Thanksgiving hats.
The pair, who came with a group of friends who have made it a tradition, said taking part in the event is a fun way to start the Thanksgiving day festivities.
"After a while, it becomes tradition," Hough said. "But initially it was impetus to get up and get going in the morning and, to be honest, it's part of our tradition, as we do this with [a friend] and then we go over to her place for Bloody Marys afterwards."
Afterward, Hough joked he's less stressed about cooking. 
"But I feel okay about having the Bloody Mary if I've done a little exercise," he said with a smile.
Hough and Hunsicker said they've taken part in similar runs for probably 10 to 12 years, starting in Arizona.
"Thanksgiving Day in Arizona, it's not too hard to get up at 8 a.m., 9 a.m., and go running in the desert," Hough said. "But here it's a little more of a challenge — and I like challenges. So it seemed like something to rise to the occasion to do."
The pair said they like the community spirit found at such events, with all who take part gathered together to support a great cause.
"I think it's the camaraderie and the community, really getting to see everyone showing up to help on a holiday, and have fun. 
"We aren't worrying about the things that we normally worry about or getting our work done. We can share the joyfulness of the holiday."
Donations to the food bank are always welcome, whether monetary or non-perishable goods. A list of needs posted to the food bank's website and Facebook page includes such staples such as peanut butter, tuna fish, canned meat, canned pasta, canned tomato sauce and canned pasta sauce. Other items, such as breakfast cereal, condiments, dry beans, sugar in one-pound containers, infant formula, and canned vegetables as well as baking supplies and seasonings, also are welcomed.
The Bonner Community Food Bank has been serving the local community since 1981. As of September 30, 2022, they have distributed 360,539 pounds of food through donations from grocery stores and individuals. The food bank had over 24,000 visits in 2021 and is already over 28,000 as of the end of October of this year.
To donate to the food bank, learn more about its services or find out how to volunteer, go online to foodbank83864.com or on Facebook at facebook.com/bonnercommunityfoodbank.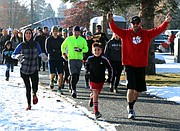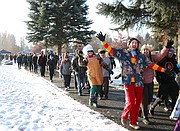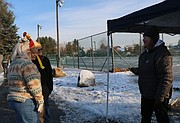 Recent Headlines
---