Here comes Santa Claus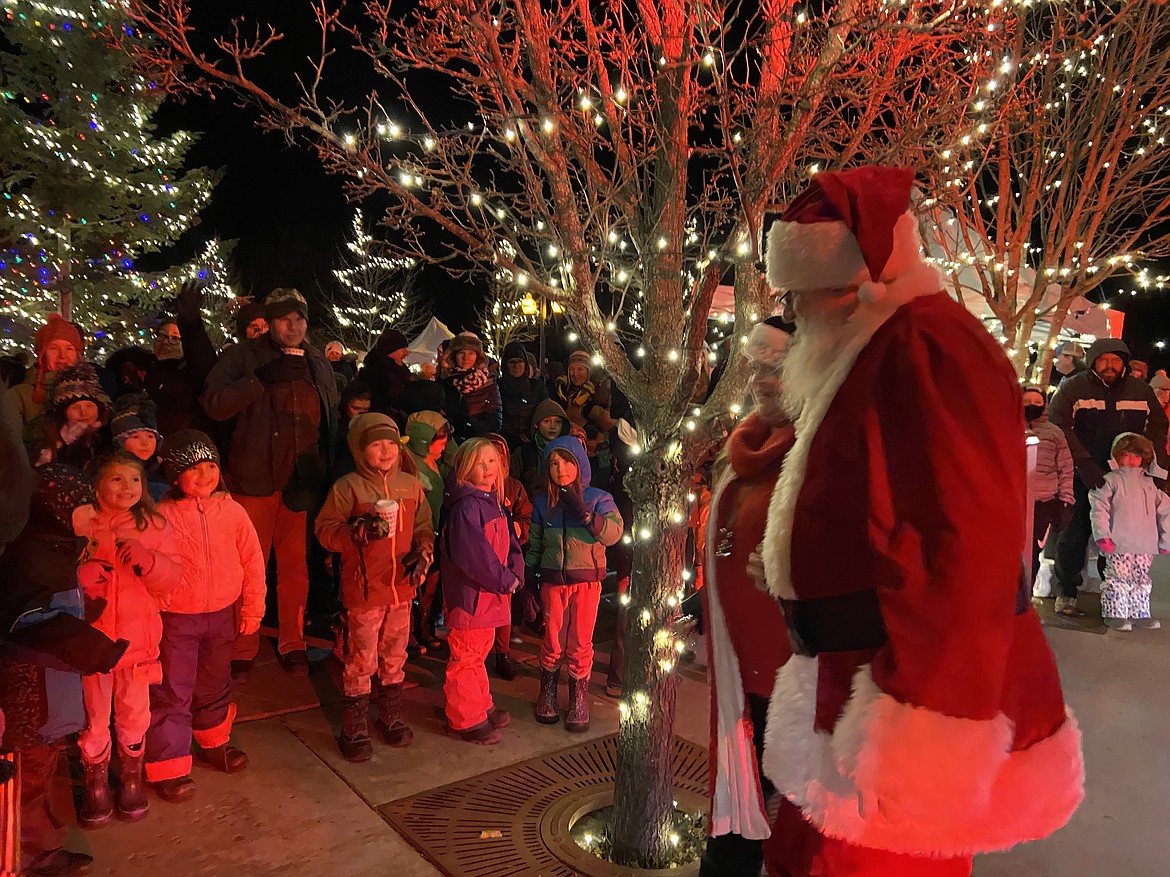 Santa Claus arrives at Jeff Jones Town Square to the delight of local youngsters as he arrives to help to kick off the holiday season at Sandpoint's annual Christmas tree lighting ceremony in 2019.
(Photo by CAROLINE LOBSINGER)
by
BEAUX WHITE EAGLE
Staff Writer
|
November 25, 2022 1:00 AM
SANDPOINT – 'Tis the season, which means Santa Claus is coming to town for trees, lights and Christmas fun.
Santa's first stop? Sandpoint.
On Friday, Nov. 25, the Greater Sandpoint Chamber and the city will be the first to welcome St. Nick as he comes to light the tree at the annual tree lighting ceremony. At 6 p.m. the community is invited to come together and join in the festivities. Warming up the evening will be easy with cider, hot cocoa accompanied by cookies.
Making his way out to East Hope on Dec. 2, Santa will be greeting kiddos and taking photos at the city's "bigger and best" tree lighting ceremony, said city clerk Christy Franck. The event will feature "The Tunnel of Lights," Christmas caroling, goody bags, and more.
The Christmas celebrations in East Hope will continue on Dec. 7 with a Christmas concert. Folks are invited to Memorial Community Center to get in the spirit with the folk musical stylings of Bridges Home. Starting at 6 p.m., the event will have beer and wine available, with the proceeds going back into the Memorial Center to fund the many programs offered. Admission to this event will be free.
Sandpoint will also see more Christmas celebrations with Cedar Hills Church will be hosting a duo of fun on Dec 18. Starting at 4 p.m., the community is invited to come to sing songs and listen to the Christmas story before the fun really kicks off with cocoa and carols at 5 p.m. Cedar Hills will be utilizing the new outdoor area asking the community to bundle up and come sing Christmas carols with hot cocoa around a warm campfire.
Recent Headlines
---