'Giving Tuesday' inspires kindness, helping others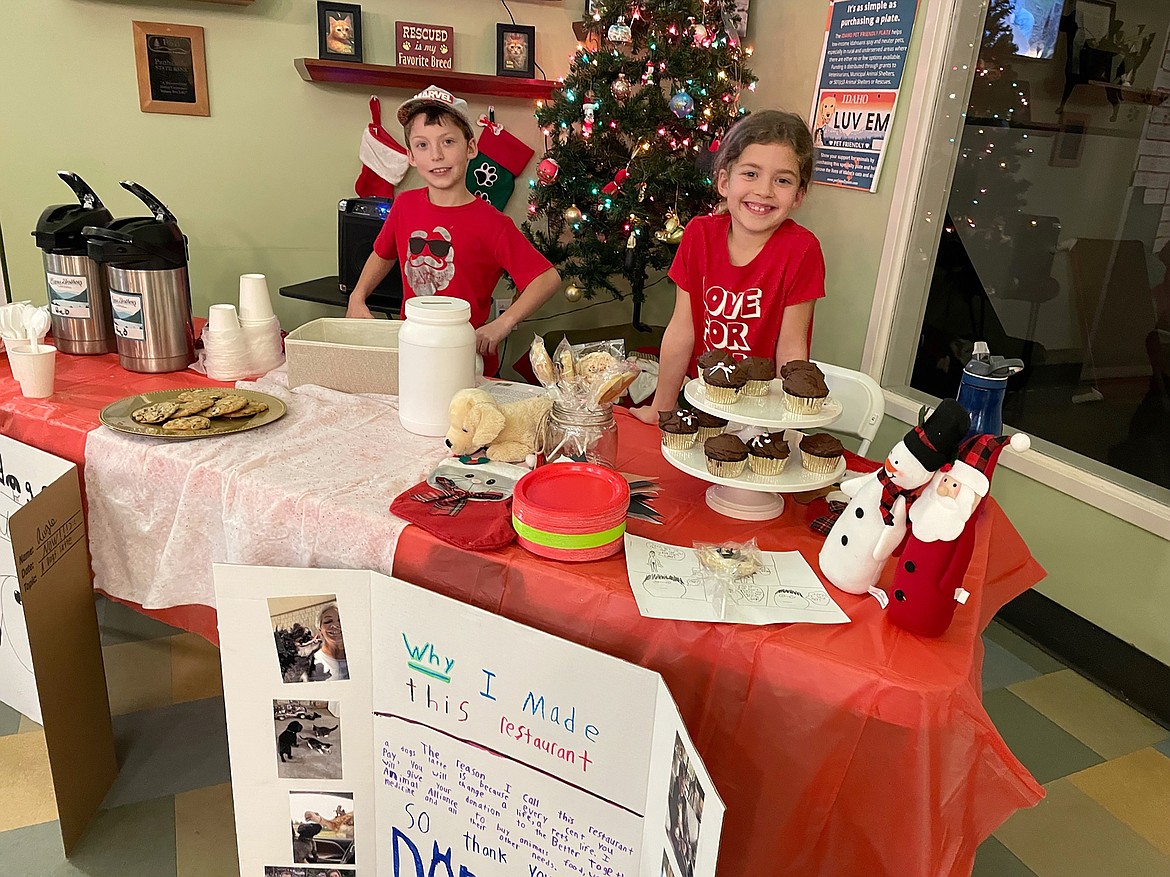 Auggie Fisher and his sister, Iylla, wait for customers at A Dog's Latte in 2021 after the coffee shop temporarily relocated to the Better Together Animal Alliance on Giving Tuesday.
(Courtesy photo)
by
CAROLINE LOBSINGER
Staff Writer
|
November 29, 2022 1:00 AM
SANDPOINT — Today, why not join a global movement of generosity?
After all, what better way to celebrate GivingTuesday than to help the community's nonprofit groups and organizations.
Held the Tuesday after Black Friday and Cyber Monday, GivingTuesday was created in 2012 as a simple idea: To encourage people to do good. Since it started nine years ago, the day has grown into a global movement and inspired millions to give, collaborate, and celebrate generosity.
In addition to helping any number of great causes in the community, you could also score some tasty treats if you head over to Better Together Animal Alliance for the second appearance of "A Dog's Latte."
A die-hard animal lover, Auggie Fisher drafted his sister, Iylla, to head over to the animal shelter on GivingTuesday last year to help him sell treats.
Normally held at the end of his grandparents' driveway, Auggie Fisher decided to partner with the animal shelter in 2021. Auggie and his family baked up a storm and brought the young entrepreneur's pop-up restaurant to BTAA's home where he raised $935 — and thanks to a matching donation, he helped the animal shelter raise $1,870.
"So I thought maybe we could do something good for the dogs and cats — that's what I thought maybe that's what I could do," Auggie said in 2021 when asked why he created It's A Dog's Latte and why he likes to raise money for the animal shelter.
Auggie and his family — and the animal alliance — had so much fun, they are back today for another visit.
But the animal alliance isn't the only local group taking part in GivingTuesday. Each year a dozen or so local nonprofits take part in the campaign to raise money to help those in need.
GivingTuesday data estimates that 35 million people in the United States participated in the event in 2021 — a 6% increase over 2020. 
Giving in the United States alone totaled $2.7 billion, representing a 9% increase compared to 2020, and a 37% increase since 2019.
"With unprecedented levels of giving in 2020, these totals represent a significant continued trend of increased generosity," officials said on the national GivingTuesday website. 
Not only did GivingTuesday inspire people globally to donate their time, skills and money, officials said that in the U.S., those donations increased by 11% on GivingTuesday 2021, gifts of clothes, food, and other items increased by 8%.
"This extraordinary show of generosity lit up the world against a backdrop of a dark two years. From every corner of the globe, there were countless amazing stories of kindness, connection, and community. GivingTuesday is joyful even at the darkest of times, and yesterday was about millions of people celebrating their ability to meaningfully impact their communities and the world," said Asha Curran, co-founder and CEO of GivingTuesday. "Giving is an important metric of civic participation, a way to build the kind of society we want to live in. Our hope is that this boost of generosity is an inspiration for continued giving, kindness, and recognition of our shared humanity each day of the year."
Now in its 10th year, Curran said the idea has grown into a worldwide phenomenon inspiring millions of people to give back and reach out in kindness. 
"GivingTuesday is now a year-round global generosity movement with a distributed network of entrepreneurial leaders who have launched national movements in 80 countries and more than 300 community campaigns across the U.S. alone," Curran said. "At the grassroots level, people and organizations participate in GivingTuesday in every single country in the world. Greece, Nepal, Peru, South Sudan, and Zambia joined as official GivingTuesday country movements in 2021."
With continued disruption and growing need caused by the pandemic, Curran said the organization is responding by expanding its global reach, investing in leadership development and boosting collaboration with non-profits and groups around the world to spread kindness and help others.
"GivingTuesday continues to grow and evolve, fueled by radical generosity, with no leveling off of the ongoing innovation and creativity we have seen every year, from the smallest town to the largest countries to the newest coalitions or the youngest children," said Curran.
Information: givingtuesday.org
Recent Headlines
---