Storms could dump a foot of snow
by
JOSA SNOW
Hagadone News Network
|
November 29, 2022 1:00 AM
North Idaho, plan for a week of winter weather.
High temperatures are expected to barely climb to freezing. The National Weather Service in Spokane predicts 5-10 inches of snow by Wednesday, with more possible through Friday.
"This is a pretty good system coming in," meteorologist Randy Mann said Monday. "When you add it all up, it could be more than a foot of snow."
Breezy flurries turned to heavy snow Monday and dumped more than 3.7 inches on the Coeur d'Alene area by 4 p.m., said Press climatologist Cliff Harris.
"That brings November's snowfall total in Coeur d'Alene to 12.9 inches," Harris said. "The average November snowfall is 8.7 inches."
The National Weather Service predicts a 40% chance of another 2 inches tonight.
"It's going to be a miserable week," said Chris Whitman, lead signal technician for the streets and engineering department for the city of Coeur d'Alene.
"It's a great day to stay inside," he said while working on a lamppost as huge snowflakes fell on his back.
The temperature is expected to drop to 18 tonight, after the daytime temperature is anticipated to barely reach a high of 23, according to the National Weather Service. Layers of ice and snow are expected to continue to stack on the roads through the week.
"Snow's going to pick up tonight, increasing through the night with heavy snow Wednesday and Thursday," Mann said. "We have a series of these storms coming in with a little bit more Saturday and Sunday."
Wednesday should warm up with a high of 33, according to the weather service, with a 100% chance of snow and wind speeds between 10 and 13 mph.
"I think we'll get at least a foot of snow in the lower elevations," Mann said. "And up to a couple feet in the mountains."
Low temperatures will keep snow light and slick, making for hazardous road conditions. After Saturday night's precipitation, roads stayed wet and froze in the icy temperatures. Monday's added snow made for slippery commutes.
"The city's goal this year is to have the entire community plowed within 40 hours," the city of Coeur d'Alene stated on its website.
The clock begins on those 40 hours to clear residential streets after arterials like U.S. 95 or roads that collect traffic and snow like Prairie or Kathleen avenues have been cleared, said Todd Feusier, director of the streets and engineering department for the city of Coeur d'Alene. Plowing on arterials starts at 3 inches of snow.
"It's been a battle of sand, salt and de-icing," Feusier said Monday when local arterials had just over 2 inches.
Despite road conditions slowing traffic to businesses in downtown Coeur d'Alene, some shop workers said they are excited for snow.
"Winter, snowboarding and Christmas in general," said Tom Brown, manager of Pistole Boardshop in the Resort Plaza Shops on Sherman Avenue. He said although the shop isn't always busy while it's snowing, it is good for business to have a snowy winter.
Mann said this is going to be a great start to the ski season for people who love snow.
"Heavier snows will be in the earlier part of the winter," he said. "I think this is going to be a good skiing season."
Mann predicts a series of early-December winter storms that will roll and stack into the Idaho Panhandle, but some of those storms could warm up.
"Don't be surprised if it starts to dip into some rain in mid-December," Mann said. "But I think we have a really good chance of a white Christmas."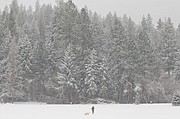 Recent Headlines
---