Sandpoint flattens Lake City; huge game at Lakeland next
by
MARK NELKE
Hagadone News Network
|
October 1, 2022 1:00 AM
COEUR d'ALENE — After opening their season with a couple of error-plagued efforts — albeit against some pretty good opponents — the Sandpoint Bulldogs have cleaned up their act of late.
Sandpoint scored its first six possessions, and all but one on the night, and looked nearly flawless in mowing over the Lake City Timberwolves 51-13 on Friday night for the Bulldogs' first win at Lake City since 2002.
"We talk about it a lot — just the discipline factor," Sandpoint coach Ryan Knowles said. "It's everything. It's how we eat our pregame meal. It's how we take care of the locker room … we talk about that stuff constantly. I think earlier this year we were so excited to get out on the field that we forgot about the discipline thing. Trying to get them to understand — you don't get anywhere without discipline. Much better tonight. We still have things to clean up, but winning that big is a huge statement."
Sandpoint (2-3) ran the ball 53 times for 291 yards, and Lake City (2-4) couldn't do much to slow the Bulldogs down.
Wide receiver/running back/do-it-all senior Max Frank rushed for 101 yards and three touchdowns on 14 carries for Sandpoint, and caught a 17-yard touchdown pass from quarterback Parker Pettit. Pettit added 80 yards on 14 carries, and Kody Brewster ran for 72 yards on 15 carries.
"It's been four straight-up wars on our schedule — absolute battles," Knowles said. "I feel like we have a good team, but when you're sitting at 1-3, how do you justify it? We work hard; we build for the whole season — not the front end of the season but the back end … proud of them; they came out and made a decision to take care of all three phases tonight."
Lake City took the opening kickoff and marched to the Sandpoint 29, but Weston Benefield and other Bulldogs teamed to stop the T-Wolves for a 1-yard loss on fourth and 1.
Sandpoint turned that into a field goal, then Frank ran it in after the Bulldogs recovered a fumble for a 10-0 lead.
Lake City answered with a 22-yard touchdown run by Zach Johnson, but after that, it was pretty much all Sandpoint.
The Bulldogs scored on all four possessions in the first half, and took a 23-6 lead into the elongated homecoming halftime.
And the only time Sandpoint didn't score, the Bulldogs were knocking at the door, with third and 2 at the Lake City 4, when the snap from center was high, and Lake City's Preston Demarre recovered at the 17.
But Benefield made a juggling interception four plays later and returned it to the 15, and Frank ran it in from the 1 five plays later to make it 44-6.
"Fantastic," Knowles said of his offense. "To be able to run the ball — there was a couple of series where we didn't throw the ball, which is ultimately how you win games, which is by running the ball. Parker Pettit made some huge plays for us. Max Frank has really come into his own as a runner … it's just fun to watch them spread around the love a little bit."
Koby Barlow had an interception for Sandpoint in the second half, and Tyson Hodges recovered an errant Lake City snap.
Sandpoint outgained Lake City 397-257.
Luke Patek, an exchange student from Germany who took over as kicker last week when the regular kicker came down with mono, was 6 of 7 on PATs and booted a 32-yard field goal for the Bulldogs.
Next Friday is the game of the year in the 4A Inland Empire League — Sandpoint at Lakeland. The winner is all but certain to wrap up a top-eight seed and a home game in the first round of the state playoffs. The loser will have to travel in the first round.
Sandpoint 3 20 14 14 — 51
Lake City 0 6 0 7 — 13
First quarter
Spt — FG 32 Luke Patek, :15
Second quarter
Spt — Max Frank 5 run (Patek kick), 9:29
LC — Zach Johnson 22 run (kick blocked), 5:53
Spt — Parker Pettit 17 run (kick failed), 2:55
Spt — Frank 17 pass from P. Pettit (Patek kick), :30
Third quarter
Spt — Max Frank 17 run (Patek kick), 7:34
Spt — P. Pettit 1 run (Patek kick), 2:32
Fourth quarter
Spt — Frank 1 run (Patek kick), 5:18
Spt — Kody Brewster 1 run (Patek kick), 4:03
LC — Johnson 55 pass from Jackson Pettit (Connor Jump kick), 1:58
INDIVIDUAL STATISTICS
RUSHING — Spt, Brewster 15-72, Hughes 7-30, Frank 14-101, P. Pettit 14-80, Balison 2-2, Garcia 1-6. LC, Whitehead 14-74, J. Pettit 3-(minus 20), Johnson 1-22, Cogley 1-30.
PASSING — Spt, P. Pettit 10-15-0-106. LC, J. Pettit 14-25-2-151.
RECEIVING — Spt, Hindberg 2-10, Frank 3-30, VanDenBerg 3-31, Brewster 1-39, Garcia 1-(minus 4). LC, Cogley 1-11, Hill 6-65, McMeekan 1-6, Whitehead 3-8, Johnson 3-51.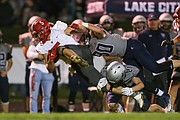 Recent Headlines
---