Concert features Masters of Hawaiian Music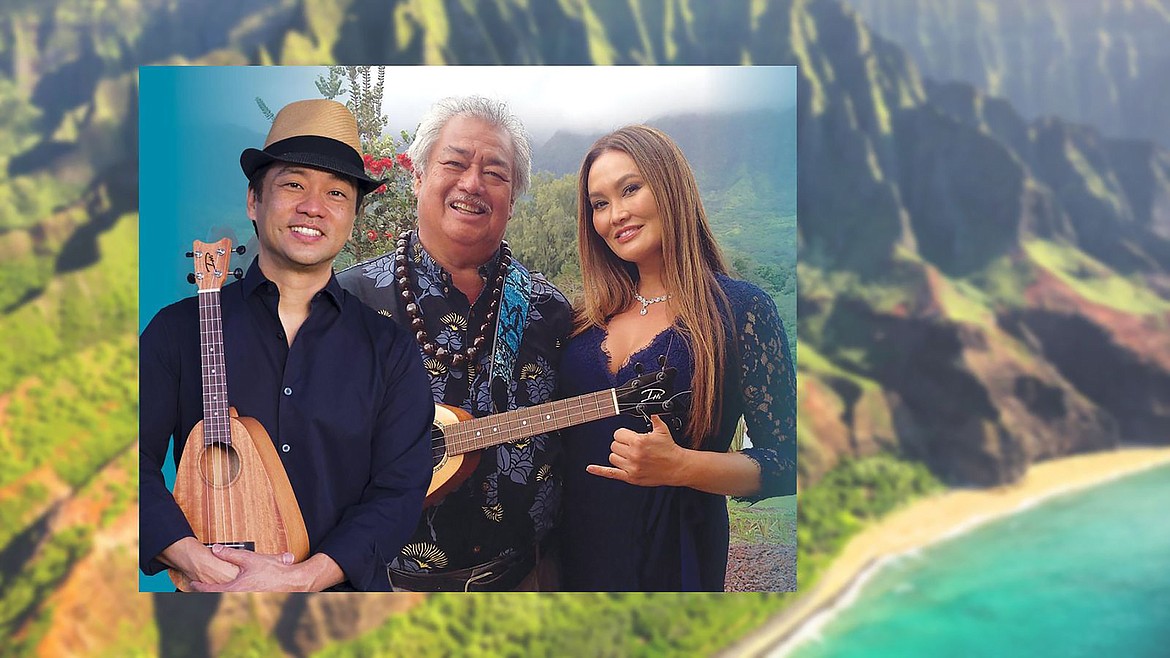 The Pend Oreille Arts Council is presenting Masters of Hawaiian Music featuring three Grammy Award-winning artists: George Kahumoku Jr., Daniel Ho and Tia Carrere. The concert will begin at 7:30 p.m. at the Panida Theater in Sandpoint. Tickets are $28 for adults and $10 for youths/students.
(Courtesy photo)
|
October 4, 2022 1:00 AM
SANDPOINT — You're invited to an evening basking in the music of the islands on Wednesday.
The Pend Oreille Arts Council is presenting Masters of Hawaiian Music featuring three Grammy Award-winning artists: George Kahumoku Jr., Daniel Ho and Tia Carrere. The concert will begin at 7:30 p.m. at the Panida Theater in Sandpoint. Tickets are $28 for adults and $10 for youths/students.
Four-time Grammy-winner, master slack key guitarist George Kahomoku Jr, known as "Hawaii's Renaissance Man," is a vocalist, storyteller, songwriter and author, teacher, sculptor, farmer and chef. He is the producer and star of the weekly "Slack Key Show" on Maui, now celebrating 20 years.
Daniel Ho is a six-time Grammy-winner, with four as producer of Kahumoku's music. He is a multi-instrumentalist, composer, arranger, and performer, with talent and versatility on 'ukulele, slack key guitar, piano and vocals. His two other Grammy wins were with close friend Tia Carrere.
International star and two-time Grammy-winner Tia Carrere first made her name showcasing her considerable singing and acting chops in "Wayne's World". She went on to feature roles in films such as "True Lies," "Rising Sun" and "Lilo & Stitch," as well as television shows from "Hawaii 5-0" to "Curb Your Enthusiasm," returning to her Hawai'i roots with her Grammy-winning albums with Daniel Ho.
Featured regularly at Maui's renowned "Slack Key Show," this group shares the uniquely Hawaiian styles of slack key guitar, 'ukulele, and songs both traditional and new. Their music's origins reach back to the early 19th century when Portuguese immigrants brought the 'ukulele and Mexican cowboys brought guitars to Hawai'i, along with their ranching knowledge. Since then, Hawaiians made these instruments their own and these dynamic musicians reflect the best of traditions, musical virtuosity, and sparkling compositions.
"E kobo mai means welcome and we hope you'll join us! Having been born and raised in Hawaii, this one is especially dear to my heart," Dyno Wahl, POAC board member and Performing Arts chair, said. "There's nothing like the spirit of aloha and musicianship that artists from Hawaii share with their audience. It's a truly unique and magical experience of aloha I wanted to bring to Sandpoint. I know there are many members of Sandpoint's unofficial Hawaiian Club who will be there in force!"
The Hawaiian artists will also visit Sandpoint High School for a workshop with music students as part of POAC's Ovations program, a free K-12 outreach that provides quality educational experiences in the performing arts for students in the Lake Pend Oreille School District.

"The Pend Oreille Art's Council's educational mission is central to our mission and the impact has been immeasurable," said POAC Executive Director Tone Stolz. "In addition to public performances at the Historic Panida Theater, we arrange for all of our performers to offer workshops, performances and outreach programs to local students throughout the school year."
Tickets are available for purchase online at ArtinSandpoint.org, by phone at 208-263-6139, or at the POAC Office, 110 Main St., Suite 101 in downtown Sandpoint. A limited number of 100 POAC Season Passes are also still available, offering discounted admission to POAC's six remaining shows. Season Passes are $125 (plus tax) and are fully transferable. Sponsorship opportunities are also available for the POAC's Performing Arts Season, and for individual shows. Contact Executive Director Tone Stolz at the POAC Office for details.
Recent Headlines
---