Packed agenda keeps county busy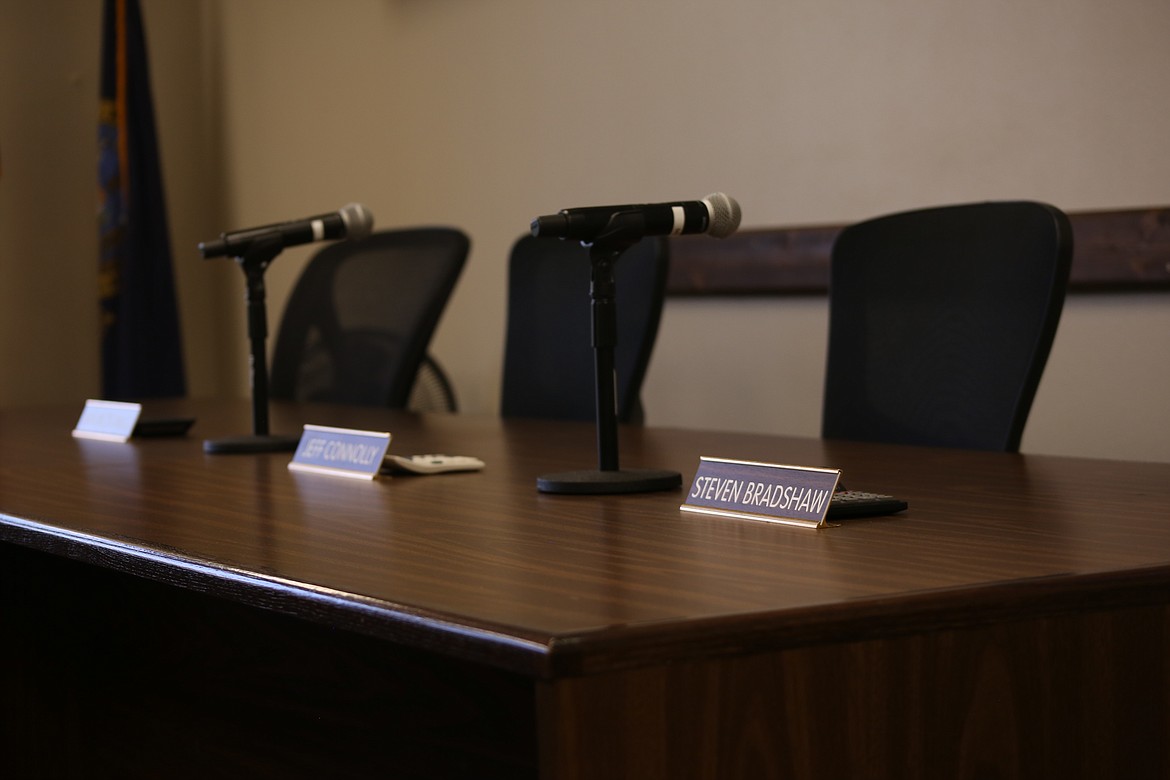 by
DANIEL RADFORD
Staff Writer
|
October 5, 2022 1:00 AM
SANDPOINT — Bonner County commissioners saw a packed business meeting Tuesday morning with over 20 agenda items.
After last week's meeting was canceled due to a lack of quorum, all three commissioners Dan McDonald, Jeff Connolly, and Steven Bradshaw were in attendance.
The meeting began with the passage of the consent agenda which included an invoice from the courthouse for a new door lock system, totalling $17,000, as well as four minor land divisions.
Next, Bonner County Clerk Mike Rosedale brought two motions to pay the county's and EMS' bills. The county batch 26 came in under $2.5 million and the EMS batch came to just under $17,000.
Bryan Hult of Veterans Services introduced a motion to participate in Operation Green Light, a program that recognizes veterans for their service and helps them transition to civilian life. The motion passed.
Jeff Lindsey of Bonner County EMS brought five items that all passed. The first was to fit three new vehicles with hardware and software necessary to convert the vehicles into functional EMS units. The cost is about $22,000. The second motion was to pay the EMS medical director $3,780 a month for a yearlong contract that commenced Oct. 1. The amount is the same as last year.
Lindsey also brought a bundle of contracts for this fiscal year with a variety of EMS and fire districts. The total cost of the bundled contracts came to $11,280 a month. This is a 3% increase for the same bundled contracts from last year.
Next, Lindsey brought a motion to approve the medical director consent and dispatch agreement for all fire protection districts that plan to collaborate with the county for fiscal year 2023. Last, he brought forth a lease agreement for the EMS main station on Third Avenue in Sandpoint. The lease will last for a year and costs $6,670 a month.
Ron Stultz from Justice Services brought three motions. The first was a request to destroy juvenile records that Stultz deemed need to be retained for no more than two years after the loss of custody or the subject's eighteenth birthday. The destruction applies to individuals whose birthday is between Jan. 1, 1999, to Dec. 31, 2001.
The second motion was a juvenile detention agreement between Bonner County and Lincoln County, Mont. The agreement lasts two years. Lastly, Stultz brought a nearly identical agreement between Bonner and Boundary counties. All three items passed.
Susie Jensen from the Public Defender's Office then asked the commissioners to approve a new contract with Margaret Williams, who is Bonner County's Court Appointed Special Advocate contact. Since Williams has agreed to be the CASA advocate for Boundary County as well, this contract saw an increase in the monthly wage from $2,000 to $3,500 for child protection cases.
Doug Patterson asked if Boundary County reimburses Bonner County for these services. Jensen said they do, per the memorandum of understanding between the two counties, Boundary County reimburses Bonner County on a quarterly basis.
Bob Howard, director of Emergency Management and Solid Waste, brought four items. The first was a motion to award Kennan Hill a contract for fiscal year 2023 for the grinding and removal of wood piles at the Dickensheet, Colburn, and Idaho Hill refuse disposal sites. The contract will pay $52 per ton, up from $44 last year.
The following item was a motion for the removal of metal piles from the same refuse disposal sites. The contract goes to Pacific Steel and Recycling, who will pay the county $86 per ton for this fiscal year.
Howard's third item was a contract for the collection and disposal of household hazardous wastes by GrayMar Environmental for $6,500 per month, with potential additional charges depending on the quantity and type of hazardous household waste.
Lastly, Howard asked for permission to seek bids from qualified contractors to review and revise the county's current all hazard mitigation plan, which expires this Nov. 1.
Next, Planning Director Jake Gabell brought two motions. The first was a request to waive county road standards for a boundary line adjustment for two small parcels east of Priest Lake. The second motion was for a family exemption road waiver request for a 20-acre parcel that the family is splitting into two 10-acre parcels for family reasons. Both requests were within zoning regulations and up to code.
Human Resources' Cindy Binkerd brought a motion to request for four positions: two legal assistants for the Prosecutor's Office and two heavy equipment operators for Road and Bridge.
And finally, county assessor Donna Gow brought an item seeking approval to destroy records in accordance with Idaho Code and the Idaho Assessor's Retention Policy.
All agenda items passed unanimously.
The commissioners will meet for their weekly business meeting again next Tuesday at 9 a.m. in the County Administration Building at 1500 U.S. 2 in Sandpoint.
Recent Headlines
---