Ranger district, county answer fire questions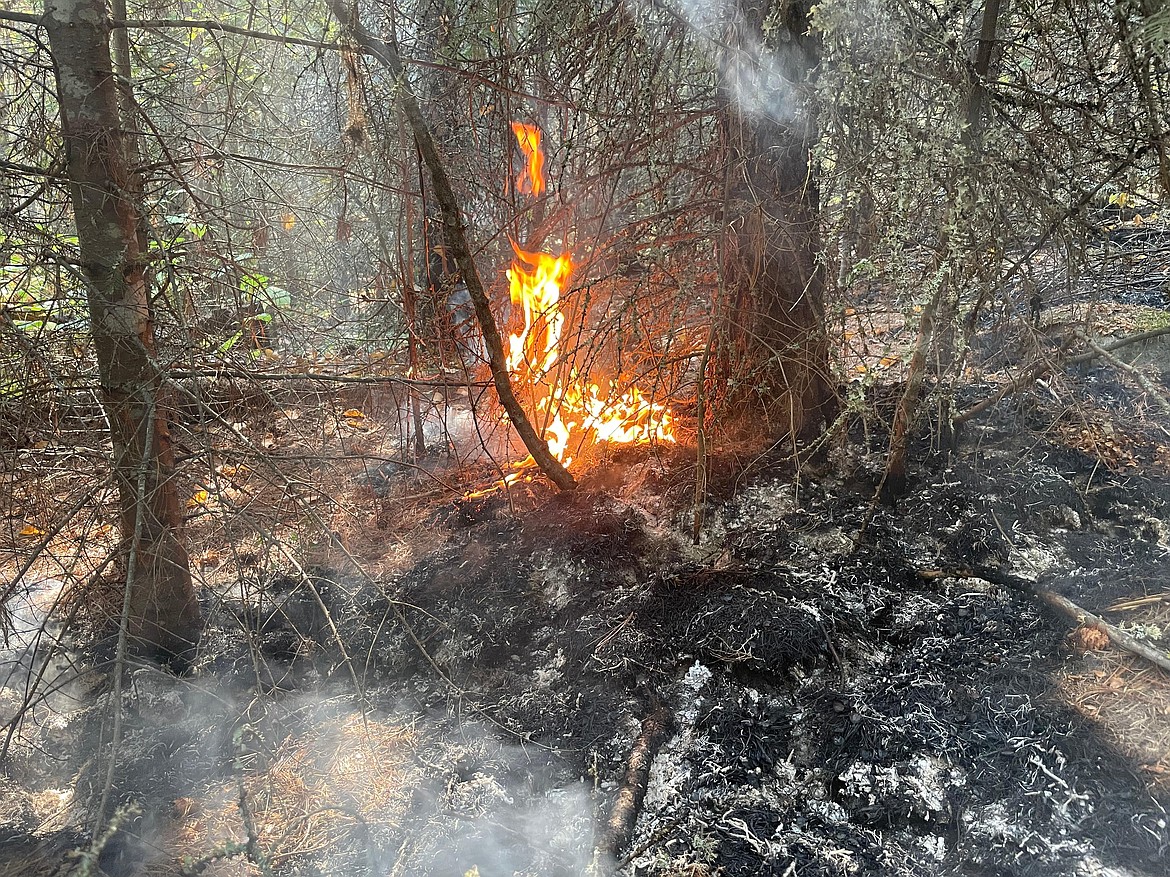 Fire activity on Oct. 1 was minimal as seen in this photo taken of the Kootenai River Complex fires. Smoldering was more common than flames throughout the fire areas, officials said.
(Photo courtesy U.S. FOREST SERVICE)
by
EMILY BONSANT Staff Writer
|
October 6, 2022 1:00 AM
BONNERS FERRY — Community members have a number of questions surrounding the Kootenai River Complex fires.
Bonners Ferry Ranger District and Boundary County officials have answered the most common questions they have received regarding the fires. Questions were collected through community input, Andrew O'Neel, Boundary County public information officer, said.
Q: What is the fire status and are they out?
A: The Kootenai River Complex of wildfires, including the main Russell Mountain Fire, is still burning, but at a much lower intensity. The current strategy is still focused on protecting the homes, farms, private timber, and other "values" along the Westside Road. Over the last month, firefighters have built miles of fire control lines by hand and with heavy equipment to stop the fire as it approaches the Westside Road. It is slowly backing down the mountain and may or may not reach these control lines. When and if it does, firefighters will secure and cool the edge with water, hand tools and chainsaws.
A season-ending weather event, such as snow or rain will bring these fires to a close for the fall/winter. In the meantime, fire personnel will continue working in these areas and protecting homes, farms, private timber, and other values.
The Katka and Long Canyon fires are showing minimal fire behavior. Firefighters attempted to access these fires early on but were deterred by the steep, rugged terrain. Since there are no properties, infrastructure, or other values impacted, personnel will continue to watch these fires until a season ending weather event. Due to shorter days, cooler temperatures, increased humidity and higher fuel moistures, these fires are not expected to become active enough to warrant additional action. However, resources are available if needed.
Q: The first few weeks we saw a lot of action from the firefighters. Now we see very little action. Why aren't they putting out the fires?
A: Fire behavior will be different periodically throughout a season. This is due to the number of hours sunlight hits a fire in a day, temperatures, relative humidity, winds, fuel moisture levels, and amount of precipitation. The first few weeks of activity occurred when several of these factors aligned to cause more active fire behavior. At that time, fire managers were focused on defending the values located on Westside Road, including homes, farms, and private timber. Firefighters created defensive features by digging control lines with bulldozers and hand tools, laying hoses, setting up water sources and pumps, and setting up sprinklers to defend houses. They also trimmed trees and cleared brush for miles along the road, then chipped the slash. A lot of hard work was done that put things in a good place.
The Russell Mountain Fire has been behaving as fire managers anticipated with their modeling and weather predictions. It has slowly come down the steep slopes into the control features where firefighters can actively engage, extinguish, and cool the fire's edge. Aircraft have been used to cool hot spots where needed and support firefighters on the ground. Firefighters continue to patrol along Westside Road to ensure the fire stays west of the control features along the road, and west of the road itself.
Fire activity has diminished significantly from when it was at its peak. The days are shorter, and shade falls across these fires much earlier in the day than when they first started. Daytime temperatures are now in the 60's and 70's and drop significantly at night into the low- to mid-40's. Because of this, relative humidity recovery is good, which keeps the fires laid down longer into the day. Rain received at the end of last week also helped moderate fire behavior and increase fuel moisture levels. Much of the smoke that has been seen this past week is due to smoldering in the understory rather than active flames.
Firefighter activity and personnel numbers are driven by fire activity. As handline, dozer line, and fuel breaks are completed, some resources are demobilized. Other resources, like engine crews, will remain in place to patrol and extinguish the fire if and when it comes to the control lines. The number of personnel needed will continue to be adjusted based on firefighting and support needs.
This is the first part of a two-part series on questions asked by the community and answered by USFS and BFRD officials.
Recent Headlines
---