ISP seeks help in fatal collision case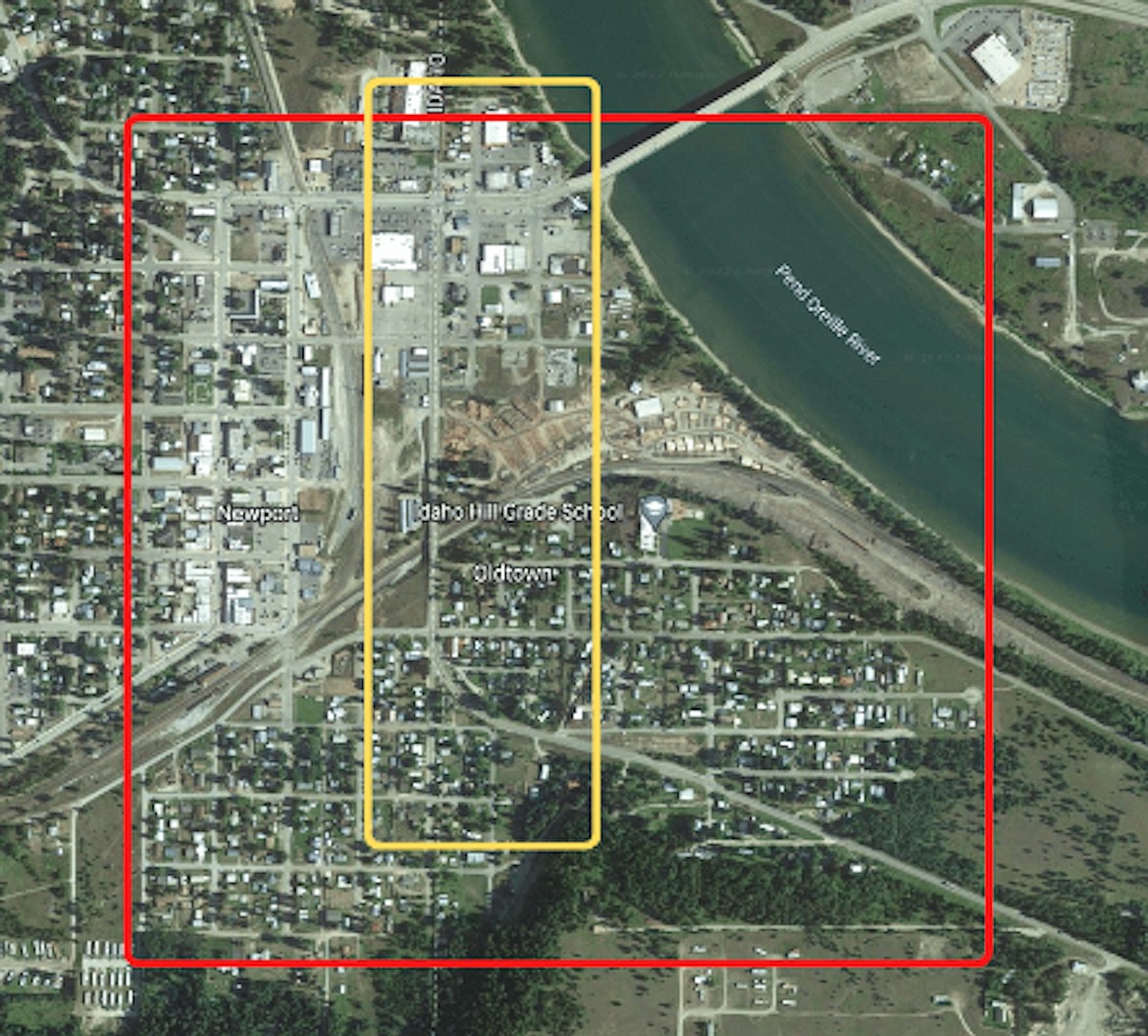 ISP is asking area residents and business owners within the marked red map area to review and save any footage as well as anyone driving through the marked yellow map area who is able to review or recover video captured at any time on the afternoon of Oct. 7 is encouraged to contact the agency.
(Courtesy illustration)
by
CAROLINE LOBSINGER
Staff Writer
|
October 15, 2022 1:00 AM
OLDTOWN — Idaho State Police are asking the public for help in connection to a fatal hit-and-run collision in Oldtown last week.
Dakota James LaFountain, 23, of Newport, Wash., was charged Oct. 12 with second-degree murder, two counts of aggravated battery, and a count of leaving the scene of an accident in which a 3-year-old girl, critically injuring her 2-year-old brother and seriously injuring her grandmother.
ISP investigators are seeking information in connection with Oct. 7 collision in the area of Seventh Street and Meadowdale Avenue in Oldtown.
Investigators said they are seeking contact from anyone with information, or who may have seen or had contact with Dakota J. LaFountain or his vehicle, on the date of the incident.
"If you believe you may have seen this individual and/or vehicle in your area, please contact the Idaho State Police," ISP officials said in a press release. "Investigators are interested in any home security camera or doorbell camera footage that may have captured his movements either on foot or in his vehicle in the area before and after the crash event."
They asked area residents and business owners residing within the marked red map area (see photo) to please review and save any footage they have from the afternoon of October 7th and notify the Idaho State Police at with any information that may have been captured regarding this individual.
Anyone driving through the marked yellow map area (see photo) who is able to review or recover video captured at any time on the afternoon of Oct. 7 is encouraged to contact the agency.
Idaho State Police contend LaFountain was behind the wheel of a Chevy Tahoe which struck the three pedestrians walking on a dirt pathway along E. Valley Street South in Oldtown just before 5 p.m. on Oct. 7.
ISP said the vehicle overturned and came to a rest on the side of the road in a residential lawn. The driver fled the scene on foot but was located after a short time later and taken to a nearby hospital via ground ambulance.
The 3-year-old died at the scene, the 2-year-old was flown by medical helicopter to a Spokane hospital in critical condition. According to a GoFundMe page set up for the family, the youth is now stable but suffered numerous injuries including eight broken ribs, a broken jaw, a spinal fracture, liver lacerations and bruised lungs.
The third pedestrian, Jaime Patton, the grandmother of the two youths, was transported to a nearby hospital in serious condition but has since been released.
Combined, the four charges total a 45-year sentence if LaFountain is convicted on all counts.
Investigators can be reached at 208-209-8686.
Recent Headlines
---