Feds: Marina permit remains suspended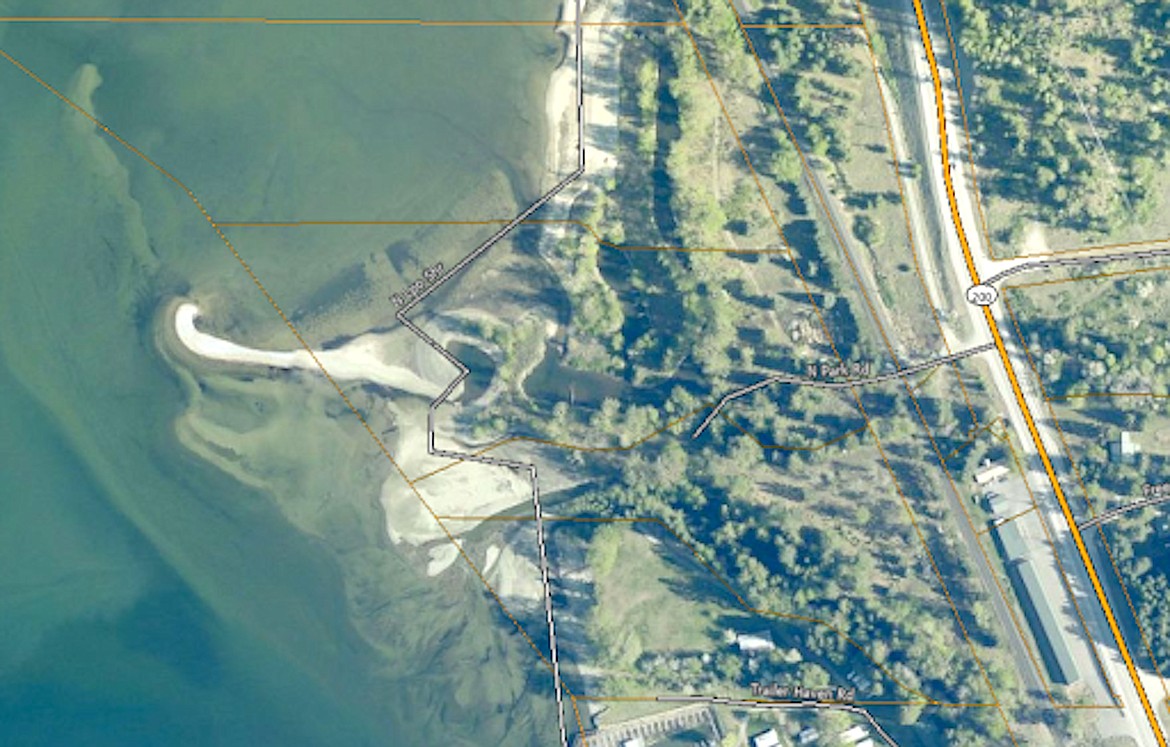 A aerial photo of the site location of the North Lake Development at the mouth of Trestle Creek. The U.S. Army Corps of Engineers advised in late September that it was revoking its permit for the Idaho Club's marina and lakeside housing development at the mouth of Trestle Creek on Lake Pend Oreille.
(Courtesy photo)
by
DANIEL RADFORD
Staff Writer
|
October 19, 2022 1:00 AM
TRESTLE CREEK — Officials with the U.S. Army Corps of Engineers said a permit for the Idaho Club's proposed Trestle Creek development will remain suspended. The area contains critical kokanee and bull trout habitat.
"No work may occur in reliance on the 2019 permit," Kelly Urabanek, regulatory division chief for the Corps, wrote in a letter to Idaho Club owner Bill Haberman on Friday.
The permit was suspended in August 2021 while Corps officials reinitiated consultation with the U.S. Fish and Wildlife Service, in accordance with the Endangered Species Act. The creek accounts for more than half of the annual bull trout spawning sites in the Pend Oreille Basin, a species protected as threatened under the Endangered Species Act.
"Although USFWS has now completed a biological opinion pursuant to the reinitiated consultation, continued suspension and ultimately revocation of the 2019 permit are warranted for other reasons — specifically, changes in the proposed project, as well as significant objections to the authorized activity that were not earlier considered," Urbanek wrote in a previous letter to Haberman.
In May of this year, updated designs for the project were approved by Bonner County commissioners (MOD0001-22). These updated designs were referenced in the legal challenge filed by the Center for Biological Diversity and the Idaho Conservation League this August.
These new designs "now include five waterfront single-family residential parcels, a community pavilion, and additional features such as road infrastructure," Urbanek wrote in Sept. "The Corps' scope of analysis for the 2019 Permit did not include these design items, which appear to warrant Federal review."
There were also several objections raised to the Corps, including in litigation, that were not addressed in the 2019 approval process, especially regarding the new design proposals.
In her latest letter, Urbanek said the Corps will maintain suspension of the 2019 permit until it expires Nov. 13, 2022.
The Corps said they will not take any further administrative actions on this project and told the Idaho Club not to perform any work on site unless a new application is submitted for review and approval.
Once the Corps revokes the permit, any new permit for this development would need to go through proper environmental review. This would require the Corps to complete an environmental impact statement, a public interest review, full notice and comment process, and new consultation with the U.S. Fish and Wildlife Service under the Endangered Species Act to ensure threatened and endangered species wouldn't be harmed. The Corps would also need to determine the effects the project would have on wetlands and could potentially require the developer to purchase credits through a wetland mitigation bank.
Haberman, the club owner, did not respond to a request for comment.
Environmental groups earlier praised the decision, saying it was the right thing to do in order to protect bull trout and their habitat.
This latest letter was following an Oct. 5 meeting with Urbanek and the Idaho Club Corps' proposal to revoke the project's permit.
Recent Headlines
---