Lights go on in Little Carnegie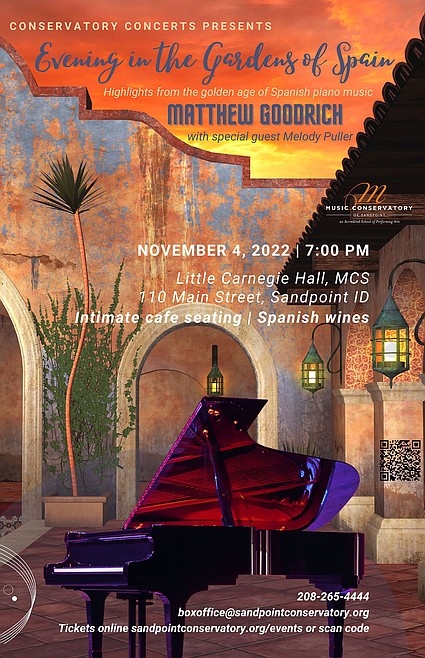 "Evening in the Gardens of Spain" is the second in the Conservatory Concert series, following the powerhouse music making that graced the first concert, which featured 20th century Parisian works for flute and piano. The concert begins at 7 p.m. on Friday, Nov. 4 in Little Carnegie Hall, 110 Main St. in Sandpoint.
(Courtesy illustration)
|
October 22, 2022 1:00 AM
The vivid colors of classical Spanish piano music will infuse fiery zip into chilly November and thrill your senses with the next of Music Conservatory of Sandpoint's Conservatory Concerts with an "Evening in the Gardens of Spain", with Matthew Goodrich and special guest Melody Puller at the piano. MCS welcomes concertgoers to Little Carnegie Hall to experience this unique, dazzling musical offering.
"Evening in the Gardens of Spain" is the second in the Conservatory Concert series, following the powerhouse music making that graced the first concert, which featured 20th century Parisian works for flute and piano. The Nov. 4 program, highlighting Spain's golden age of piano music at the turn of the 20th century, includes irresistible works from Spanish luminaries Antonio Soler, Isaac Albéniz, Enrique Granados, and Joaquín Turina — with a few surprises along the way.
Following his university doctoral research, Goodrich has performed French and Spanish piano repertoire over the past decade throughout the United States. A North Idaho resident for exactly two years come Thanksgiving, he serves as Director of Music and Performance at the conservatory. He is a piano performance graduate of Oberlin College Conservatory, and earned his Doctor of Musical Arts degree from the University of Washington under the direction of Robin McCabe.
Melody Puller joins Goodrich onstage for a rollicking piano duo by Manuel de Falla, two Spanish dances in which the energy never lets up! Melody is head of the piano department at MCS and a frequent performer, most recently with North Idaho Philharmonia's Complete Brandenburg Concertos.
"Evening in the Gardens of Spain" also showcases the newest addition to Little Carnegie: a pristine Steinway model B grand piano gifted to the conservatory by a music-loving donor from the Olympia, Wash., area. "I cannot wait to perform this program on our beautiful new instrument," says Goodrich. "With its distinctive sparkly timbre, it is the ideal partner for showcasing the technical wizardry, vivid colors and rhythms, and traditional dances woven into this delightful, too-seldom-experienced music."
The evening's musical offering will be accompanied by a specially selected variety of Spanish wines for purchase before the concert and during intermission. Seating is limited and tickets are available online via our event page (www.sandpointconservatory.org/events), or stop by the conservatory to purchase. The concert begins at 7 p.m. on Friday, Nov. 4 in Little Carnegie Hall, 110 Main St. in Sandpoint.
Little Carnegie Concert Hall at Music Conservatory of Sandpoint enhances the performing experience that is the hallmark of the Conservatory Concert series. Little Carnegie adorns the ground floor within the historic building. The new 90-seat concert hall is acoustically optimized to showcase musical talent from around the region, nation, and world. The resonant yet intimate performance space is designed to inspire future generations of musicians while engaging the public with fabulous performances. Conservatory Concert Series resumes its programming in Little Carnegie in early 2023, with a sumptuous mid-winter offering planned for February.
Recent Headlines
---