Chamber honors Bessler as top volunteer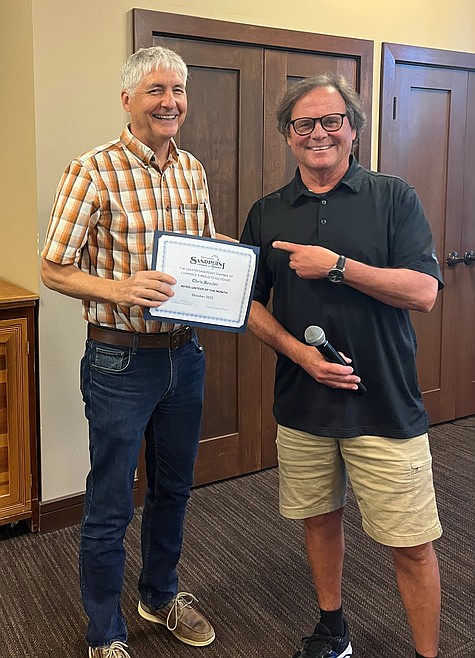 Chris Bessler, left, is presented with the Greater Sandpoint Chamber of Commerce's Volunteer of the Month Award by the chamber's Bob Witte.
(Photo courtesy GREATER SANDPOINT CHAMBER OF COMMERCE)
|
October 26, 2022 1:00 AM
Chris Bessler, president and founder of Keokee media and marketing in Sandpoint, has been named the Greater Sandpoint Chamber of Commerce's top volunteer for October.
Bessler grew up in the small logging town of Glide, Ore., and graduated in journalism from the University of Oregon in 1978. Chris got his first journalism job in North Idaho in 1978, first as a reporter and editor at the Bonners Ferry Herald and later as a reporter and editor for the Sandpoint Daily Bee. He left the area for a few years to work as editor for magazines in the Bay Area before returning in 1990 to launch Keokee and Sandpoint Magazine.
Bessler and his wife, Sandy, have a son, Nate, who attended Sandpoint Waldorf School and then Sandpoint High School before graduating from the University of Idaho in 2011.
He serves on the board of directors for 88.5 KRFY community radio as well as a volunteer broadcaster each Wednesday on the KRFY Morning Show. He's also chairing the committee for the Panida Theater that has launched the brand-new Panida Theater Century Fund capital campaign, which has a five-year goal to raise $1.9 million for some essential restoration and maintenance on the theater, as well as renovation of the Little Theater.
Bessler also sits on the emeritus board of the Panhandle Alliance for Education after a 13-year run on its board of directors. He's been on the chamber tourism council for Visit Sandpoint for 20-plus years. He's a member of the Bonner General Health Advisory Council and the Innova Foundation Leadership Council for the Bonner-Boundary counties region.
Recent Headlines
---