Panida Century Fund off to a fast start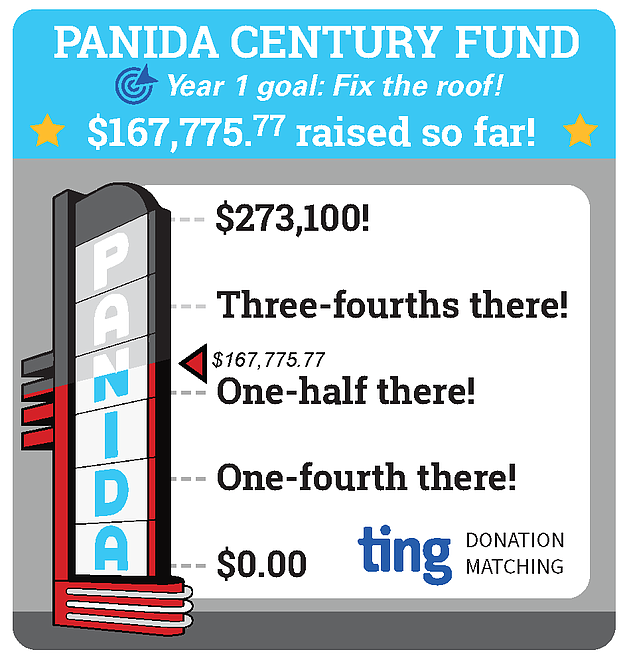 |
October 27, 2022 1:00 AM
In little more than a week since its launch, Panida's Century Fund campaign has brought in $8,820 from individual donors – which means the amount raised will double to $17,640 raised this week, thanks to a massive pledge by Ting Internet to match those donations.
"Wow," said Panida Managing Director Veronica Knowlton after tallying up the donations received since the campaign kicked off Oct. 20. "On behalf of the Board – and really, everyone who loves and uses the Panida – I can only shout out a huge 'thank you.' "
The Panida has a goal in this first year of the campaign to raise $273,100. Over the course of the year so far, with early money from donors, foundations and grants – plus this week's receipts – the theater has raised a total of $167,775.77 toward this first-year goal.
The Century Fund has a five-year total goal to raise of $1.9 million to fund long-deferred maintenance and restoration leading up to the Panida's 100th anniversary in November 2027. The focus and goal in this first, "Phase I" year is the $273K figure for the urgent need to replace the main theater's roof, which is experiencing leaks that could damage the historic interior plaster.
The campaign has gotten a huge boost from Ting Internet, which has pledged to match individual donations of $5,000 and under, for a total of $200,000 over the five-year campaign. "We can see from these first-week figures how huge that is," said Knowlton. "Ting's generous match just pumped up our first donations by double."
Starting this week the Panida will be providing a weekly report on donations, she said, in hopes that all those who hold the Panida dear will contribute – and see their contribution doubled. In future weeks the report will include names of contributors if they consent.
"I'll put it out there," Knowlton said. "Every donation, in every amount will help us give proper care for this wonderful old theater."
Donate, and see the detailed plans for the campaign including how funds will be expended, at www.panida.org.
Recent Headlines
---